I found one record for a daughter of my Niedziałkowski great-grandparents: Sabina Niedziałkowska.  On the page shown below, Sabina's Birth and Baptismal Record is number 85, the record at the top of page 206 in the parish register.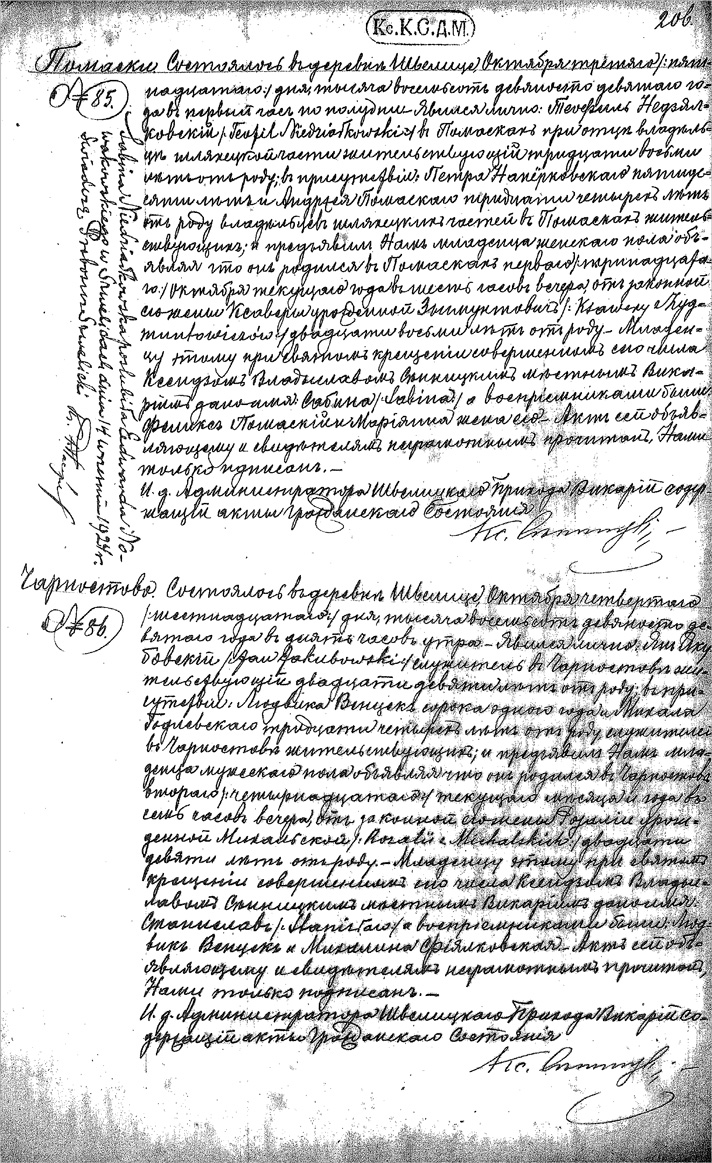 The Birth and Baptismal Record for Sabina Niedziałkowska
Click on the link for a PDF copy of the Birth and Baptismal Record for Sabina Niedziałkowska.  Translated from the Russian, the record states:
№ 85.  Pomoski

This happened in the village of Szwelice on the 3rd / 15th day of October 1899 at one o'clock in the afternoon.  Teofil Niedziałkowski appeared in person, residing in Pomoski with his father, owner of the noble part _____ age 38, in the presence of Piotr Napierkowski, age 50, and Andrzej Bonacki, age 34, owner of the noble part residing in Pomoski and he presented to us a child of the female sex, stating that it was born in Pomoski on the 1st / 13th day of October of the current year, at nine o'clock in the evening of his lawful wife Ksawery born Zygmuntowicz, age 28.  At Holy Baptism performed on this date by Father Władysław Sędzicki, Assistant Pastor of this place, this child was given the name of Sabina, and her godparents were Felix Pomaski and Marianna his wife.  This document was read to the declarant and the illiterate witnesses, and signed by us alone –

M. d. Administrator of the parish of Szwelice, Assistant Pastor, Keeper of the Documents of the Civil State – Father Sędzicki
I figured out a few more of the words that have been giving me trouble in these documents.  I'll have to go back to some of the previous records and fill in the missing pieces.
The document states that Teofil is an owner of the noble part (of the village?).  The godparents of his child are members of the Pomoski family – the noblemen after whom the village was named.
Notice that this record also includes a note in the margin.  More about that marginal notation tomorrow.