Two previous entries on this blog have dealt with cemetery records, so it's about time to see what some of these records look like.  My experiences in cemeteries have been varied – the employees at some cemeteries have bent over backwards to help me find the graves for which I was looking, providing me with maps, copies of the burial records, and directions to the graves.  Others have been quite unfriendly, asking "Is this for genealogy?" (usually accompanied by a cold stare).  Some cemeteries have charged for copies of the burial records, others have not.  In general, if the cemetery doesn't charge for the copies and the employees have been helpful, I usually offer to make a donation.  Sometimes there is a "Friends of the Cemetery" group or a special project for which the cemetery is raising funds.
The cemetery records themselves are not always available to the public, but they generally exist as either card files or computer files.  The records can contain a wealth of information, including dates of birth, death, and burial, locations of birth and death, location of grave, name of the owner of the plot and the amount paid for perpetual care, former address of the deseased, relationships between the people buried in the same plot, and relationship of the deceased to the owner of the plot or to living individuals.
I previously posted the grave marker for Harry Meleski and his wife, Margaret.  The cemetery personnel at Hope Cemetery in Worcester, Massachusetts were extremely helpful and gracious and provided me with a map of Hope Cemetery and a copy of the burial record for Harry and Margaret Meleski, on the spot and all at no cost.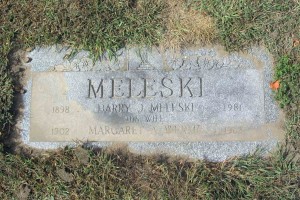 St. John's Cemetery in Worcester, Massachusetts was also very helpful.  They printed out computer records and also provided me with a map of St. John's Cemetery.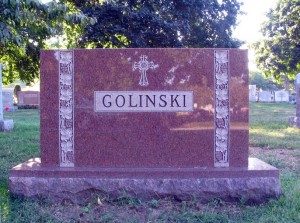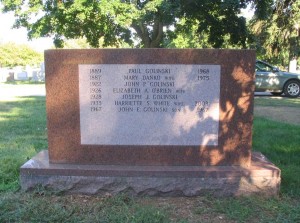 When I visited Worcester County Memorial Park in Paxton, Massachusetts, I arrived just after the office had closed, but the employee there let me in and provided me with grave locations.  He didn't give me copies of the burial records, but it was after closing, so I didn't press the question.  I did get a map of the Memorial Park, though.  In this cemetery, all the grave markers are flush with the ground.  Just today, I discovered that I can search for burial information online at the Memorial Park's website.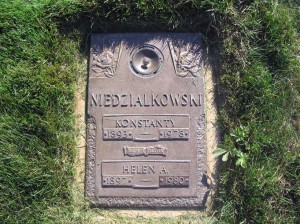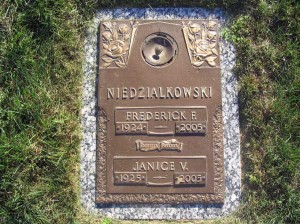 At Notre Dame Cemetery in Worcester, Massachusetts, the employees were busy and a little reluctant to give me on-the-spot help, but they did take time to print out some of the computer files I requested and then they mailed the rest to me later, all at no cost.  I also obtained a map of Notre Dame Cemetery and I obtained an aerial photo of the cemetery from TerraServer.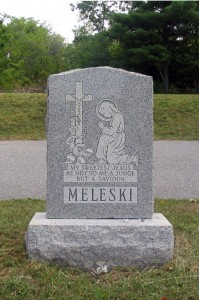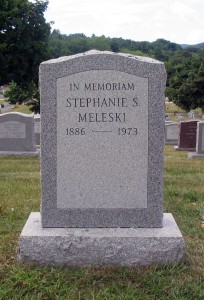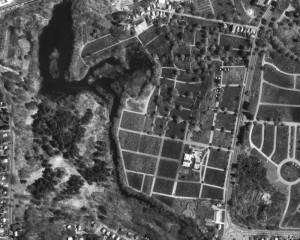 That's about all for the Massachusetts cemeteries I've visited.  There's more to come from New York, California, and Utah cemeteries.
Copyright © 2006 by Stephen J. Danko