My grandparents, Helena Chmielewska and Kostanty Niedzialkowski, were called "Ma and Pa" by their descendants.  The proper Polish spelling of Pa's name was Konstanty Niedziałkowski, but for most of his life he spelled his name Kostanty Niedzialkowski.  For his marriage record, he used the English equivalent of his first name: Constantine.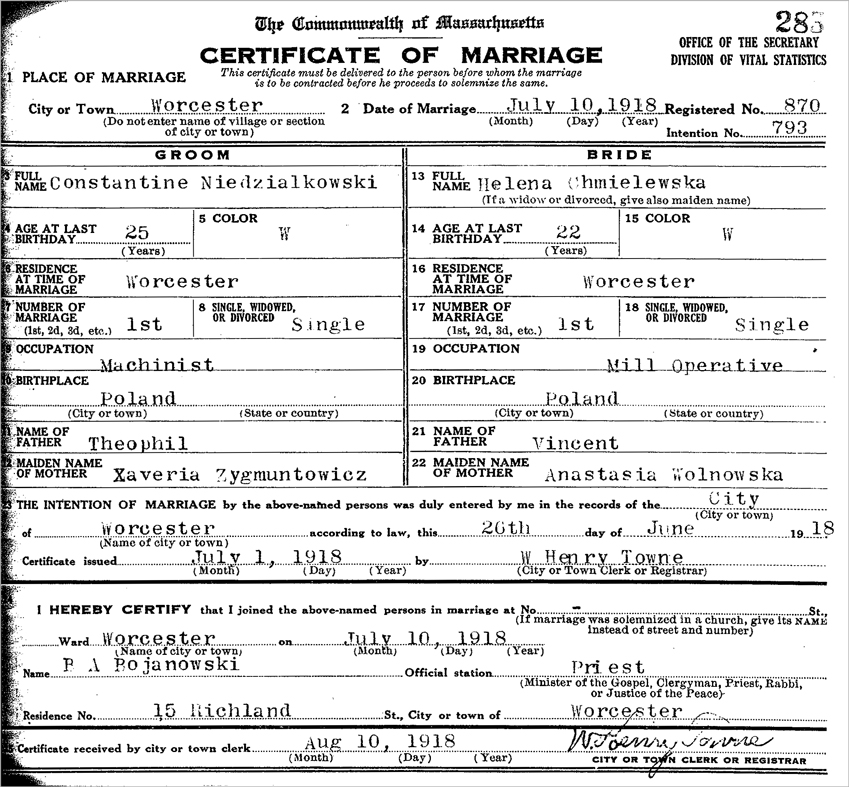 Marriage Certificate for Kostanty Niedzialkowski and Helen Chmielewska – 1918
Click on the link for a PDF copy of the Marriage Certificate for Kostanty Niedzialkowski and Helen Chmielewska – 1918.  This record states that:
Constantine Niedzialkowski, age 25, residing in Worcester, Massachusetts married Helena Chmielewska, age 22, also residing in Worcester, Massachusetts on July 10, 1918 in Worcester, Massachusetts

Both Constantine and Helena were white, they were both born in Poland, and they were both single at the time of this, the first marriage for each of them

Constantine was a machinist and Helena was a mill operative

Constantine's parents were Theophil Niedzialkowski and Xaveria Zygmuntowicz

Helena's parents were Vincent Chmielewski and Anastasia Wolnowska

The intention of marriage was entered by W Henry Towne, City or Town Clerk or Registrar, in the records of the city of Worcester on June 26, 1918 and the marriage certificate was issued on July 1, 1918

The couple was married by B A Bojanowski, a priest residing at 15 Richland Street in Worcester who certified that he joined Constantine and Helena in marriage in Worcester on July 10, 1918

The certificate was received by the city or town clerk on August 10, 1918

This marriage was registered no. 870, intention no. 793
The Certificate of Marriage doesn't list the village in Poland where either Constantine or Helena was born, but at least it provides the names of their parents.
They were married by Father Bolesław A. Bojanowski, who was the fourth pastor of Our Lady of Częstochowa Church in Worcester, suggesting that Constantine and Helena were married in that church.  The 1920 US Federal Census enumerates them living in a rented apartment at 42 Perry Street in Worcester, in an area served by Our Lady of Częstochowa Church and home to Worcester's thriving Polish community.  This area was on the east side of Worcester and was called "The Island".
The proper Polish spellings of the names on this document are:
Constantine Niedzialkowski = Konstanty Niedziałkowski
Helena Chmielewska = Helena Chmielewska
Theophil Niedzialkowski = Teofil Niedziałkowski
Xaveria Zygmuntowicz = Ksaweria Zygmuntowicz
Vincent Chmielewski = Wincenty Chmielewski
Anastasia Wolnowska = Anastazja Wojnowska
As mentioned in previous articles, Constantine was the nephew of Frank Niedzialkosky  This means that Constantine's father Theophil was Frank's brother, and Theophil's parents were Wojciech Niedziałkowski and Julianna Gutowska.
Tomorrow:  Not everything on an official document is necessarily correct – or is it?
Copyright © 2006 by Stephen J. Danko