When my grandfather Kostanty Niedziałkowski came to America, he stayed with his Uncle Franciszek Niedziałkowski in Worcester, Massachusetts.  Franciszek generally used the name Frank Niedzialkoski in the United States, dropping the "w" from the surname.
I found the Birth and Baptismal Record for Franciszek in the Szwelice Parish, north of Warsaw.  As with other documents from Kingdom Poland (the Russian Partition) during the late 19th century, this document is in Russian.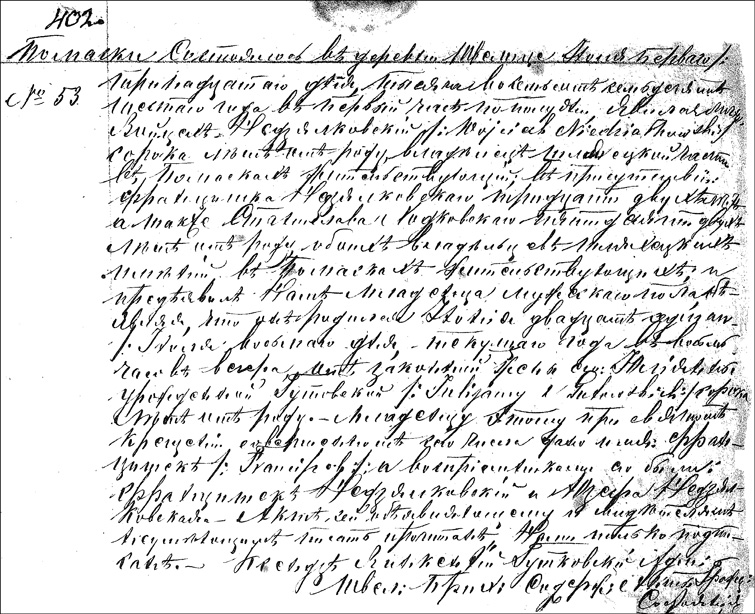 Birth and Baptismal Record for Franciszek Niedziałkowski
Click on the link for a PDF copy of the Birth and Baptismal Record.  I wasn't able to transcribe and translate the entire document.  I'm not familiar with some of the words used in this document, and some of the words are fairly illegible.  Nonetheless, I was able to determine that:
Franciszek was born in the village of Pomoski on the 8th day of an illegible month in the year 1876

Franciszek was baptized in the Szwelice parish on the 13th day of an illegible month in the year 1876 at 1 PM

Franciszek's parents were Wojciech (Adalbert) Niedziałkowski and Julianna Gutowska, both age 40

Franciszek's godparents were Franciszek Niedziałkowski and Józefa Niedziałkowska

Stanisław Kudkowski was present at the baptism

The priest who baptized Francizek was a Father Gutkowski
Wojciech Niedziałkowski had a brother Franciszek.  Wojciech may have named his son after his brother and asked his brother to be the godfather of his child.  Wojciech's brother was born in 1842, and the Franciszek named as the godfather is about the right age.
I'll have to work on this document some more to try to decipher the month of birth.  I may need to go back to the original microfilm and look at other documents written by this priest in order to figure this out.