Yesterday, I showed the Marriage Record for Jakub Dańko and Agnieszka Sowa, and previously I had shown the Birth and Baptismal Records for their children, Michal Danko (my grandfather) and Marianna (my Great Aunt Mary Dańko Goliński).
I was told that Jakub and Agnieszka had several other children, including Józef, Adalbert, Jan, Katarzyna, and Julianna, but I have been able to find the Birth and Baptismal Record for only one other child: Marcin.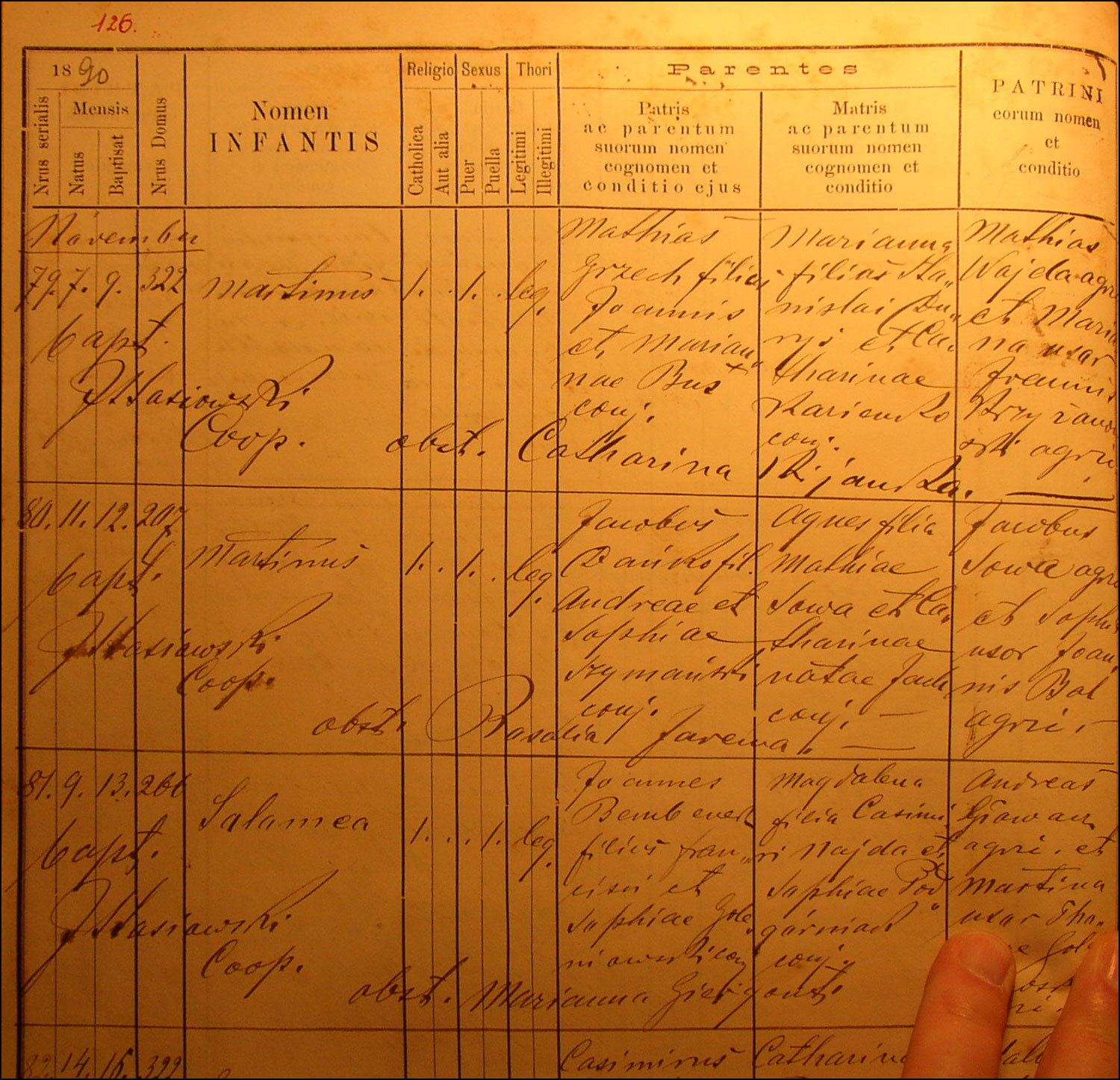 Birth and Baptismal Record for Marcin Dańko
Click on the link for a PDF copy of the Birth and Baptismal Record.  Marcin's record shows that:
Marcin was the 80th birth in Nienadowa in 1890 and was born in house number 207

He was born on November 11, 1890 and baptized on November 12, 1890

Marcin was a legitimate, Catholic boy

Marcin's father was Jakub Dańko, son of the legitimately married couple Andrzej Dańko and Zofia Szymańska

Marcin's mother was Agnieszka Sowa, daughter of the legitimately married couple Maciej Sowa and Katarzyna Jach

Marcin's godparents were Jakub Sowa, a farmer, and Zofia the wife of Jan Bal, also a farmer

The priest who baptized Marcin was J. S. Sasiowski and the midwife who delivered him was Rozalia Jarewa
In addition to Marcin's Birth and Baptismal Record, the same ledger page lsits several other baptismal events, and the surnames listed there also appear in my own family history:  Wajda, Głowacz, and Giergont.  Also, from the comment provided by Lidia a few days ago, three surnames on this page appear in Lidia's family history:  Dańko, Sowa, and Majda.
The midwife who delivered Marcin, Rozalia Jarewa, might be using the feminine form of the surname Jara, and it's interesting to note that Michał Dańko's Mother-in-Law was Magdalena Jara.
One piece of information that doesn't agree with other information I have is the given name of Jakub's father.  Every other document I have on the family states that Jakub's father was Pawel Dańko.  This record, however, states that Jakub's father was Andrzej Dańko.  Perhaps the priest just confused Pawel Dańko with Pawel's half-brother Andrzej.  But that's another story.