I had previously searched for John Jwanauski's passenger manifest at the Ellis Island Records site and at Stephen Morse's site without success.  I also couldn't find his name by scrolling through all the pages of the manifest one-by-one.  Finally, I searched the Record of Aliens Held for Special Inquiry and the Record of Detained Aliens which followed the passenger manifests.  There, in the Record of Detained Aliens, I found a Jonas Iwanauskis.  Why couldn't I find the record when I searched every page of the manifest?
The Record of Detained Aliens states that Jonas Iwanauskis was on the manifest as a member of group 3, Number 24.  This means that Jonas Iwanauskis is on list 3, line 24 of the manifests for alien passengers.  I started at the beginning of the manifest and scrolled past the lists of US Citizens and the lists of Second-Cabin Aliens to reach the lists of Alien Passengers in Steerage.  There, on list 3, line 24, was Jonas.  Apparently, the reason I didn't recognize the name the first time is that I was looking for John Jwanauski.  The name on the manifest appears to be Jonas Franauskis, since the "Jw" at the start of the name looks a lot like "Fr".  But, that's OK, I've found the manifest now.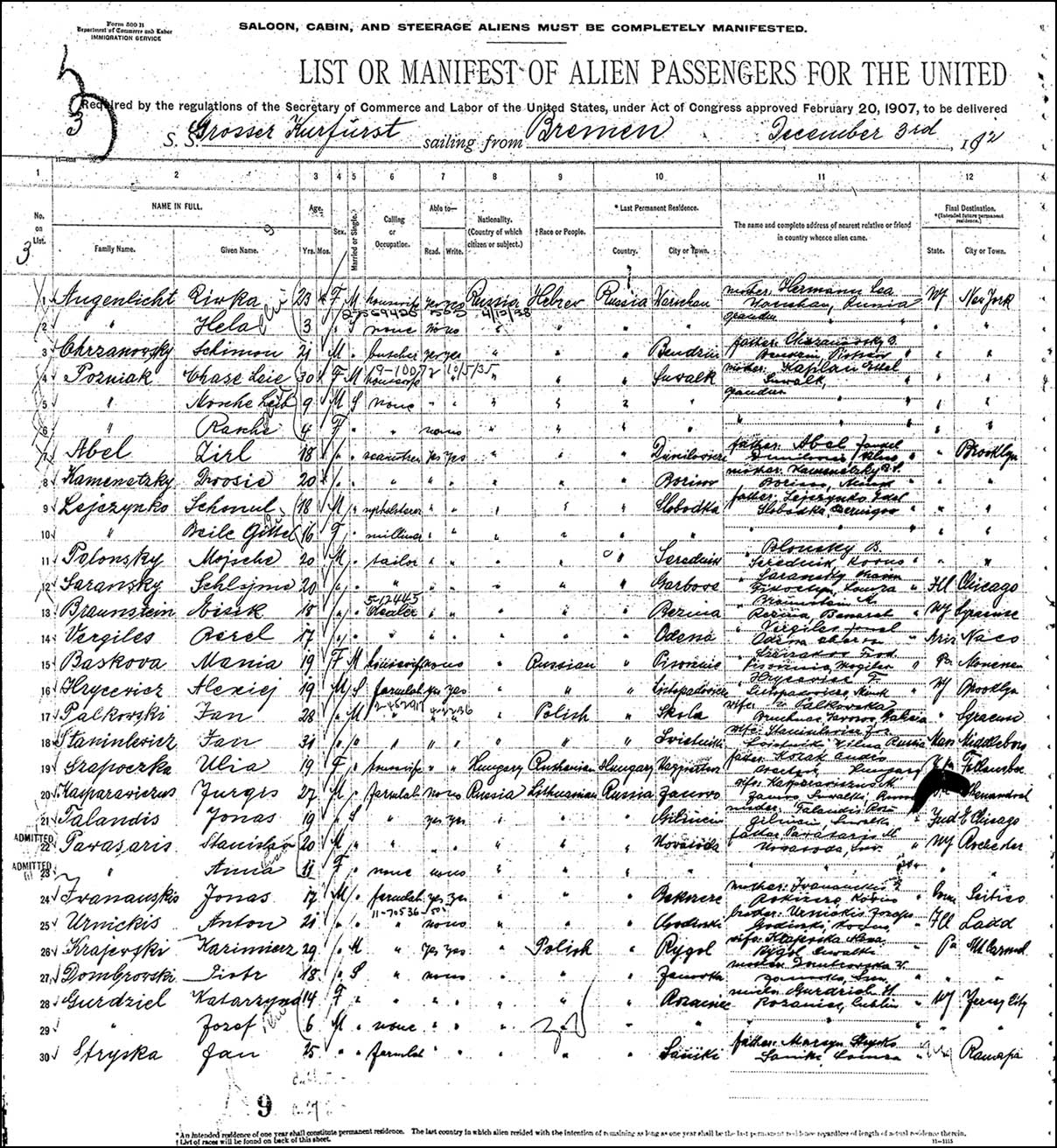 Page 1 of the Passenger Manifest for Jonas Jwanauskis – 1912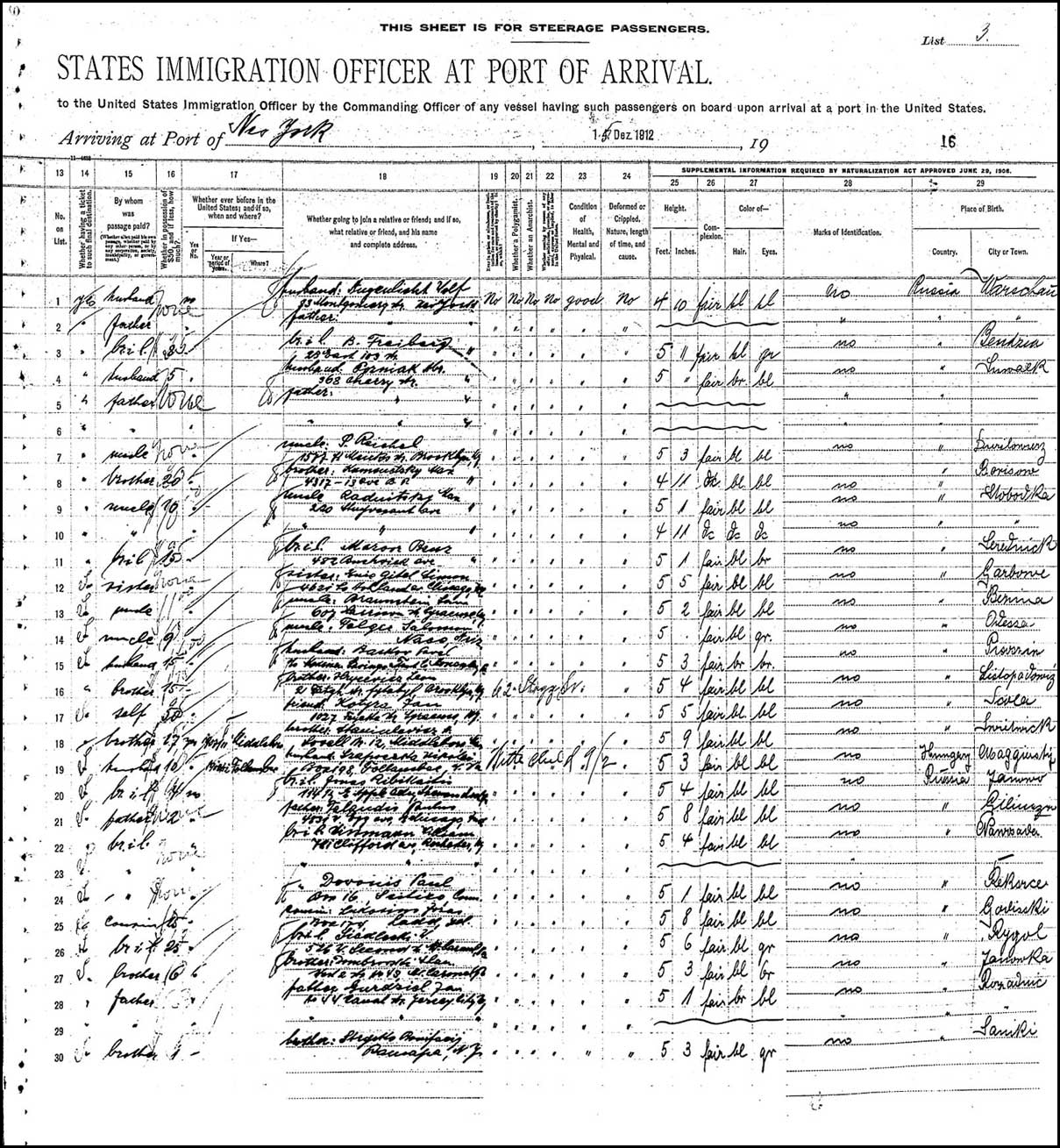 Page 2 of the Passenger Manifest for Jonas Jwanauskis – 1912
Click on the link for a PDF copies of the Passenger Manifest for Jonas Jwanauskis 1912.  The manifest states that:
Jonas Jwanauskis departed from Bremen on December 3, 1912 on the S.S. Grosser Kurfurst and arrived in New York on December 15, 1912

Jonas is listed on List 3 of the alien passengers in steerage, line 24

Jonas was a single male, 17 years old

His occupation was farm lab [farm laborer]

Jonas could read and write

He was a Lithuanian of Russian nationality and his last permanent residence was Poporcie, Russia

The nearest relative in the country he left was his mother [?] Jwanauskis in Poporcie, Kovno

His destination was Scitico, Conn.

It's not clear whether or not he held a ticket to his final destination

His passage was paid by his brother-in-law and he had no cash

He had not previously been in the United States

He was planning to join his brother-in-law, Paul [Dovoicis], Box 16, Scitico, Conn.

His health was good and he was not a cripple

He was 5 feet, 1 inch tall, with fair complexion, blond hair, and blue eyes

He had no marks of identification

He was born in Poporcie
My best guess at Jonas' place of birth and residence is Poporcie, Russia, now known as Paparciai, Kauno, Lithuania.  This village is not far from Kovno, Russia, now known as Kaunas, Kauno, Lithuania.
Jonas stated that he was traveling to Scitico, Connecticut, which is not far from Springfield, Massachusetts.  Springfield was his destination when he was discharged from the U.S. Army at the end of World War I.  The Record of Detained Aliens, however, stated that Jonas' brother-in-law lived in Harrisville, Connecticut, not Scitico.
The fact that Jonas had no cash with him explains why he was detained.  He had to wait at Ellis Island until his brother-in-law sent money so he could finish his journey.
Copyright © 2006 by Stephen J. Danko