In John Jwanauski's Declaration of Intention to become a citizen of the United States, he stated that, when he was 20 years old, he left his birthplace of Kovno, Russia, set sail from Bremen, Germany on the Grosser Kurfurst and, on December 15, 1912, arrived at the port of New York.This information should be more than enough to find John's name on the Ellis Island passenger manifest.  A search of the Ellis Island Records generated no results for John Jwanauski or different variants of his surname (Ewanauski, Jwanauskis, etc.).
A search of Stephen Morse's website also resulted in no matches for the surname or surname variants.  Finally, I decided to take a brute force approach to finding John Jwanauski in the Ellis Island passenger manifest for the S.S. Grosser Kurfurst arriving on December 15, 1912.
Stephen Morse's website allows for a Ship Lists search when some information about the ship, or the date of arrival is known.  Since John Jwanauski provided the name of the ship, the date of arrival, and the port of entry, it was a simple matter to find the correct passenger manifest.
I searched Stephen Morse's Ship Lists for:
Arrived between December 1, 1912 and December 31, 1912
Ship name starts with or is Grosser Kurfurst
One result appeared:  Series T715, Roll 1991, Volume 4479, Year 1912, Month December, Day 15, Frame 316, Ship Grosser Kurfurst (Grosser Kurfuerst), Port Bremen, FHL Roll 1400675.  Everything seems to match.  So far, so good.
Clicking on the ship's name brought me to the first frame of the microfilm for the Grosser Kurfurst.  I searched the entire manifest for a name that looked like Jwanauski.  The search totaled 2 pages of United States Citizens, 4 pages of Second-Cabin Aliens, and 54 pages of Aliens in Steerage, a total of 212 frames of microfilm.  I did not find John Jwanauski in the manifest.
On frame 548, the Record of Aliens Held for Special Inquiry began, and on frame 551, the Record of Detained Aliens began.  Rather than being hand-written, as were the passenger manifests, most of these pages were type-written.  Detained passenger #35 was Jonas Iwanauskis – I found him!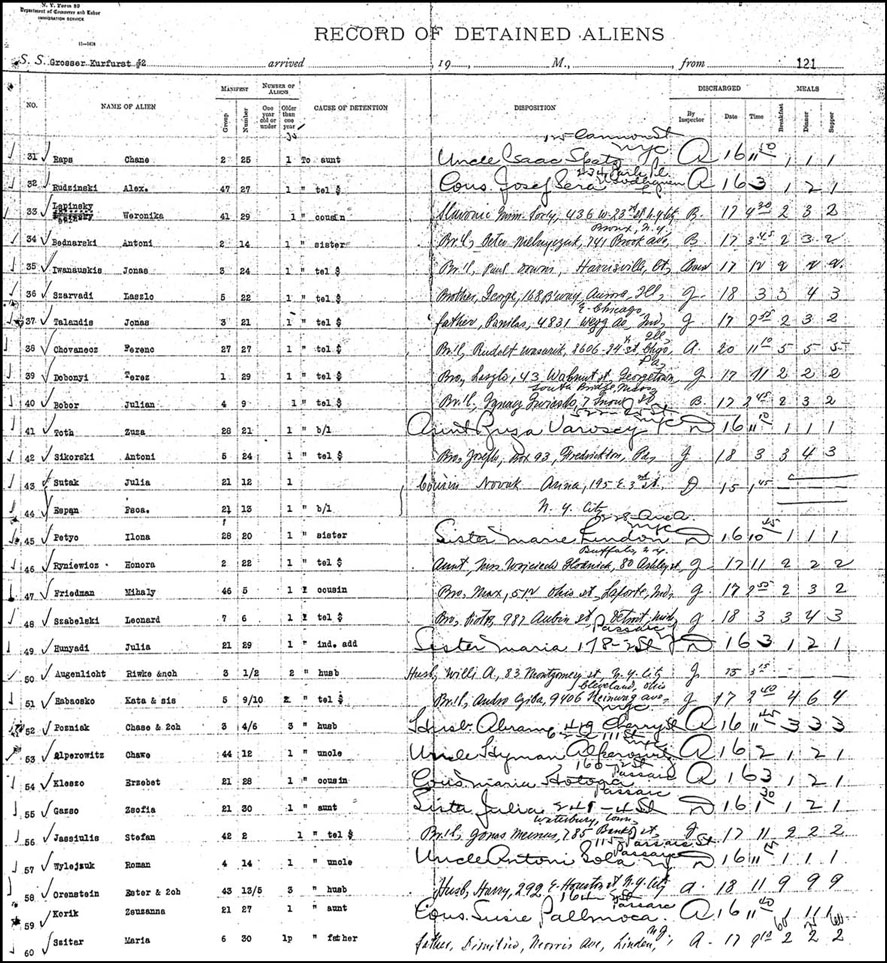 Record of Detained Aliens – Jonas Iwanauskis
Click on the link for a PDF copy of the Record of Detained Aliens for Jonas Iwanauskis – 1912.  The record states that:
Jonas Iwanauskis was listed as detained passenger #35 on list 121 for the S.S. Grosser Kurfurst (frame #552 on the microfilm)
Jonas was in Manifest Group 3, No. 24 and there was traveling alone
Jonas was detained "To tel $", which meant that he did not have enough money and had to phone someone for money to complete his journey
Jonas phoned his brother-in-law, Paul [Downi ?] in Harrisville, Ct
Jonas was discharged at 12 noon on December 17, after being served 2 breakfasts, 2 dinners, and 2 suppers on Ellis Island
The reason Jonas was detained – to telephone for money – was fairly common.  When an alien would arrive in New York, he or she would simply telephone his or her contact in America and the contact would wire money to New York.  In other cases, aliens were detained until someone physically came to assist them in New York.
For more information on the Record of Aliens Held for Special Inquiry and the Record of Detained Aliens, see the previous entries on A New Look at Immigrant Passenger Manifests and Detained Passengers and the Board of Special Inquiry.
Tomorrow:  Why couldn't I find Jonas Iwanauskis (John Jwanauski) in the Passenger Manifest?
Copyright © 2006 by Stephen J. Danko