I planned to publish photos from the area of France where John Jwanauski served during World War I, but I'm waiting to obtain permission from the person who took the photographs I'd like to publish.
Meanwhile, I've had a busy couple of days.  Yesterday, the company for which I work held its Summer Picnic.  I'm still nursing bruises from the Tug of War (my team won our first round, but was eliminated in the second round).  Last night, I had problems posting to my blog and I had to delete the post I published and start over.  I didn't finish that job until this morning.  Finally, I spent today at Word Camp 2006, a day-long series of discussions on Word Press (the application I use to publish this blog).  Tonight, as I write this, the Word Press Party is underway at Pier 38 in San Francisco.  I'm staying in tonight.
So, tonight, I thought I'd present John Jwanauski's Honorable Discharge Papers.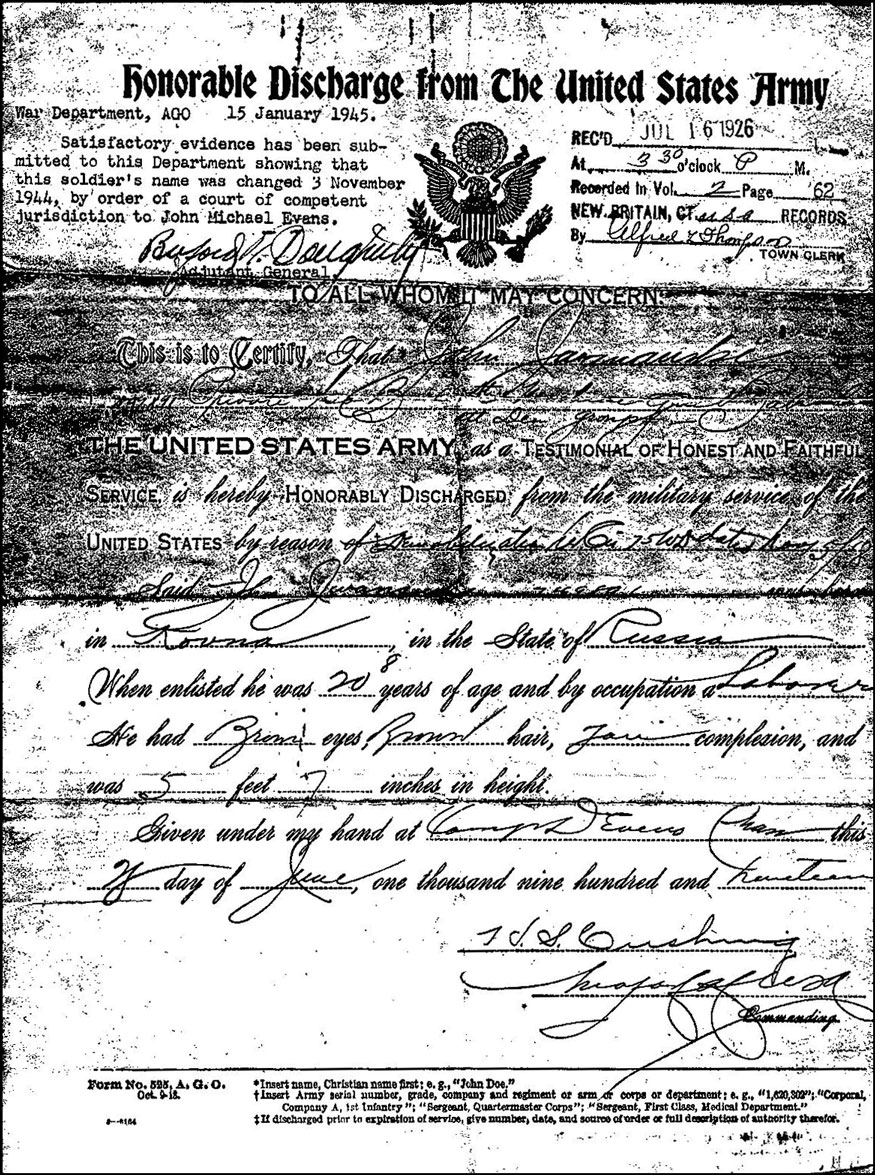 Honorable Discharge Papers for John Jwanauski – 1919
Click on the link for a PDF copy of the WW1 Honorable Discharge Papers for John Jwanauski – 1919.  The document is badly toned in places.  As far as I can read, it says:
Honorable Discharge from The United States Army
TO ALL WHOM IT MAY CONCERN.
This is to Certify That John Jwanauski
749891 Private [?] th Machine Gun Battalion
att. Dem. Group # [?]
THE UNITED STATES ARMY, as a TESTIMONIAL OF HONEST AND FAITHFUL
SERVICE, is hereby HONORABLY DISCHARGED from the military service of the
UNITED STATES by reason of Demobilization per Cir. 75 WD dated Nov 15/18
Said John Jwanauski 749891 was born
in Kovna, in the State of Russia
When enlisted he was 20 8 years of age and by occupation a Laborer
He had brown eyes, brown hair, fair complexion, and
was 5 feet 7 inches in height.
Given under my hand at Camp Devens, Mass this
28 day of June, one thousand nine hundred and nineteen.
H. S. Cushing
Major CAC USA
Commanding
The record is stamped:
REC'D JUL 16 1926
At 3 30 o'clock PM.
Recorded in Vol. 2 Page 62
NEW BRITAIN, CT. USA RECORDS
By Alfred L. Thompson
TOWN CLERK
An annotation was made later:
War Department, AGO  15 January 1945.
Satisfactory evidence has been sub-
mitted to this Department showing that
this soldier's name was changed 3 November
1944, by order of a court of competent
jurisdiction to John Michael Evans.
[signed] Buford [H.?] Dougherty
Adjutant General.
Some notes on this document:
"749891 Private [?] th Machine Gun Battalion" indicates John's serial number, his grade, and company – part of this is illegible

"att. Dem Group" means attached to Demobilization Group # – the group number should follow, but is illegible

"Demobilization per Cir. 75 WD dated Nov 15/18" indicates that Demobilization was as per Circular 75 of the War Department dated Nov 15, 1918

John's birthplace was listed as Kovna [Kovno], Russia, now Kaunas, Lithuania

The notation "When enlisted he was 20 8 years of age" probably means that John was 20 years and 8 months old when he enlisted