I'm currently taking an online course from the University of Toronto – The National Institute for Genealogical Studies entitled Research at Family History Centers.  Even though I've been to the Family History Library (FHL) in Salt Lake City many times, I've never been to a local Family History Center (FHC).
As part of one of the assignments, today I stopped in at the Family History Center in San Bruno, California.  The FHC in San Francisco is actually closer to my house, but the FHC is on my way home from work.  I decided that my goals were to find out how the center operates and to order a couple of films.
After I arrived at the FHC, I thought I would examine the Passenger Records on Ancestry.com, since I don't have access to these records through my own subscription at home.  I searched for Sarwetnik, hoping to find a passenger arrival record for Joseph Sarwetnik's family in a port other than Ellis Island.  I was not successful.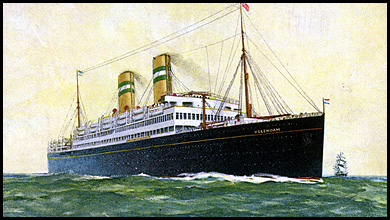 The S.S. Volendam
Unexpectedly, when I searched for Jan Savitt, I found a passenger record for Jan on the S.S. Volendam, sailing on a West Indies Cruse round trip from New York, from August 27, 1938 to September 8, 1938.  I imagine Jan was providing the entertainment for the cruise.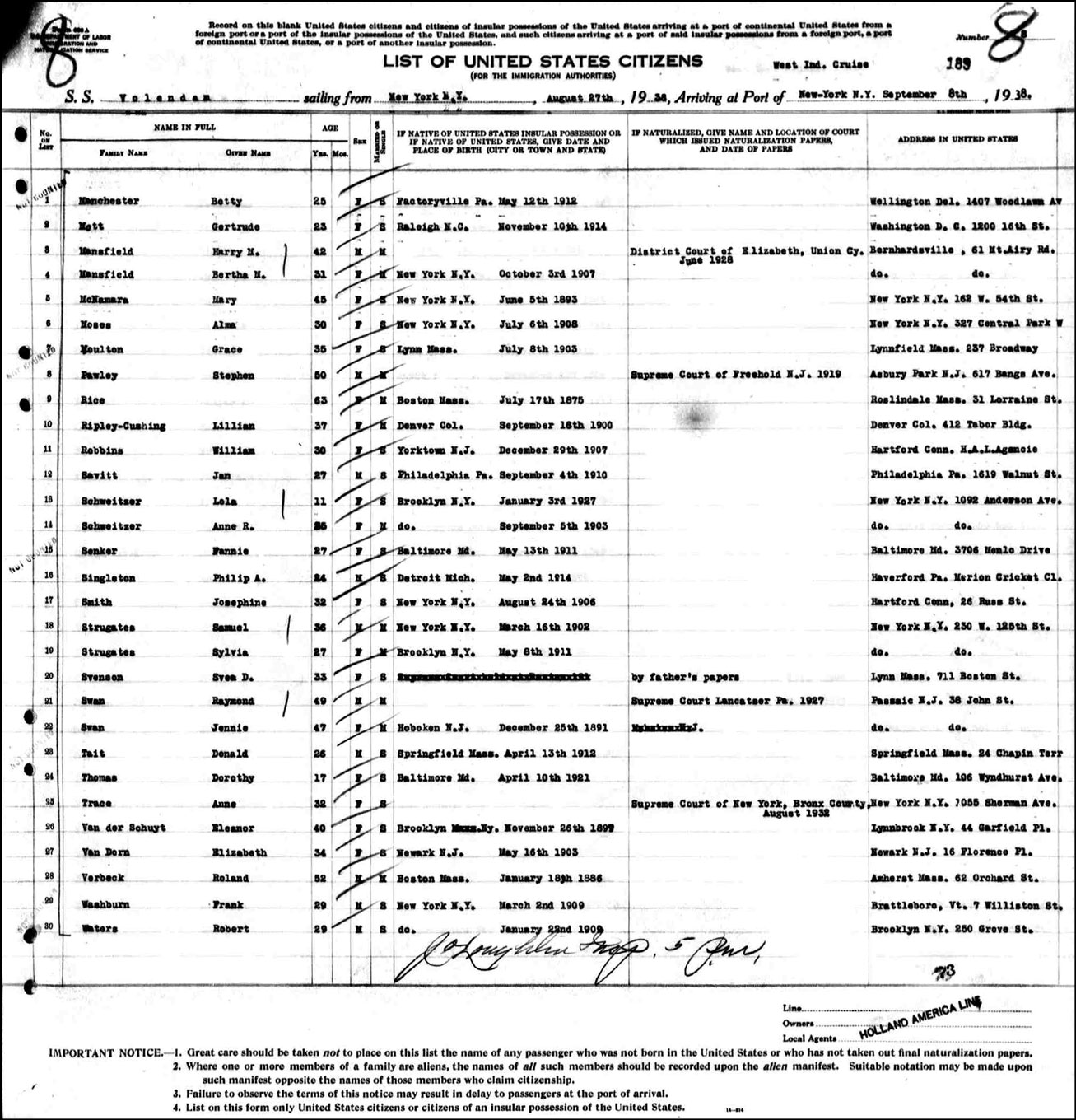 Passenger Manifest for Jan Savitt on the S.S. Volendam
Click on the link for a PDF copy of Jan Savitt's Passenger Manifest.  The manifest states that:
Jan Savitt is listed on line 12 of list number 8

Jan was an unmarried male who was 27 years old at the time

Jan stated that he was a native of the United States, born in Philadelphia, Pa. on September 4th, 1910

Jan's address was 1619 Walnut St., Philadelphia, Pa.
Well, this is an interesting find.  Other documents, however, suggest that Jan was born in Shumsk, Russia in 1908, not in Philadelphia in 1910.
While at the FHC, I also searched the FHL Catalog for Shumsk, the ancestral village of Jan Savitt.  The FHL holds microfilms for the Roman Catholic Church from 1841 to 1907 (with many gaps) and for the Orthodox Church from 1882-1906.  While Jan Savitt's family was Jewish, residents were required to register births, marriages, and deaths at the Catholic Church, regardless of their religion.  Unfortunately, non-Catholics did not always comply.  Since Shumsk was largely Jewish, there is a chance some Jewish records will be found in these Roman Catholic and Orthodox Church records.
Finally, I ordered two films from the Parish of Piotrawin (including Births from 1850-1896, Marriages from 1826-1913, and Deaths from 1888-1909).  Ordering the films was easy and relatively inexpensive ($11.00).  When the films arrive, the Center will call me and I can examine the films for about two months.  I hope to find Stanislaw Markiewicz and his parents on these films.