City Directories are useful sources of genealogical information on names, addresses, occupations, and marital relationships.  During the late 19th century and most of the 20th century, city directories were published in most major cities of the United States and they provide valuable information on the adults living in those cities.  While minor children are not listed in these directories, these resources provide information on adult residents that may be difficult to find elsewhere.
Many historic city directories can be found in public libraries.  Some directories have been digitized and are available online.  Ancestry.com has digitized a large number of city directories for Worcester County, Massachusetts, and Stanislaw Markiewicz is listed in some of these digitized directories.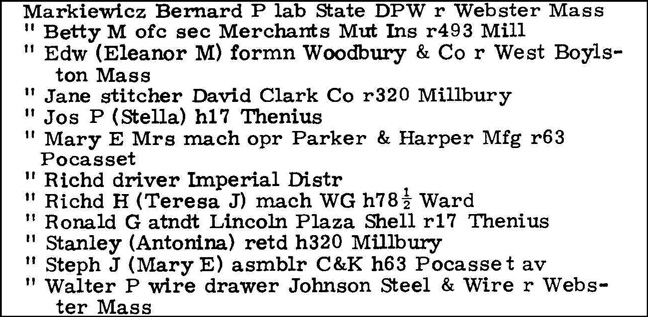 1965 Worcester County Directory Entry for Markiewicz
Click on the link for a PDF copy of the Worcester City Directory Record for the Surname Markiewicz – 1965.  The entry shows the following members of the Stanley Markiewicz family:
Stanley and wife Antonina; Stanley was retired, living at 320 Millbury in Worcester

Steph[en] J and wife Mary E.; Steph[en] was an assembler at C&K, living at 63 Pocasset Ave.

Walter P.; Walter was a wire drawer at Johnson Steel & Wire, living in Webster, Mass.

Edw[ard] and wife Eleanor M; Edw[ard] was foreman at Woodbury & Co., living in West Boylston, Mass.

Jane; Jane was a stitcher at David Clark Co., living at 320 Millbury

Rich[ar]d H. and wife Teresa J; Rich[ar]d was a machinist at WG, living at 78-1/2 Ward
Stanley's daughters Bernice and Helen are not listed under Markiewicz.  They would be listed with their husbands.  Admittedly, it's difficult to be sure that Stephen, Walter, Edward, and Richard are actually Stanley's sons from this information alone.  Knowledge of the occupations of the sons or the names of the sons' wives would help confirm that the four men are, in fact, Stanley's sons.  Jane, on the other hand, is living with Stanley and Antonia, suggesting that she is probably Stanley's daughter.
A review of the obituaries for Stephen, Walter, and Edward confirms that the entries for these three men in the 1965 City Directory are, indeed, for Stanley's sons.  The epitaph on Richard's gravestone indicates that Richard's wife was named Teresa, confirming that the entry for Richard in the 1965 City Directory is for Stanley's fourth son.
The information in the directory provides good information on residence, occupation, and marital status at the time the directory was written.  Since the directory was written a year before it was published, the information in the 1965 City Directory was probably accurate in 1964.
Following an individual through time in the City Directory can provide approximate dates of employment at a given company, approximate year of marriage, approximate year of death of spouse (if the entry indicates that someone was a widow/widower), and the dates at which someone lived at a given address.
The entire page on which the Markiewicz entries appear is shown below.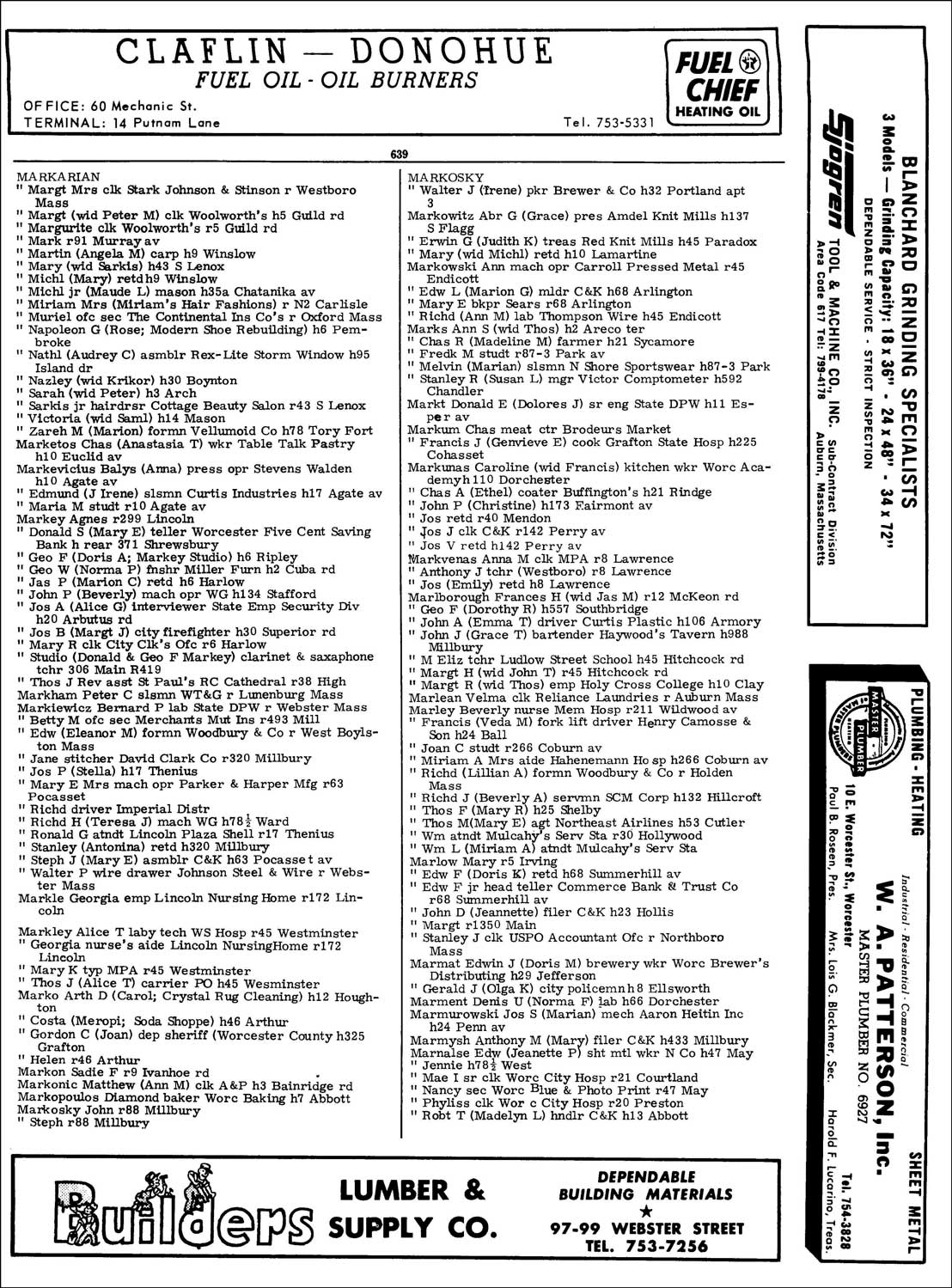 Page 639 of the 1965 Worcester County Directory
Copyright © 2006 by Stephen J. Danko