In 1930, Stanislaw Markiewicz was still living in Worcester, Massachusetts, but by this time was using the name Stanley Markiewicz.  In addition, all his children were listed with Anglicized names, as opposed to the Polish names used in the 1920 Census.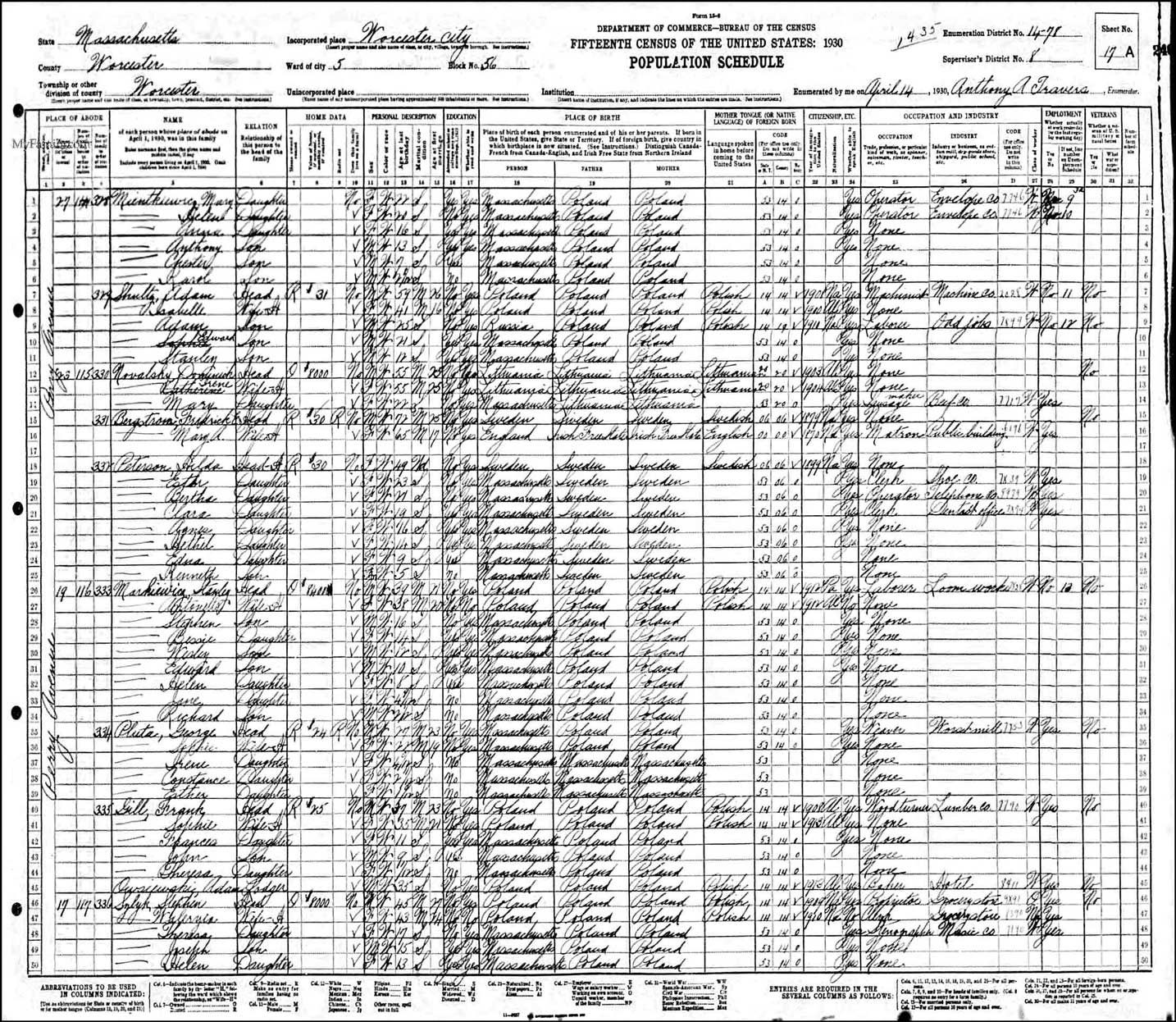 1930 US Federal Census Record for Stanley Markiewicz
Click on the link for a PDF copy of the US Federal Census Record for Stanley Markiewicz – 1930.  The record provides information that:
In 1930, Stanley Markiewicz was a married white male, 39 years old, who owned a home worth $8400 on 19 Perry Avenue in Worcester, Worcester Co., Massachusetts

Stanley (and his parents) were born in Poland; he immigrated in 1912 and had filed his Declaration of Intention to become a citizen

Stanislaw could read and write, and by 1930 he could speak English

Stanislaw listed his occupation as a laborer in a loom works, but was not working at the time of the census; he was listed on line 12 [?] of the Unemployment Schedule and was not a veteran

Stanislaw's wife was Antonette, a married white female, 38 years old

Antonette (and her parents) were born in Poland; she was an alien who immigrated in 1912

Antonette could not read and write, and she couldn't speak English

The couple was married when Stanley was 21 and Antonette was 20

The couple's children were Stephen age 16, Bessie age 14, Wesley age 12, Edward age 10, Helen age 8, and Jane age 4 and 9/12, all born in Massachusetts

Bessie, Wesley, Edward, and Helen were in school

Stephen, Bessie, Wesley, and Edward could read and write and could speak English
As a side note, in the first half of the 20th Century, the neighborhood where the Markiewicz family was living in 1930 was predominantly a neighborhood of Polish immigrants.  In 1910, my own grandparents, Kostanty and Helen Niedzialkowski, lived at 42 Perry Avenue, about a block away from where the Markiewicz family lived in 1930.  My grandparents may have known the Markiewicz family at the time.  In all likelihood, the two families both attended the nearby Church of Our Lady of Częstochowa.
Stanley reported his occupation as laborer in a loom works, although he was unemployed at the time of the census.  In the early part of the 20th century, The Crompton and Knowles Loom Works, located on Grand Street, employed a large number of Polish immigrants and may have been Stanley's employer at one time.
Tomorrow:  More about the family's ancestral village of Braciejowice
Copyright © 2006 by Stephen J. Danko