While I was at the Massachusetts State Archives in Boston a few weeks ago, I found the Naturalization Papers for Stanislaw Markiewicz.  Stanislaw was the grandfather of my cousins' cousins.  Let me explain…
My Uncle Michael Danko married Jean Skowronski, and my Uncle Joseph Danko married Helen Skowronski.  Jean and Helen were sisters, and they had several siblings, one of whom was Edward Skowronski.  Edward married Bernice Markiewicz.  Stanislaw Markiewicz was Bernice's father.  Clear?
One problem with finding the Ellis Island Passenger Manifest for Stanislaw Markiewicz is that when I searched the Ellis Island records, quite a few immigrants named Stanislaw Markiewicz came up.  I had no idea which was the correct immigrant.  One way to find the correct immigrant is to first find the Naturalization Papers.
The Massachusetts State Archives holds microfilm records of many of the Naturalization Papers for those naturalized in the Worcester Superior Court. On a whim, I searched one of the microfilm indexes:
 WO/SUP
Superior Court Department
INDEXES
Box 2111265
From: 01/01/1943 To: 12/31/1978
Case #'s: NATURALIZATION-SEE EXTEN
[MARZILLI:PERLIN]
and found a Stanislaw Markiewicz listed under Petition for Naturalization number 30012.
In short order, I had another microfilm on the reader:
WO/SUP
Superior Court Department
NATURALIZATION-PETITION AND RECORD BO
Box 2131573
From 01/01/1939 To: 12/31/1939
Case #'s: VOL. [112:114]
PETITION # [29907:30373]
and I zipped right to Petition 30012.  I quick check of the Petition for Naturalization and I saw his wife was Antonina Lejwoda and among his children was listed Mrs. Bronislawa (Bernice) Skowronski.
The first page in Stanislaw's file was his Certificate of Arrival, a document I previously described on this Blog.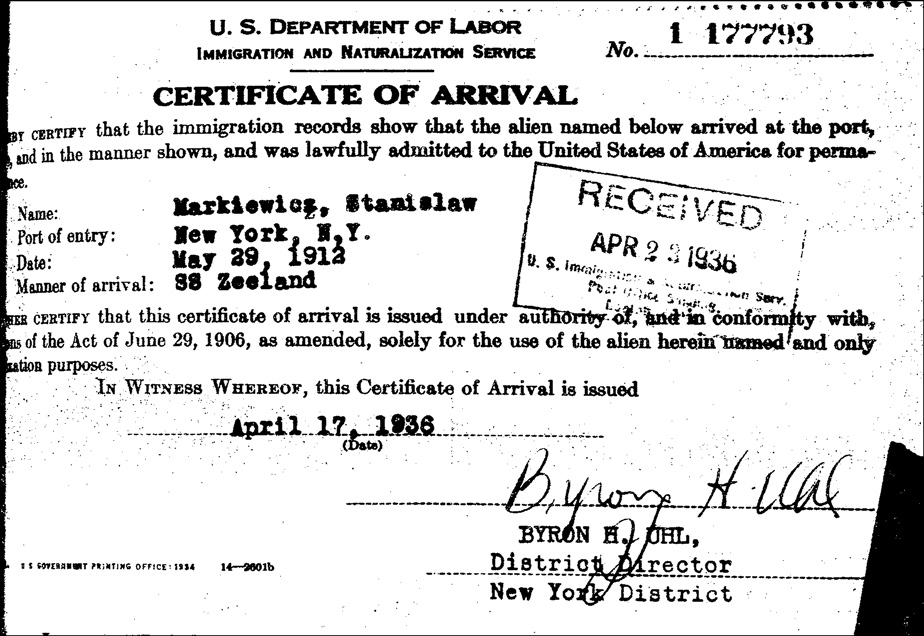 Certificate of Arrival for Stanislaw Markiewicz – Front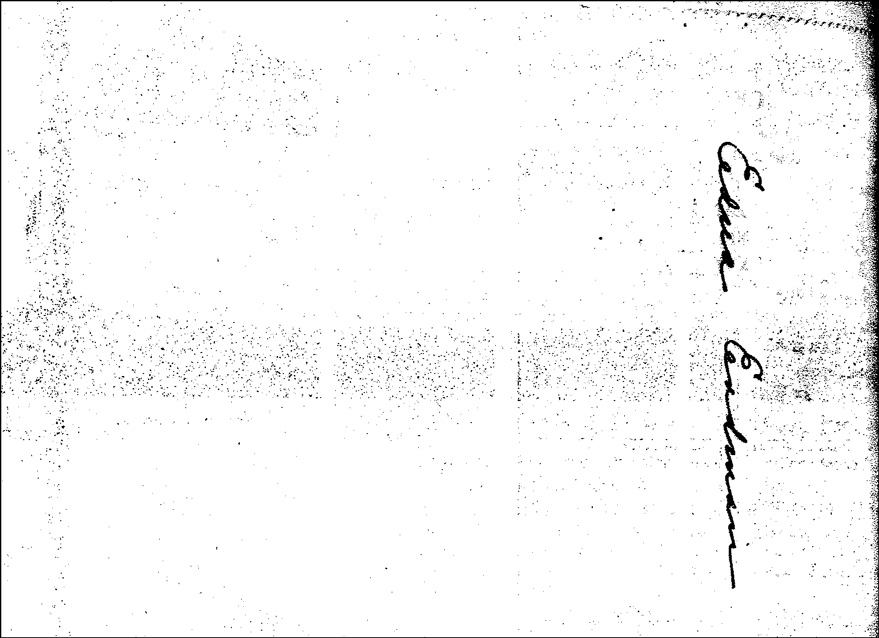 Certificate of Arrival for Stanislaw Markiewicz – Back
Click on the link for a PDF copy of the Certificate of Arrival for Stanislaw Markiewicz – 1938.  The Certificate states that:
Certificate No. 1 177793

Name: Markiewicz, Stanislaw

Port of entry:  New York, N,Y.

Date:  May 29, 1912

Manner of arrival:  SS Zeeland

The Certificate of Arrival was issued on April 17, 1938 by Byron J. Uhl, The District Director, New York District

The Certificate was received by the U.S. Immigration and Naturalization Service on April 23, 1936

The Certificate is signed on the back by Edna Endman (Sometimes the Certificates of Arrival have a signature on the back, sometimes they don't.  I don't know what the significance of the signature is.)
At the time Stanislaw applied for citizenship, the Certificate of Arrival was required to prove that he lawfully entered the United States (there were concerns about illegal aliens even in 1936) and to prove that he had been in the United States for at least five years before applying for citizenship.
The Certificate of Arrival pinpoints when Stanislaw arrived in the United States and shows on what ship he arrived.  This information should make finding Stanislaw's Passenger Manifest much easier.
Tomorrow:  Stanislaw's Declaration of Intention
Copyright © 2016 by Stephen J. Danko