On 15 Nov 1856, Konrad Lather, son of Balthasar Lather and Elisabetha Margaretha Lather, was born in Kirtorf, Alsfeld Kreis, Hesse-Darmstadt (now Germany). He was baptized in the parish church in Kirtorf, Alsfeld Kreis, Hesse-Darmstadt (now Germany) on 05 Dec 1856.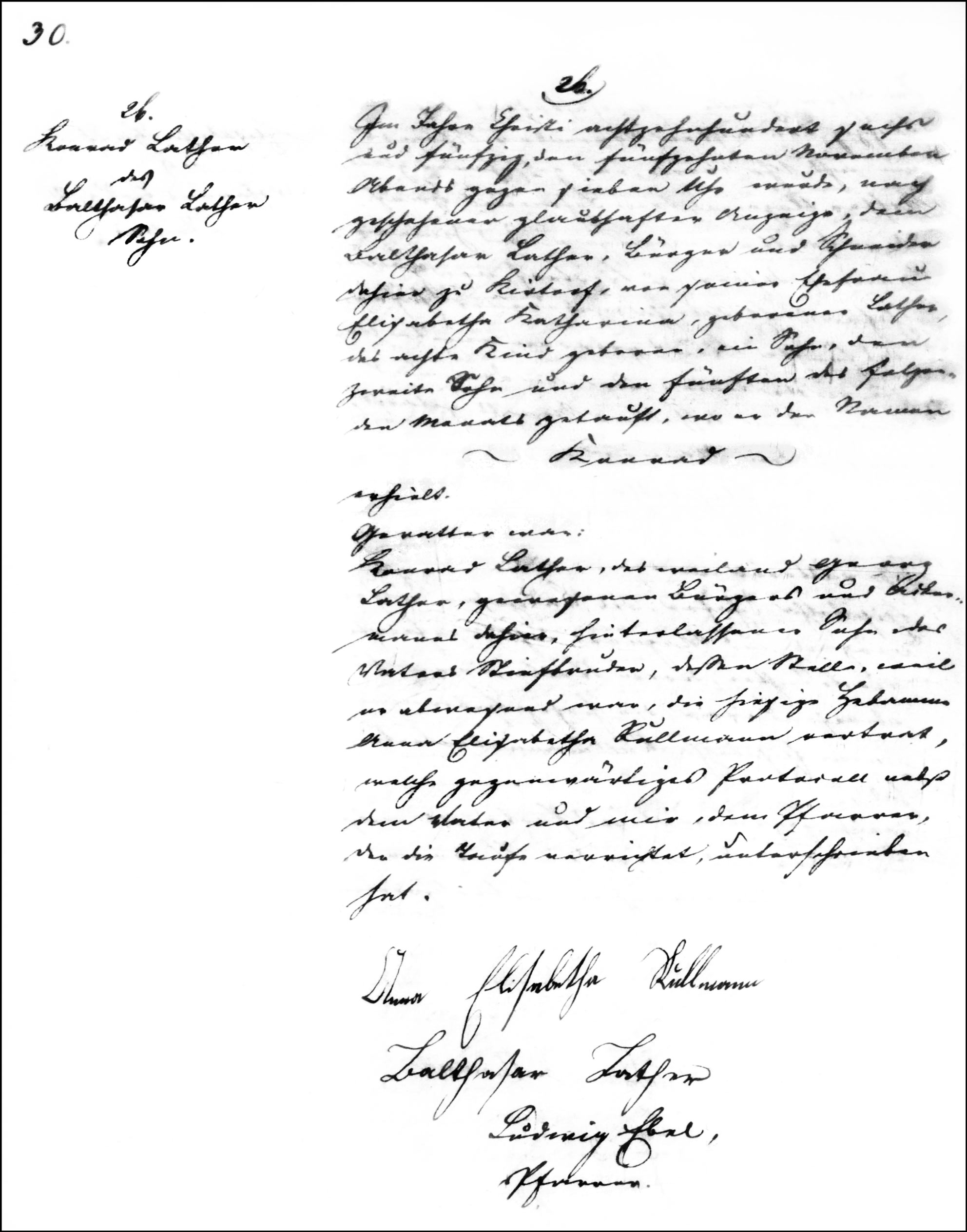 The Birth and Baptismal Record of Konrad Lather – 1856
SOURCE: Kirtorf Evangelische Kirche (Kirtorf, Alsfeld Kreis, Hesse-Darmstadt), "Geburts=Protcoll der Gemeinde Kirtorf für das Jahr 1853. [Birth Records of the Kirtorf Congregation for the Year 1853.]," page 4, record 17, Philipp Lather, 26 June 1853; filmed as Kirchenbuchduplikat 1808-1875; FHL INTL microfilm 0,855,109.
Click on the image above to enlarge it. Click on the link for a PDF copy of the Birth and Baptismal Record of Konrad Lather. This PDF document includes an image of the original document, a transcription in German Gothic, a transcription in modern German, and a translation in English. Translated from the German, the record reads:
30
Konrad Lather

26

At about seven o'clock in the evening of November fifteenth in the year of the Lord eighteen-hundred fifty-six, after a credible report, the eighth child and second son was born to Balthasar Lather, citizen and tailor here, and his wife Elisabetha Katharina née Lather and, on the fifth of the following month, the child was baptized and given the name:

          Konrad

The sponsor was:

Konrad Lather, surviving son of the deceased Georg Lather, former citizen and farmer here, the father's half-brother. Because he was absent, the local midwife, Anna Elisabetha Rullmann stood in his place, and signed the present document next to the father and me, the minister who performed the baptism.

[signed] Anna Elisabetha Rullmann
[signed] Balthasar Lather
          [signed] Ludwig Ebal
                          Minister
There are apparently two errors in this document. The first error is that the mother's name should be Elisabetha Margaretha Lather, not Elisabetha Katharina Lather. The second error is that, while this indeed is the eighth child, it is also the third, not the second son.
The sponsor, Konrad Lather, is described as Balthasar Lather's half-brother, and this is true. The two men shared a father (Johann Georg Lather), but Balthasar's mother was Anna Elisabetha Becker, and Konrad's mother was Helena Hissrich.
Copyright © 2009 by Stephen J. Danko