Today I added information on how to obtain Vital Records from 27 more US States and Possessions to my US Vital Records webpage.  When this project is complete, I believe it will be the most complete and up-to-date summary of US Vital Records sources on the net.  Many of the other websites with similar information are outdated or don't include alternate sources such as Historical Societies and State Archives.  Furthermore, I've included information on whether or not the Vital Records are restricted (and for what period of time), the cost of the records, and the years for which the records are available at each of the repositories.
In line with this addition, my images of the day are the death certificate, grave marker, and obituary for Harry J. Meleski.  Harry was the half-nephew of my grandmother, Helen (Chmieleska) Niedzialkowski.  In Lithuania, my grandmother's family name was Chmielewski / Chmielewska (men used the ending "i" at the end of the surname, while women used "a").  After arriving in the US, the family shortened their name to Meleski, and, by that, I mean the family changed the name – it wasn't changed at Ellis Island or by someone else.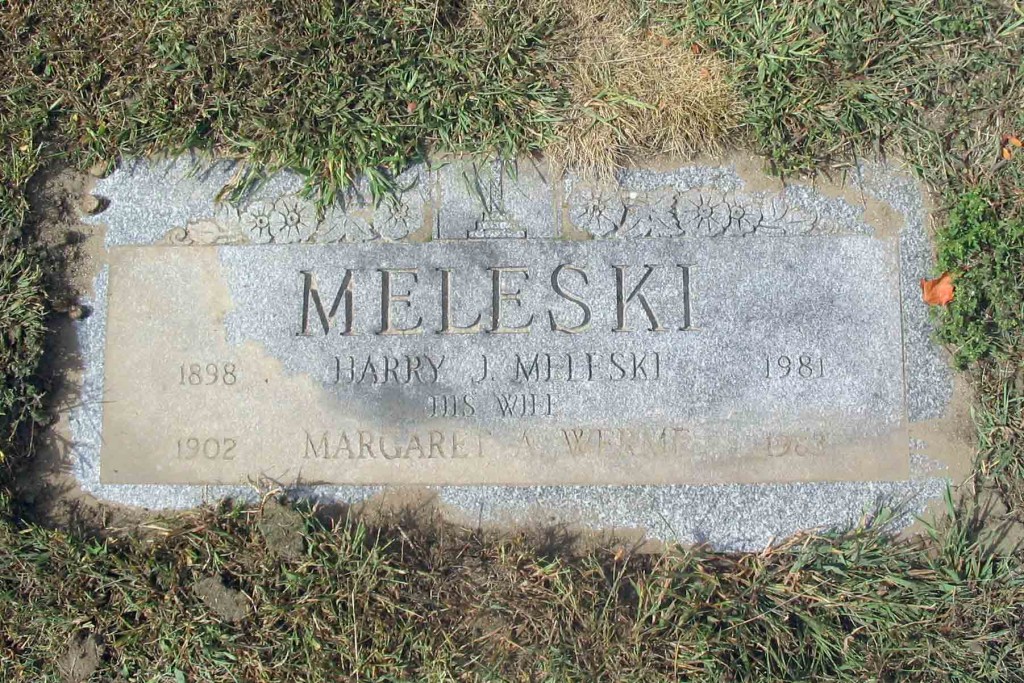 The Grave Marker for Harry and Margaret Meleski
Click on the links to see a PDF image of Harry Meleski's Death Record or  Harry Meleski's Obituary.  Click on the thumbnail to see a larger version of the marker on his grave in Hope Cemetery, Worcester, Massachusetts.  Harry and his wife died childless and it appeared that nobody had visited their grave in quite a while when I took this picture last summer.  I had to dig quite a bit of dirt and crabgrass off the marker in order to see it.  Harry was buried in Section 95, Lot RF1 on January 12, 1981.  His wife Margaret was buried next to him in Section 95, Lot RF2 on April 25, 1983.
As a final note, Harry was a lawyer and served for many years as the city solicitor of Worcester, Massachusetts.  He was once interviewed by the Worcester Telegram and told the newspaper that his most memorable case was one he argued before the Supreme Court of the United States to decide liability in a motor vehicle accident when one of the people involved was not a resident of the state in which the accident occurred.  This case and the decision are still important today, nearly 80 years after Harry won the case.
Copyright © 2006 by Stephen J. Danko