I was told that my paternal grandparents, Michał and Marianna Dańko, had three children in Galicia before they emigrated from the area.  I have been able to find the birth/baptismal records for two of those children:  Sophie (Zofia in Polish) and John (Jan).  The third child remains a mystery.  I was told that his name was Charles (Karol) and that he died in Galicia at age 4, but I have not located a birth/baptismal record for him.
My Aunt Sophie is the eldest child for whom I have an original, primary record.  The discovery of her birth/baptismal record in the church records from Dubiecko established the date and place of her birth with greater certainty than I had from any of the other records I had for her.  The birth date recorded on her birth/baptismal record was January 12, 1901.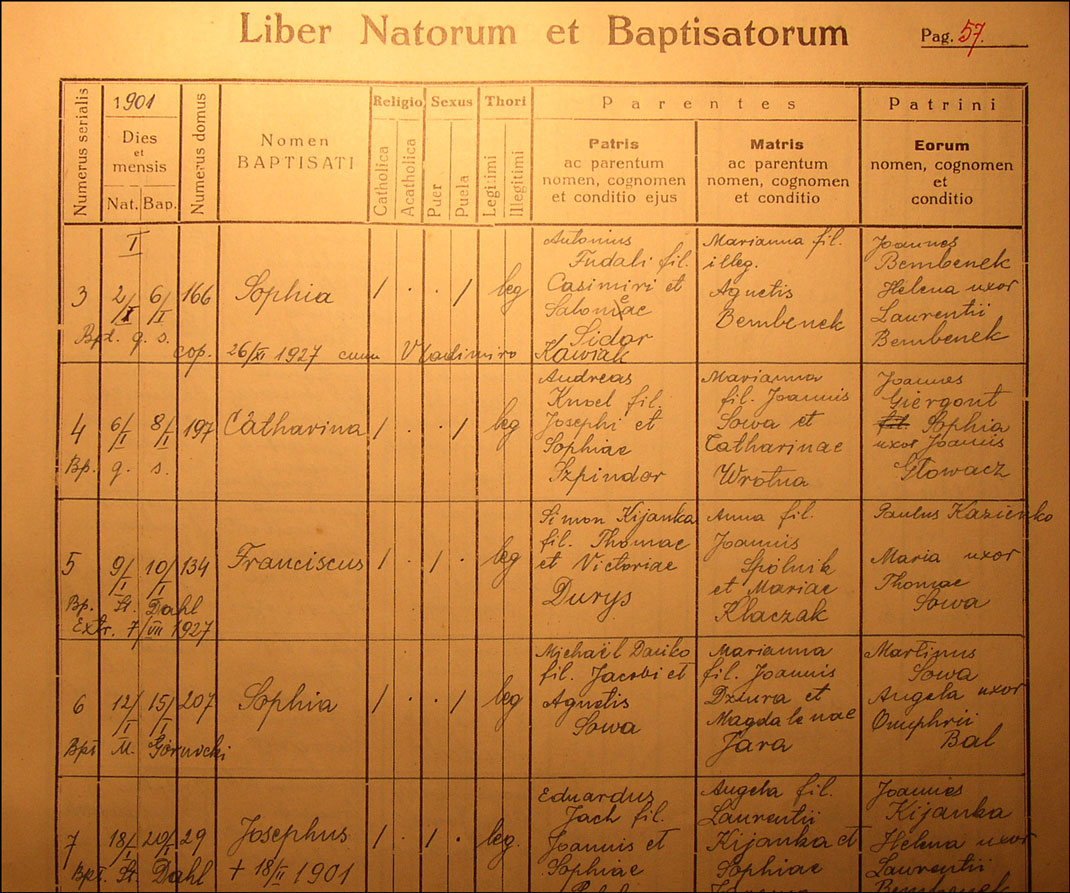 Birth and Baptismal Record for Zofia Dańko
However, the date that I obtained from various sources differed:
January 12, 1901 (Birth and Baptismal Record – Church Record)
About 1901-1902 (Passenger Manifest – 7 years old on May 24, 1909)
About 1902-1903 (1910 Federal Census – 7 years old on April 15, 1910)
About 1900-1901 (1920 Federal Census – 19 years old on January 1, 1920)
About 1899-1900 (1920 Federal Census – 30 years old on April 1, 1920)
January 14, 1902 (Family History written one of my aunts)
January 14, 1900 (Information from Sophie's descendants)
About 1899-1900 (Birth Record for Jack Arnold Gibson – 23 years old on November 10, 1923)
About 1899-1900 (Birth Record for Mary Gibson – 28 years old on August 25, 1928)
January 14, 1900 (Social Security Record – not the SS-5, but from the Social Security Administration – it's difficult to read, but it appears to be a Request for A/R Action)
January 14, 1903 (Social Security Death Index)
About 1899-1900 (Obituary – 77 years old on October 6, 1977)
1901 (Gravestone – born in 1901)
Of the records recorded above, Zofia Dańko's Birth and Baptismal Record is the only primary record for the date of her birth, since it is the only record made at the time of the even by persons who had direct knowledge of the event.  Other records may have been made by people who were present at the birth, but they were recorded much later.  The Birth and Baptismal Record was recorded in Latin and states that:
The record was entered on page 57 of the Book of Births and Baptisms
Zofia was the sixth birth recorded in Nienadowa that year
Zofia was born on January 12, 1901 and baptized on January 15, 1901
Zofia's family lived in house number 207
The child's name was Zofia, she was a Catholic girl and was legitimately born
Zofia's father was Michał Dańko, son of Jakub Dańko and Agnieszka Sowa
Zofia's mother was Marianna Dziura, daughter of Jan Dziura and Magdalena Jara
Zofia's Godparents were Marcin Sowa and Aniela Bal, the wife of Onufrius Bal
Zofia was baptized by Father Gornicki (for another mention of Father Gornicki, see the blog entry on The Church in Dubiecko and What I Found There)
This record confirms the names of Marianna Dziura's parents, whose marriage record was posted yesterday.  It also confirms the use of the name Dziura, rather than Dziurzyński as late as 1901.
Of further interest are the other entries on page 57 of the Book of Births and Baptisms.  Several other names on this page are prominent in my family history, including Sowa, Giergont, Głowacz, and Jach.  I wouldn't be surprised to find out some of these other people are related to me, since a Giergont married a Głowacz, a Głowacz and a Sowa married my great grandfather Jakub Dańko, and a Jach married my great grandfather Jan Dziura.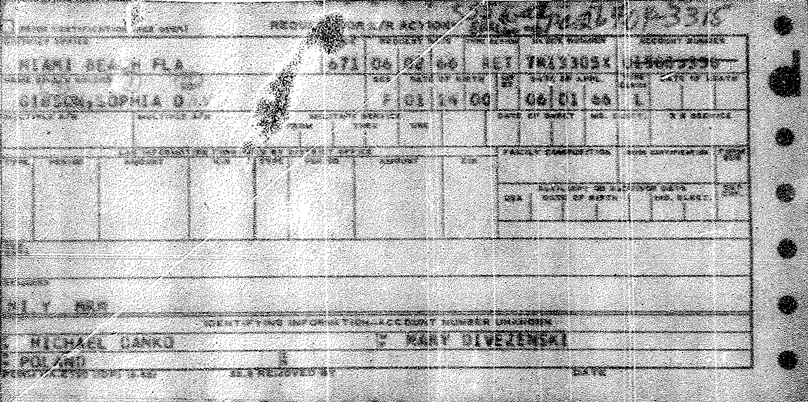 Request for A/R Action for Sophia Gibson
The Social Security record I have for Sophia is unusual.  I ordered an SS-5, the application for a Social Security Number, from the Social Security Administration.  Instead of an SS-5, I received what appears to be a Request for A/R Action.  I'm not exactly sure what this record is, but it seems that A/R may refer to Applicant/Recipient.  I assume the Social Security Administration was requesting information from my Aunt Sophie before awarding benefits. She would have been of retirement age at the time this document was generated.
Copyright © 2006 by Stephen J. Danko