San Francisco Bay Area genealogists who attended Saturday's meeting at the California Genealogical Society and Library were treated to a lively and informative presentation on Breaking Down Brick Walls. The Sherman Room at the Society's facility in Oakland was filled to capacity for the event.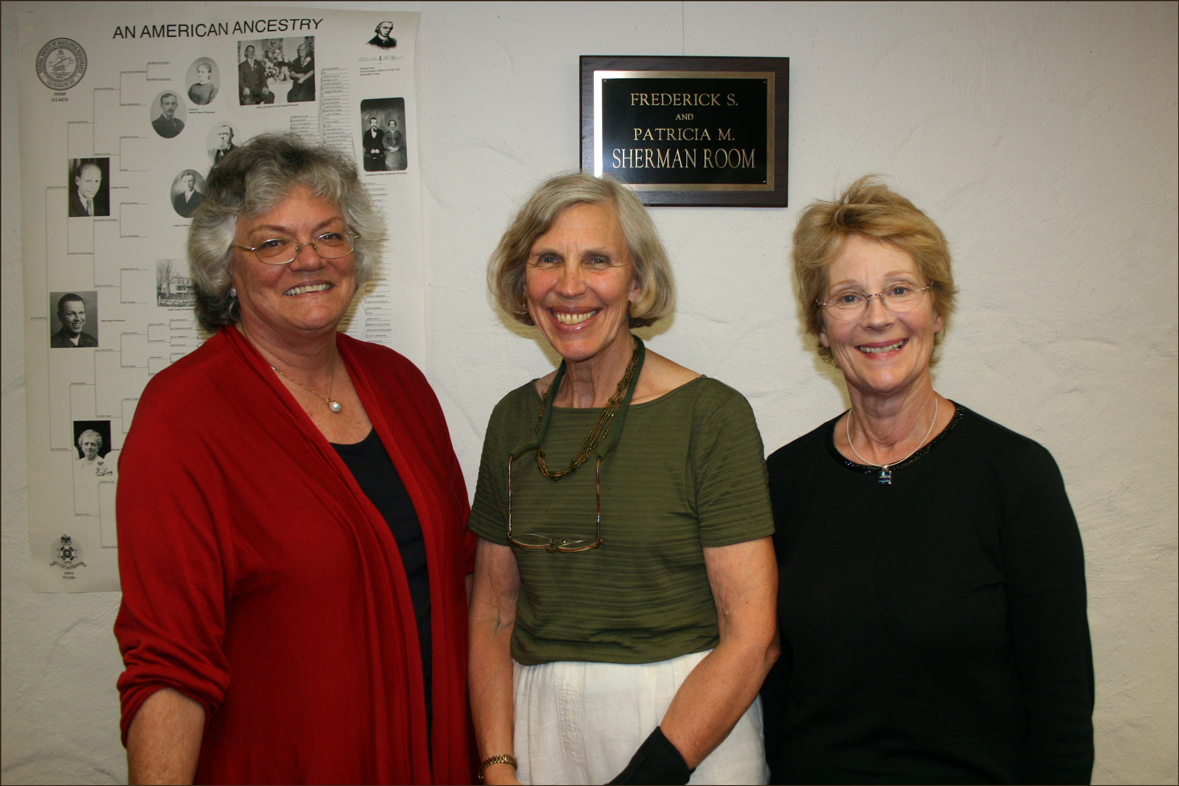 Lavinia Schwarz, Nancy Peterson, and Jane Hufft
SOURCE: Lavinia Schwarz, Nancy Peterson, and Jane Hufft (Oakland, Alameda Co., California). Photographed by Stephen J. Danko on 12 Jul 2008.
Although billed as a panel discussion, Jane Hufft, Lavinia Schwarz, and Nancy Peterson presented a well-integrated series of three lectures that provided a new way to look at brick walls.
The session opened with a discussion of three big problems in genealogy: finding parents, spouse, and location. The approach to breaking through brick walls that Jane, Lavinia, and Nancy discussed is to Review, Reach Out, and Reframe.
REVIEW
What source types are essential to your problem and what sources have you failed to examine? Have you cited all sources so you know where you are? Keep a search record and construct a bibliography.
What needs a second look? Review census records (including neighbors). Reexamine surnames, including possible variations and misspellings. Read about the history for the region and the era. Evaluate family stories.
Are there sources and methods you haven't yet examined? Think about maps, tax records, land records, scholarly journals, bibliographies in the backs of sources, military records, passport records, church records, and newspapers.
Is it time to start researching every relative and hanger-on? Research collateral lines: siblings with different surnames, all children descending from the relative in question, all brothers and sisters of the ancestor and the ancestor's spouse.
Look for sources in other libraries (regional, university, local, historical, state). Ask the librarian for help. Are any applicable vertical files or manuscripts available?
How can you expand your search? Search newspapers in city, local library, and university archives. Visit the locale, set up contacts, find out whom else is buried at the local cemetery. Remember to search county-level records, land, probate, chancery court, and poorhouse records.
Consider hiring a professional researcher. A local person may be able to uncover information you can't. Locate other researchers working on this line. consult with others, including friends and other genealogists, about your brick wall.
Evaluate your time. Is this problem keeping you from completing other research? Sometimes you need to accept the fact that certain information may simply not be there.
Use the Internet efficiently. Try multiple search engines including Google, Dogpile, Yahoo, Ask, Metacrawler, AltaVista, and LiveSearch. Review popular websites and databases such as Ancestry, NewspaperArchives, Footnote, etc.
REACH OUT
Network with others. Who knows more than you? Question family members, including extended family.
Search and post on RootsWeb message boards. Join a mailing list. Search and post on Genforum. Be prepared to wait a long time before someone posts a reply to your message.
Learn more as the brick wall tumbles. Build upon what you have learned.
Visit the area of your search. Visit the courthouse, libraries, genealogical societies, and historical societies. If you can't go in person, join online groups, join a genealogical society in the location, or hire a local researcher.
REFRAME
State the problem in simple terms, gather all your notes that apply to the problem, and arrange the facts chronologically.
Prepare a timeline. Is the timeline continuous or are there gaps in it? What can you do to fill in these gaps?
Analyze the reliability, timeliness, and credibility of each source. Was the conclusion you reached about this source justified, or do you need to reconsider?
Is the source an original source or a derivative source? How close in time to the event was the source created? Was the preparer of the source in a position to know about the event?
Do the ages make sense? Could you be looking at two different people with the same name? Do the occupations make sense? Are you basing conclusions on unfounded assumptions?
Is there information missing when you expected to find it?
REST!
New sources and new contacts may come along. Working on another problem may give you fresh insights into this one.
Copyright © 2008 by Stephen J. Danko