In my effort to learn more about the various genealogy software packages currently on the market, I attended Geoff Rasmussen's lecture "Overview of Legacy Family Tree 7″ at the Southern California Genealogy Jamboree 2008.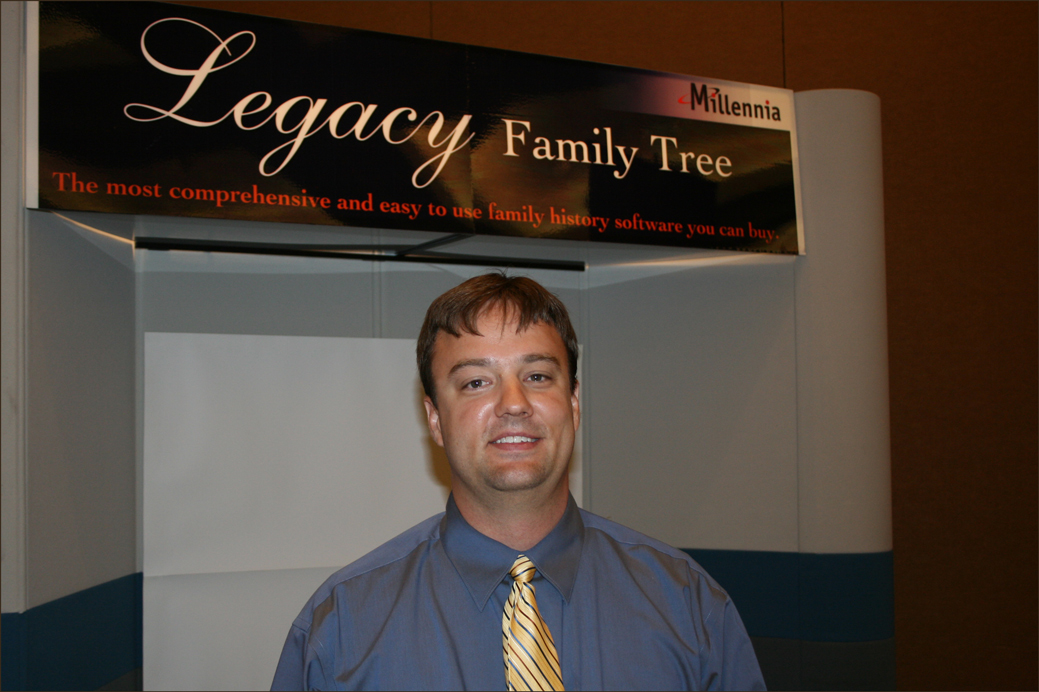 Geoff Rasmussen at the Southern California Genealogy Jamboree 2008
SOURCE: Geoff Rasmussen at the Southern California Genealogy Jamboree 2008 (Burbank, Los Angeles Co., California). Photographed by Stephen J. Danko on 27 Jun 2008.
The lecture I attended was a basic introduction to Legacy Family Tree 2008 and included discussions of older features, features new to version 7, and features to be added in the future.
As with many other genealogy programs, Legacy Family Tree can calculate relationships between people in the database. However, Legacy can calculate non-blood relationships and additional relationships if two people are related in two or more ways. Legacy can also set bookmarks for specific individuals that appear as tabs at the bottom of the screen.
Legacy can check the entire database for errors in place names. Specifically, the USA County Verifier will check to see if the county included in a place name is correct for the time period.
The main screen of Legacy includes events of birth, christening, death, and burial, allowing the user to quickly enter christening and burial information at the same time the user adds birth and death information.
Legacy's privacy settings allow the user to mark entries as private or as invisible on reports and exports.
The new Source Writer in Legacy will create source citations according to the standards in Elizabeth Shown Mills' book Evidence Explained by guiding the user through a series of questions. Sources can be formatted as footnotes, endnotes, or bibliographies and are automatically created as the user types. Subsequent citations of a previously cited source are also properly created. Geoff explained that Legacy will be adding a utility to help the user convert existing source formats to current standards.
Legacy provides research guidance, suggesting sources for given events. The user can click "plan to search' to add a source to the "to do" list.
For mapping locations, Legacy uses Microsoft Virtual Earth, allowing the user to see locations in a variety of views, including a "bird's eye" view.
Legacy Family Tree can produce many types of books on the user's desktop, and can include both maiden and married names in the index.
Legacy includes many charts including many new to version 7. Geoff mentioned DNA charts and "Males Only" charts as examples. In the charts, the user can move boxes around and add backgrounds. Printouts of charts can be ordered directly from within the program.
Geoff presented a second lecture on Saturday entitled "Legacy Family Tree: Why Even Professionals Use It". Unfortunately, I was not able to hear his second lecture because it conflicted with another lecture I wanted to attend.
At present, I have not tried Legacy Family Tree 7. While Legacy offers a free version of its software, the free version does not include many of the features I would like to try out, including the new Source Writer, Wall Charts, and Mapping utilities.
Copyright © 2008 by Stephen J. Danko