One of my objectives at this year's Southern California Genealogy Jamboree was to learn more about the various genealogy software packages on the market.
Bruce Buzbee, the founder and president of RootsMagic, Inc. and the author of the RootsMagic genealogy software, presented a lecture on "What's New in RootsMagic 4″.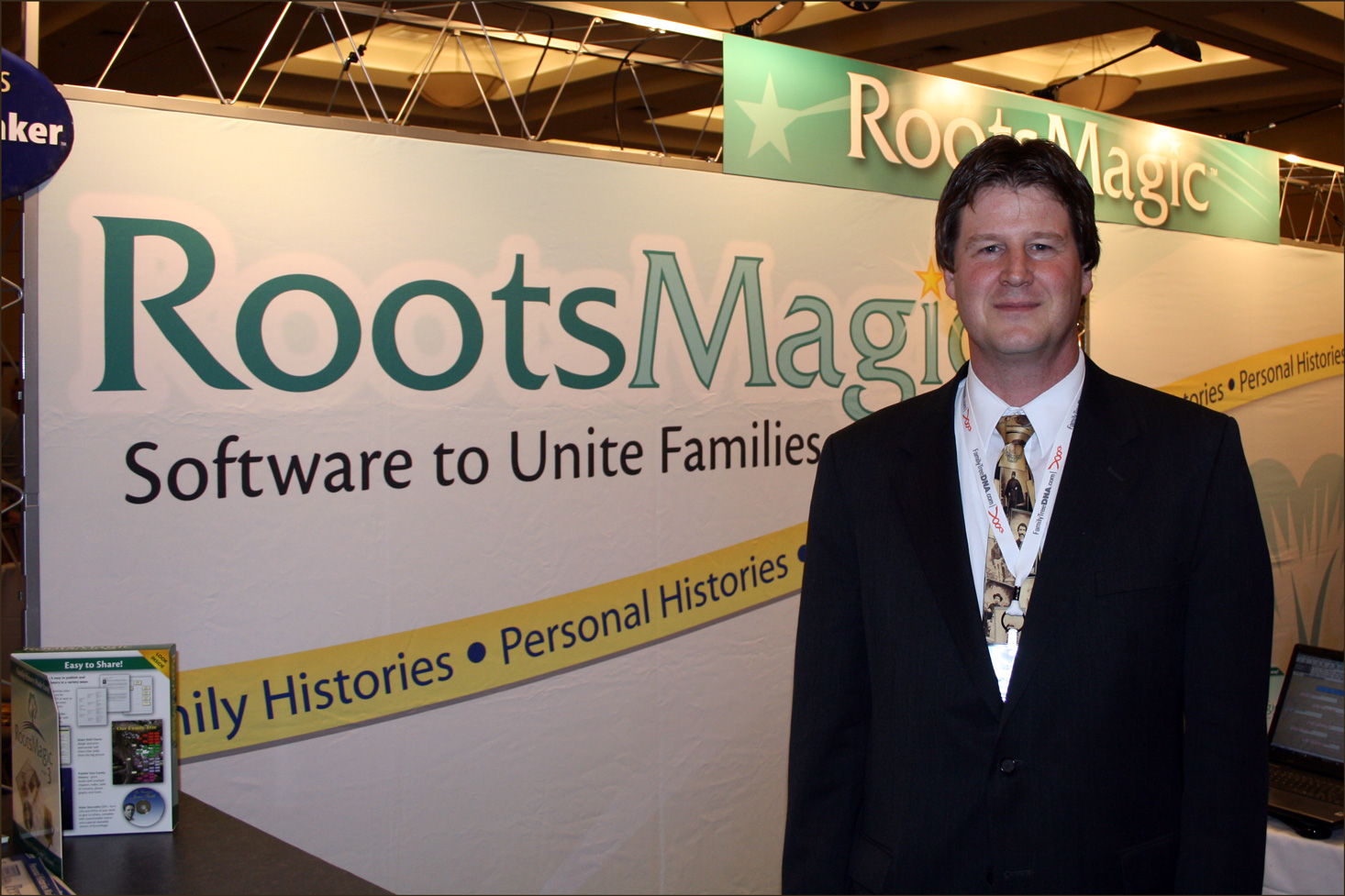 Bruce Buzbee at the Southern California Genealogy Jamboree 2008
SOURCE: Bruce Buzbee at the Southern California Genealogy Jamboree 2008 (Burbank, Los Angeles Co., California). Photographed by Stephen J. Danko on 27 Jun 2008.
Bruce told the audience that RootsMagic version 4 would be ready to release later this year and, before release, there will be a public beta version of the program. RootsMagic 4 will be the biggest upgrade ever.
Because RootsMagic 4 is not yet ready, Bruce was cautious about discussing new features. He did, however, show how RootsMagic would interface with New FamilySearch. After users sign into New FamilySearch, they will be able to transfer information, including sources, back and forth between RootsMagic 4 and New FamilySearch.
Bruce also demonstrated several features already available in the current release of RootsMagic.
RootsMagic can import GEDCOM files, Family Origins database files, Family Origins backup files, PAF database files, and Family Tree Maker database files. One caveat, however, is that RootsMagic cannot directly import Family Tree Maker 2008 files.
The current version of RootsMagic can produce wall charts, lets the users move boxes to their preferred positions, edit text directly within in the boxes, set background pictures, and add pictures to individual boxes. Users can also print color wall charts up to 42 inches wide by up to 100 feet long through http://www.printmychart.com at prices much lower than those at local copy centers. Bruce demonstrated how to create custom charts in RootsMagic by cutting and pasting between charts.
RootsMagic's Source Wizard guides the user step-by-step through the process of creating sources, a clear benefit to all users, even those with extensive experience in citing sources. Bruce explained that the source citations created by RootsMagic 3 conform to accepted standards.
Other features Bruce discussed include the ability to merge duplicate place names and the ability to universally correct place names for the entire database at once.
RootsMagic also interfaces with Microsoft Virtual Earth, enabling the user to use an online map to visualize places listed in the user's database.
Later that same day, I stopped by the RootsMagic booth to meet Bruce. He gladly answered my questions and provided some additional insight into the workings of RootsMagic. Before I left the booth, I picked up a copy of RootsMagic 3 so I could see the program's functionality for myself.
And, tonight, I installed RootsMagic 3 on my home computer.
At home, I use a SONY Vaio laptop with Intel Centrino Duo processor running Windows Vista. I was quite surprised at how quickly and effortlessly the installation was completed. I registered the software online and upgraded to the latest release, version 3.26.
Since I currently use Family Tree Maker 2008, I had to export my database of 10,000 individuals to a GEDCOM before importing into RootsMagic 3. By exporting to GEDCOM, I lost the images I had associated with my Family Tree Maker file, but I wasn't particular concerned since I didn't have many images, anyway. I imported the GEDCOM into RootsMagic, a process that took very little time at all.
I was finally ready to view my data. I thought that, with the relatively small size of the application, I might be disappointed with the functionality of the program. I couldn't have been more wrong. RootsMagic is a full-featured application with a remarkably easy learning curve. I had no problem coming up to speed with RootsMagic in just a few minutes. RootsMagic comes with a video tutorial, and I'll be sure to view it, but I didn't need to watch the video or consult the manual in order to start working with RootsMagic.
The number and variety of reports is impressive as is the appearance of the reports. However, I almost immediately noticed that, in the Register Report, occupations were sometimes reported as places, and several facts were reported as "[need to define sentence]". Happily, RootsMagic allows me to write my own sentence formats to report facts. This will certainly be a time saver since I currently spend an inordinate amount of time tweaking the wording in my reports.
Well, I'm very pleasantly surprised by my initial experience with RootsMagic 3 and, although I like Family Tree Maker 2008, the reporting and publishing capabilities of RootsMagic are tempting me to switch to RootsMagic as my primary genealogy database. Now, I can't wait to see RootsMagic 4!
Copyright © 2008 by Stephen J. Danko