My research indicates that Katarzyna Dańko is probably my second cousin, twice removed. She was born 10 Mar 1879 in Nienadowa, Galicia (Austria Poland), one of 14 children of Józef Dańko and Marianna Chruścicka.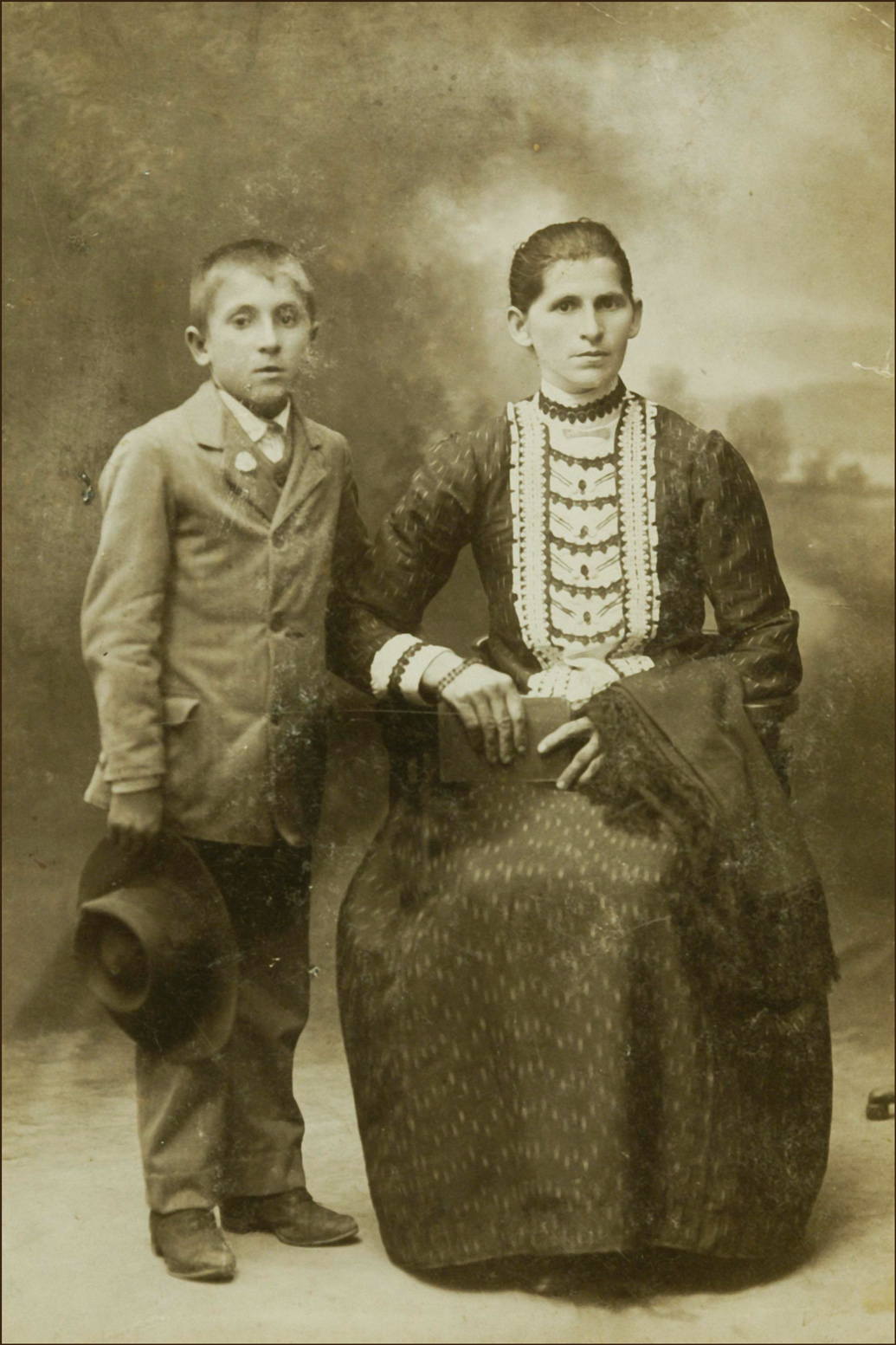 Franciszek Tropiło and Katarzyna Dańko Tropiło
SOURCE: Franciszek Tropiło and Katarzyna Danko Tropilo (Galicia – Austria Poland). Photographed by unknown photographer in about 1915.
On 09 Feb 1898, shortly before her 19th birthday, Katarzyna married Jan Tropiło. While most couples living in that time and place had large families, Katarzyna and Jan had only one child of their own, a son named Franciszek, born on 21 Aug 1904 in Nienadowa. Still, circumstances and fate provided Katarzyna and her husband with a second child, a baby girl left abandoned in front of their house. Katarzyna and Jan named the child Marysia and raised her as their own.
The family moved to a farm in Packowice, Galicia (now located in Ukraine) where they raised cows, horses, pigs, chickens, geese, rye, wheat, beans, oats, corn, barley, potatoes, and beets on 13 mórgs of land (about 14.5 acres).
With a large number of animals on the farm, Katarzyna earned a reputation as a veterinarian, although a literal translation from the Polish is closer to "quack veterinarian". She was thought to have supernatural powers and some considered her a witch. When passing her house with their carts, the local villagers would quicken their steps "just in case". One story relates an incident when Katarzyna and her son Franciszek were on their way to mass at the local church. As they approached the church, they noticed a large group of people standing with their backs to them. Katarzyna whispered to her son, "Watch. They will all turn around and look at us now". At that very moment, everyone turned around to look at the pair.
Katarzyna's husband Jan died in Feb 1930 and Katarzyna continued to run the farm on her own.
On 17 Sep 1939, at the start of World War II, the Red Army entered Packowice and, in 1940, Soviet Soldiers entered Katarzyna's home to arrest Katarzyna and Marysia for "exile in administrative mode". No reason was given for their arrest, but the family believes they were exiled because they owned a large farm. The two were sent to Omsk Oblast in southwestern Siberia where they were left to fend for themselves.
Katarzyna, suffering both in mind and body, died in Siberia in 1941. She was buried on the steppes in a casket purchased with her daughter's most important possession – an eiderdown quilt.
Written for the 51st Edition of the Carnival of Genealogy.
Copyright © 2008 by Stephen J. Danko