My Niedzialkowski ancestors lived in Worcester, Massachusetts, and so did two other Niedzialkowski families. After discovering church records in Poland and various civil records in Worcester, I've hypothesized that all the Niedzialkowski families in Worcester are related to my own.
One Polish immigrant to Worcester, Damian Niedzialkowski, continues to be a bit of a mystery. The List or Manifest of Alien Passengers to the United States that included Damian's name stated that he was born in Pomaski, Poland, the same place my grandfather was born. Examination of the indexes to baptisms in the parish of Szwelice, Poland, stated that Damian Niedzialkowski was born in 1893. I have ordered the microfilm of the Szwelice parish records and am waiting for it to arrive at my local Family History Center.
I had also ordered a microfilm of the Naturalization Records for the Superior Court of Massachusetts at Worcester, and that film arrived at the Family History Center last week. I examined the microfilm on Wednesday evening.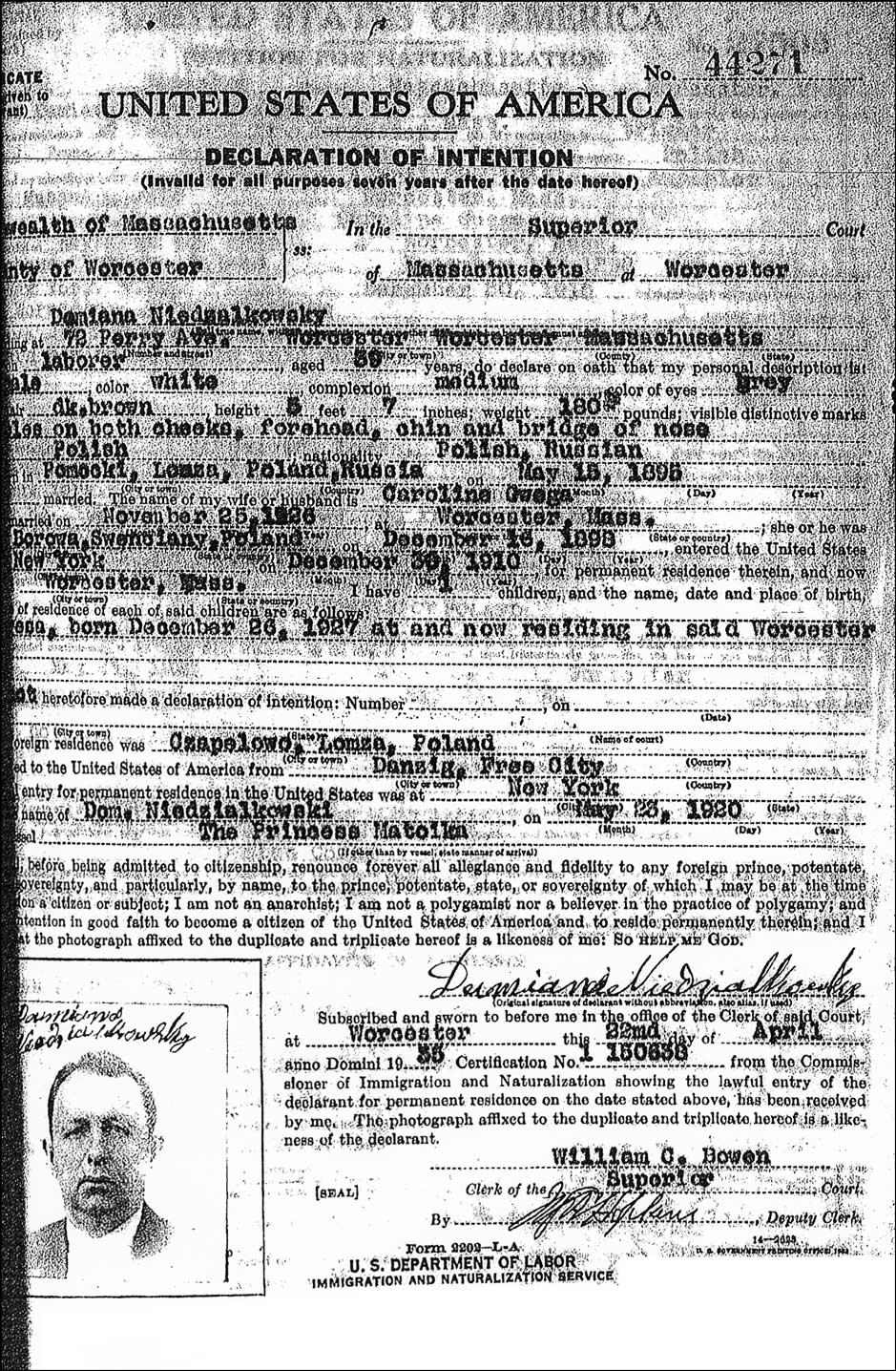 Declaration of Intention of Domiana Niedzalkowsky – 1935
SOURCE:  Worcester County, Massachusetts, Naturalizations, v. 102 (1937-1938): Declaration of Intention of Domiana Niedzalkowsky, 1935, Filed under Petition for Naturalization No. 27505; Superior Court of Massachusetts at Worcester.  FHL microfilm 2,131,567. Family History Library, Salt Lake City, Utah.
Click on the image above to enlarge it. Click on the link for a PDF Copy of the Declaration of Intention of Domiana Niedzalkowsky – 1935. The Declaration states:
Damian Niedzialkowski filed his Declaration of Intention in the Commonwealth of Massachusetts, County of Worcester, in the Superior Court of Massachusetts at Worcester;

His name was spelled Domiana Niedzalkowsky on the Declaration;

He resided at 72 Perry Ave., Worcester, Worcester, Massachusetts;

He was a laborer, age 39 years, male, white, medium complexion, grey eyes, dk. brown hair, height 5 feet-7 inches, weight 180 pounds, with moles on both cheeks, forehead, chin and bridge of nose;

He was Polish and of Polish, Russian nationality;

He was born in Pomocki, Lomza, Poland, Russia on 15 May 1895;

His was married on 25 Nov 1926 at Worcester, Mass. to Caroline Gwega;

His wife was born in Borowa, Swenciany, Poland on 16 Dec 1898 and entered the United States at New York on 30 Dec 1910;

The couple had one child named Theresa, born 26 Dec 1927 in Worcester;

His last foreign residence was Czapelowo, Lomza, Poland;

He left for the United States through the Free City of Danzig and arrived at New York on 23 May 1920 aboard The Princess Matoika under the name Dom. Niedzialkowski;

He signed the Petition on 22 Apr 1935 at Worcester;

His Certificate of Arrival was No. 1 150638;

His Petition was signed by W. A. Hopkins, Deputy Clerk for William C. Brown, Clerk of the Superior Court;

The Petition was received by the U.S. Immigration and Naturalization Service on 14 Jul 1937.
This document provides some valuable information beyond that of Damian Niedzialkowski's efforts to become a United States citizen. I now have additional information about Damian's birth, his wife, his marriage, and his daughter. With this information, I hope to find Damian's marriage record in Massachusetts and, consequently, discover the names of his parents. Perhaps, with this information, I can learn if and how he is connected to my own Niedzialkowski family.
Written for the Carnival of Eastern European Genealogy.
Copyright © 2008 by Stephen J. Danko