On 02 Jan 1890, Sarah Waters Gibson died in Clarenceville, Province of Québec. She was buried on 04 Jan 1890.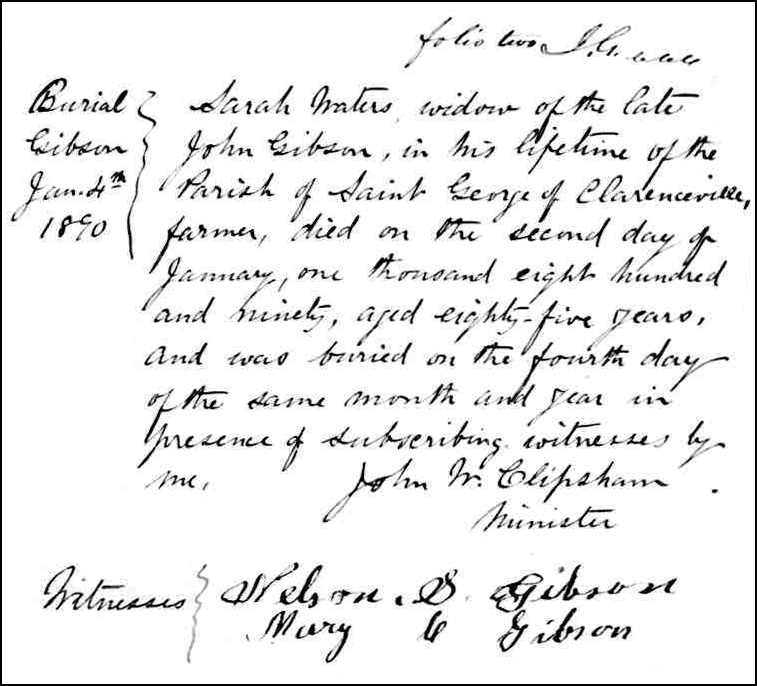 The Death and Burial Record of Sarah Waters Gibson – 1890
SOURCE: Gabriel Drouin, comp. Drouin Collection. Montréal, Québec, Canada: Institut Généalogique Drouin. Methodist Church, Clarenceville Circuit, Missisquoi County, Province of Québec, Dominion of Canada 1890. Death and Burial Record of Sarah Waters Gibson, recto folio 2.
Click on the image above to enlarge it. Click on the link for a PDF copy of the Death and Burial Record of Sarah Waters Gibson. The record reads:
Burial Gibson Jan. 4th 1890

                      folio two J.G. ccc
Sarah Waters widow of the late
John Gibson, in his lifetime of the
Parish of Saint George of Clarenceville,
farmer, died on the second day of
January, one thousand eight hundred
and ninety, aged eighty-five years,
and was buried on the fourth day
of the same month and year in
presence of subscribing witnesses by
me.                  John W. Clipsham
                                    Minister
Witnesses Nelson S. Gibson
                   Mary C Gibson
This record can be found as image 2/23 in the Quebec Vital and Church Records (Drouin Collection), 1621-1967 on Ancestry.com in the records for Clarenceville (Methodist Church) 1890. The record appears on recto folio 2 (the front of folio 2).
This particular record is from the civil transcript of the church record. At the top of each page are the initials "J.G." and "ccc", standing for john Gough, Clerk for the Circuit Court. The full name and title of the Deputy Clerk were provided on the first folio of this record book.
Sarah Waters Gibson was the wife of John Gibson and the mother of Clark Gibson, whose records I have previously shown.
Copyright © 2008 by Stephen J. Danko