On 13 May 1833, Maryette Olds was born. She was baptized in the Wesleyan Methodist Congregation, circuit of Saint Armand on 18 Nov 1866.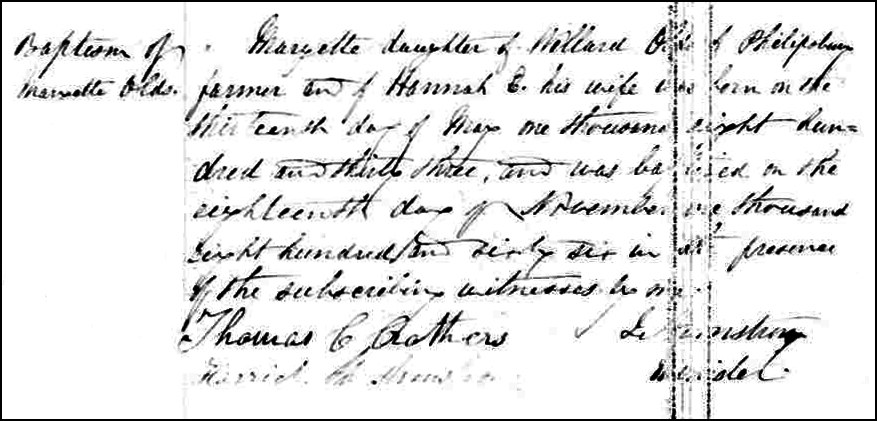 The Birth and Baptismal Record of Maryette Olds – 1866
SOURCE: Gabriel Drouin, comp. Drouin Collection. Montréal, Québec, Canada: Institut Généalogique Drouin. Wesleyan Methodist Congregation, Circuit of Saint Armand, Missisquoi County, Lower Canada, Province of Canada, 1866.
Birth and Baptismal Record of Maryette Olds, verso folio 10.
Click on the image above to enlarge it. Click on the link for a PDF copy of the Birth and Baptismal Record of Maryette Olds. The record reads:
Baptism of Maryette Olds.

. Maryette daughter of Willard Olds of Philipsburg
farmer and of Hannah E. his wife was born on the
thirteenth day of May one thousand eight hun=
dred and thirty three, and was baptized on the
eighteenth day of November one thousand
eight hundred and sixty six in the presence
of the subscribing witnesses by me.
Thomas C Crothers          J. Armstrong
Harriet ? Armstrong                 Minister
This record can be found as image 12/19 in the Quebec Vital and Church Records (Drouin Collection), 1621-1967 on Ancestry.com in the records for St-Armand (Methodist Church) 1866. The record appears on verso folio 10 (the back of folio 10).
This particular record is from the civil transcript of the circuit record. Maryette was baptized when she was 33 years old.
Maryette Olds, daughter of Willard Olds and Hannah Eliza Shults, would later marry Clark Gibson whose death and burial record I showed yesterday
I could not read the surname of the second witness.
UPDATE 03 Jun 2008: Thanks to Ambar and Barbara P., I see now that the surname of the second witness is Armstrong, though I still can't make out the middle initial. I wonder if Harriet Armstrong was related to the minister, J. (John) Armstrong?
Copyright © 2008 by Stephen J. Danko