As I expand my research on my Niedzialkowski ancestors and begin to assemble materials for a One-Name Study, I'm trying to assemble all available records on those with the Niedzialkowski surname and related surnames.
This is going to be a huge effort, even though the Niedzialkowski surname is relatively rare.
I discovered an Alien Passenger Manifest for Dam Niedzialkowski who entered New York on 23 May 1920.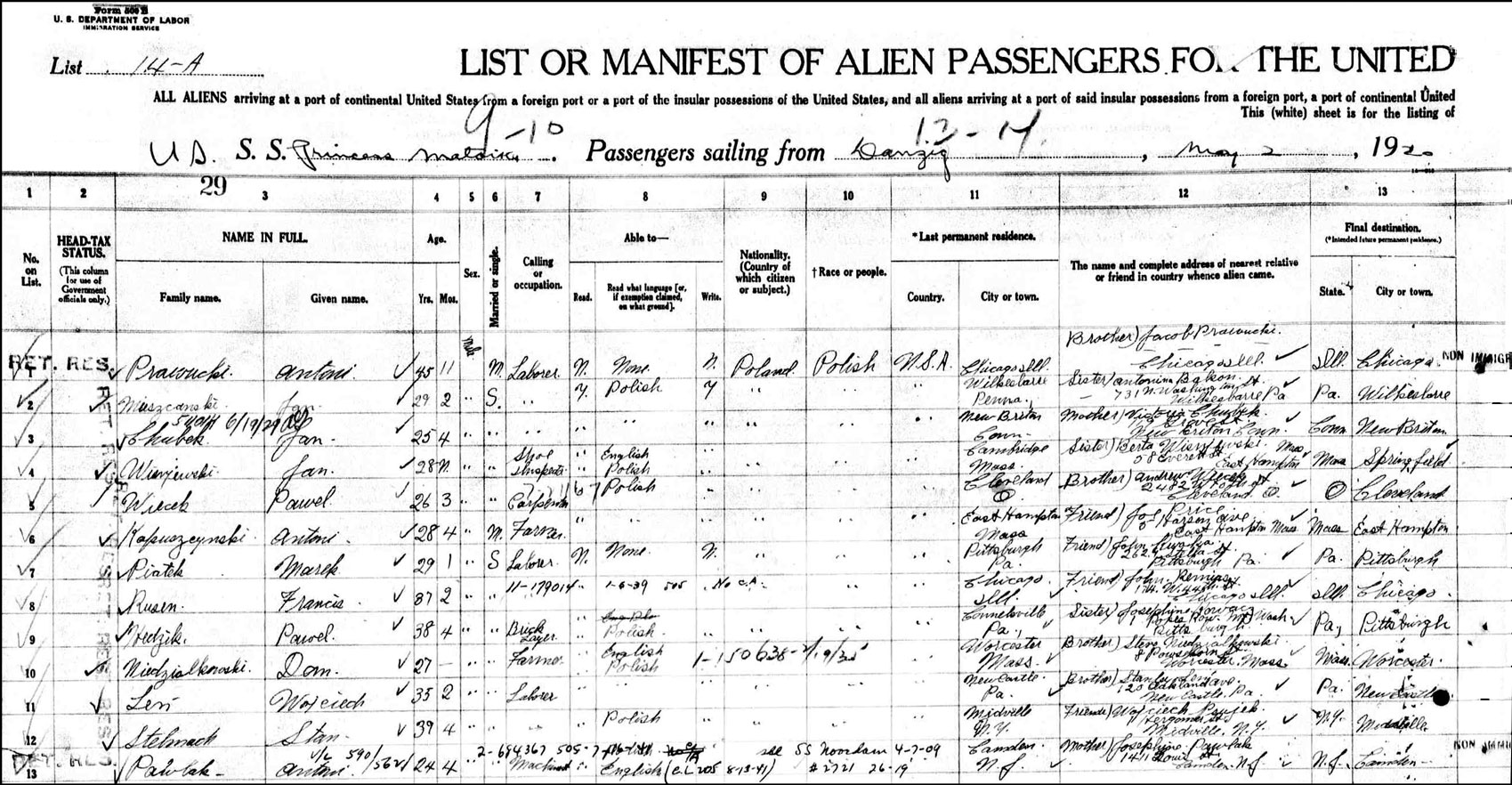 Alien Passenger Manifest for Dam Niedzialkowski – 1920 (Page 1)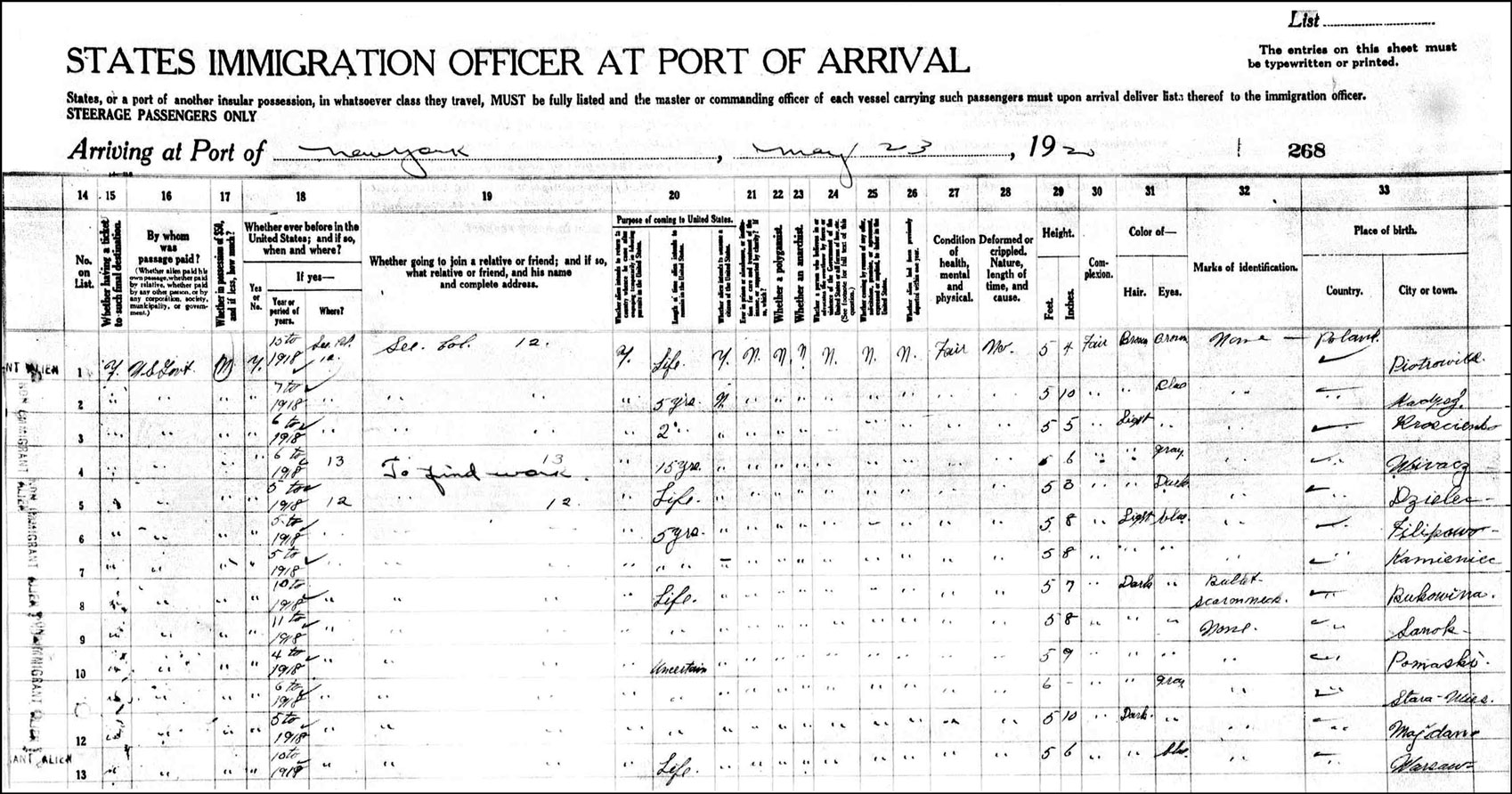 Alien Passenger Manifest for Dam Niedzialkowski – 1920 (Page 2)
SOURCE: Manifest, S.S. Matoika, 23 May 1920, List 14-A, line 10, Dam Niedzialkowski, age 27; "Passenger Record" digital images, Statue of Liberty-Ellis Island Foundation (http://www.ellisisland.org :  accessed 05 May 2008); citing National Archives and Records Administration microfilm T715N, roll 2768.
Click on the images above to enlarge them. Click on the link for a PDF copy of the Alien Passenger Manifest for Dam Niedzialkowski. The manifest states:
No. on list: 10
Head-Tax Status: RET. RES.
Name in Full: Niedzialkowski Dam
Age: 27 Yrs. – Mo.
Sex: " [Male]
Married or Single: " [S]
Calling or Occupation: Farmer
Able to Read: " [N]; What Language: English, Polish; Able to Write: " [N]
Nationality: " [Poland]
Race or People: " [Polish]
Last Permanent Residence: " [USA], Worcester, Mass
Nearest Relative: Brother, Steve Niedzialkowski, 8 [Powshorn?] St., Worcester, Mass.
Final Destination: Mass., Worcester
No. on list: 10
Ticket to Final Destination: " [Y]
By Whom Passage Paid: " [U.S. Govt]
In Possession of $50: " [N] 
Ever Before in the United States: " [Y]; Year: 4 to 1918; Where: " [See Col. 12]
Going to Join Relative or Friend: "" [See Col. 12]
Intend to Return to Country of Origin: " [Y]; Length of Stay in US: Uncertain
In Prison: " [N]
Polygamist: " [N]
Anarchist: " [N]
Overthrow Government: " [N]
Offer of Work: " [N]
Ever Deported: " [N]
Condition of Health: " [Fair]
Deformed or Cripple: " [N]
Height: 5 ft. 9 in.
Complexion: " [Fair]
Color of Hair: " [Dark]; Color of Eyes: " [Blue]
Identifying Marks: " [None]
Place of Birth: " [Poland], Pomaski
So, it appears that Dam Niedzialkowski had been in the United States from 1904-1918, and was now returning to the United States with his fare paid for by the US Government. The other men on this manifest page were also former alien residents of the United States who left the country and whose return fare was paid for by the US Government. All these men left the United States after the end of World War I in 1918 and returned two years later at government expense.
Of greatest interest to me is the fact that Dam Niedzialkowski was born in Pomaski, the hometown of my grandfather. It is likely that he and I are related, though I don't yet know how.
In the Worcester, Massachusetts City Directories, I had previously found Dam Niedzialkowski listed as Dominic in the year 1936, and as Damian or Damiano Niedzialkowski in 1940, 1942, 1943, 1944, 1945, 1946, and 1949. I know a bit more about him now that I found this Alien Passenger Manifest, and I have more confidence that he and I may, in fact, be related.
Copyright © 2008 by Stephen J. Danko