On 09 Apr 1864, Petronella Niedziałkowska, the daughter of Ludwik Niedziałkowski and Józefa Pomaska was born in Pomaski. She was baptized the next day, 10 Apr 1864, in the church in Szwelice.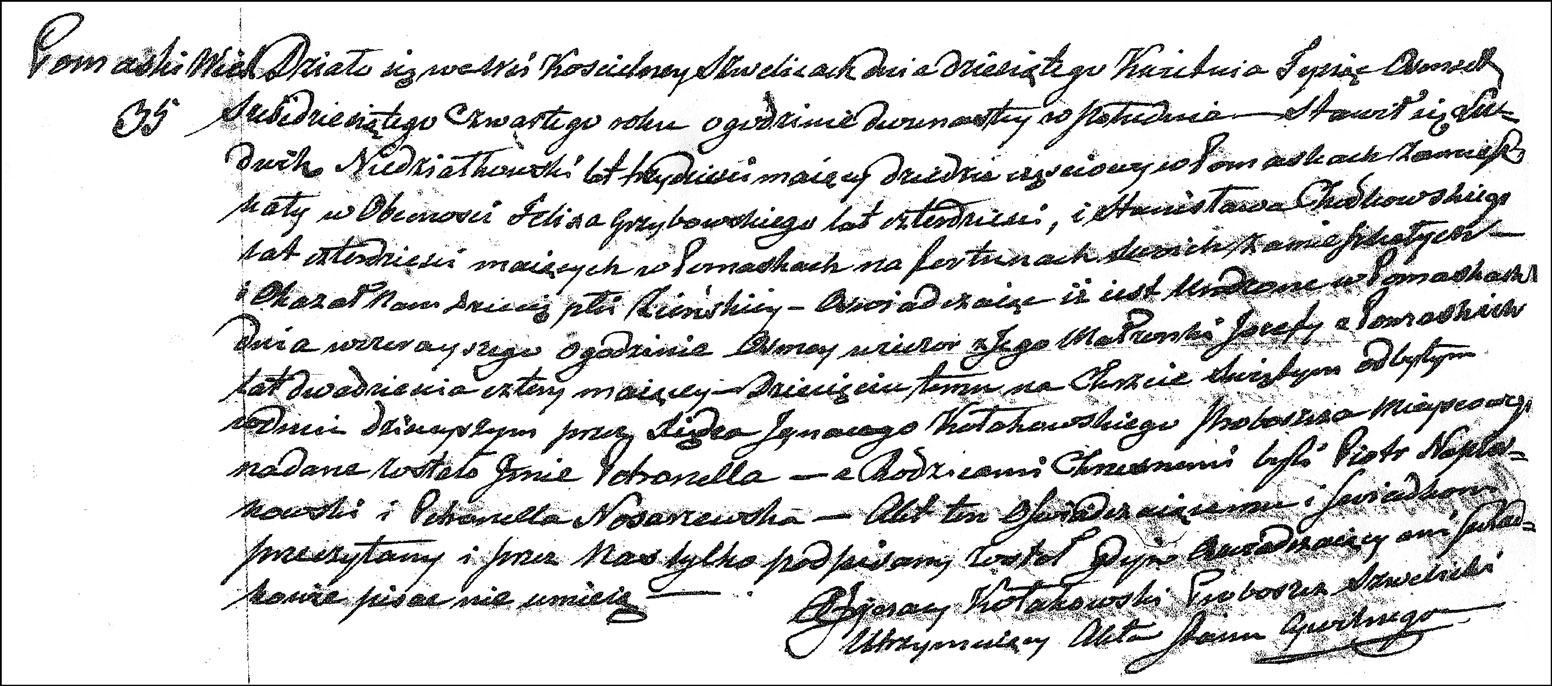 The Birth and Baptismal Record of Petronella Niedziałkowska – 1864
SOURCE: Parafia pw. św. Jana Chrzciciela (Szwelice, Maków Powiat, Łomża Gubernia, Congress Kingdom of Poland). Księga Ochrzczonych parafii Szwelice od 1853 do 1869 r, Petronella Niedziałkowski baptism (1864); FHL microfilm 1958805.
Click on the image above to enlarge it. Click on the link for a PDF copy of the Birth and Baptismal Record of Petronella Niedziałkowska – 1864. Translated from the Polish, the record states:
Pomaski Wielkie
35

It happened in the ecclesiastical village of Szwelice on tenth day of April in the year one thousand eight hundred sixty-four at the hour of two o'clock in the afternoon.  Ludwik Niedziałkowski presented himself, thirty years of age, heir to a part [of the village], living in Pomaski, in the presence of Felix Grzybowski, forty years of age, and Stanisław Chodkowski, forty years of age, living on their fortune in Pomaski and he showed Us a child of the female sex, declaring that she was born in Pomaski yesterday at the hour of eight o'clock in the evening, born of his wife Józefa née Pomaska, twenty-four years of age. At Holy Baptism performed this day by the Reverend Ignace Kotakowski, pastor of this place, the child was given the name Petronella and the Godparents were Piotr Napierkowski and Petronella Nosarzewska. This document was read aloud to the declarants and witnesses and signed by Us alone because the declarants and witnesses cannot write.
               Rev[erend] Ignace Kotakowski, Pastor of Szwelice
               Maintaining the Public Register
This is one of the records I found at the Family History Library while attending UPGS 2008.
Petronella Niedziałkowska was born in the Congress Kingdom of Poland in 1864 during the time of the January Uprising.
Copyright © 2008 by Stephen J. Danko