Today, Saturday, April 12, Jeremy Frankel and I presented a workshop in Eastern European Genealogy at the California Genealogical Society.
This was the first in a series of workshops to be hosted by the California Genealogical Society at their library in Oakland.
The workshops are designed to be small gatherings of not more than ten participants so that each person attending the workshop will be able to obtain some one-on-one assistance from the presenters.
Today, Jeremy and I each spoke for about 45 minutes, providing an overview of Eastern European Genealogy. Jeremy's expertise is in Jewish Genealogy; my own expertise is in Roman Catholic Genealogy in the former Polish-Lithuanian Commonwealth.
After the presentations, participants were able to ask questions of Jeremy, while I helped people find information about their surnames and villages of origin.
One internet resource that participants found interesting is the website at http://www.moikrewni.pl/ which is an online facility to build your family tree. The site is in Polish and is designed for Polish genealogists. There is, however, one part of the site that was especially useful to participants namely, the Surname Maps at http://www.moikrewni.pl/mapa/ .
In the "Mapa Nazwisk" box, type a Polish surname (including diacritical characters) and click on "Szukaj" to generate a map of the locations of that surname in present-day Poland. If the surname is not found, go down to the bottom of the page and click on the first letter of the surname to browse the surnames in the database. After clicking on a letter, a new page will appear including ranges of names.
For example, clicking on the letter D will bring up a page showing ranges of names such as:
D`amico do Dajborek
Dajbóg do Dammeyer
Dammfeld do Daoud
Daoud-Michalik do Daunderer
Daunheimer do De Dijn
Click on the name range in which your surname falls. Clicking on the range "Dammfeld do Daoud", will bring up another page with choices of surnames from Dammfeld to Daoud. Remember that, in Polish, letters with diacritical marks such as ą, ć, ę, ł, ń, ó, ś, ż, and ź are arranged alphabetically after the same letters without the diacritical marks.
Here's the map for the Dańko surname in Poland: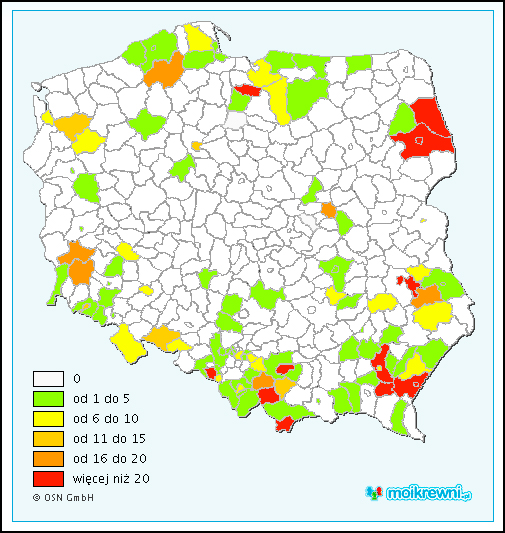 My ancestors were from the red area in the lower right part of the map.
Future workshops at the California Genealogical Society include a Scandinavian Research Workshop to be held on June 14 and a workshop on "Hints on Publishing Your Family History" to be held on August 9. Workshops are free for members and cost $10 for nonmembers.
Copyright © 2007-2008 Stephen J. Danko