On 21 May 1680, Nicolas Gamache, son of Nicolas Gamache and Élisabeth Ursule Gamache, was born. He was baptized in the Parish of Neuville, New France on 09 Jun 1680.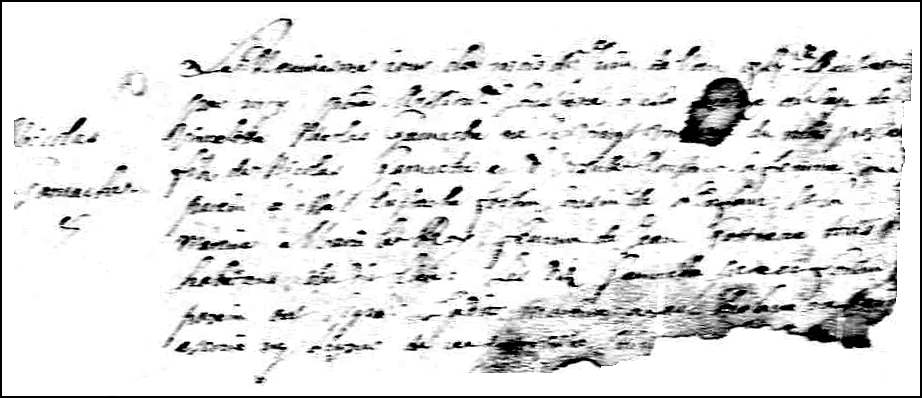 The Birth and Baptismal Record of Nicolas Gamache – 1680
SOURCE: Gabriel Drouin, comp. Drouin Collection. Montréal, Québec, Canada: Institut Généalogique Drouin. Parish of Neuville, New France, 1680. Birth and Baptismal Record of Nicolas Gamache, Front of Folio 2.
Click on the image above to enlarge it. Click on the link for a PDF copy of the Birth and Baptismal Record of Nicolas Gamache – 1680. Translated from the French the record reads:
Nicolas Gamache

On the ninth day of the month of June in the year [two words?]
by me the undersigned missionary priest, was baptized in Cap de
Vincelotte, Nicolas Gamache, born on the twenty first of [two words?]
son of Nicolas Gamache and Ursule Cloutier, his wife. The
Godfather was Eustache Fortin, cousin of the child. The
Godmother was Marie LeRoy, wife of Jean Gotreau [one word?]
residing in this place. The said father Gamache and Godfather
Fortin signed and the others have declared that they are not able
to write or sign as required…
This record can be found as image 6/324 in the Québec Vital Records (Drouin Collection), 1621-1967 on Ancestry.com in the records for Neuville 1679-1724. The record appears on the front of folio 2.
Over two weeks passed between the time Nicolas Gamache was born and the time he was baptized. In 1680, the priests in New France apparently served several communities and were only available for baptisms and marriages in a given community for a short period of time every few weeks.
This record is one of the most difficult records I've ever tried to read. The writing is faint and the document itself is damaged. Fortunately, the record was extracted by Le Programme de recherche en démographie historique
(The Research Program in Historical Demography) or PRDH at the University of Montreal, allowing me to decipher the original record using the information in the PRDH extraction as a guide.
Copyright © 2008 by Stephen J. Danko