Each year, during the holiday season, the elementary school I attended held a canned food drive. I remember only that the canned food would be distributed to the needy, but I don't recall ever being told who the needy were, where they lived, or who would distribute the food.
As far as I was concerned, the canned food drive was a great opportunity for me to eliminate those canned foods I most disliked from our pantry at home. This included just about any canned green vegetable.
My mother was no fool. She allowed me to get away with disposing of the canned spinach, green beans, peas, and lima beans. My teachers were no fools either. They closely watched what the students were placing in the collection bins and noted an overabundance of green vegetables and a dearth of canned fruit, tuna, macaroni, and juice.
My taste in vegetables really hasn't changed much with time. I much prefer fresh vegetables in season to canned vegetables of any ilk. But given the challenge to contribute to a canned food drive, I prefer to donate canned foods that I would actually eat. Why should the needy be required to eat food that I won't?
Every now and then, I encounter people in San Francisco, rummaging through the garbage bins, looking for something to eat, and I'm reminded that there are those among us who would be happy to have the food many people consider worthy only for discard.
These days, I also try to provide for the needy by making cash donations to worthy charities and allowing the directors of those charities decide how the money can best be spent to meet their needs.
In particular, I am a strong supporter of a drop-in center for homeless women in Oakland, California called A Friendly Place and its companion overnight facility for homeless women called A Friendly Manor. Both are operated by the Sisters of St. Joseph of Carondelet, and both are shining examples of efforts to extend a helping hand to those in need.
I first became acquainted with the project when I started reading the murder mysteries written by Sister Carol Anne O'Marie, a member of the Sisters of St. Joseph of Carondelet. I have hard cover copies of all Sister Carol Anne's books in my living room and, one day, a friend of mine noticed the books. He told me that he worked with one of the other nuns in Sister Carol Anne's convent and would mention that I had these books.
Word quickly reached Sister Carol Anne, who sent back a message that she wanted to meet me, and would I be interested in coming to the convent for dinner? I was thrilled.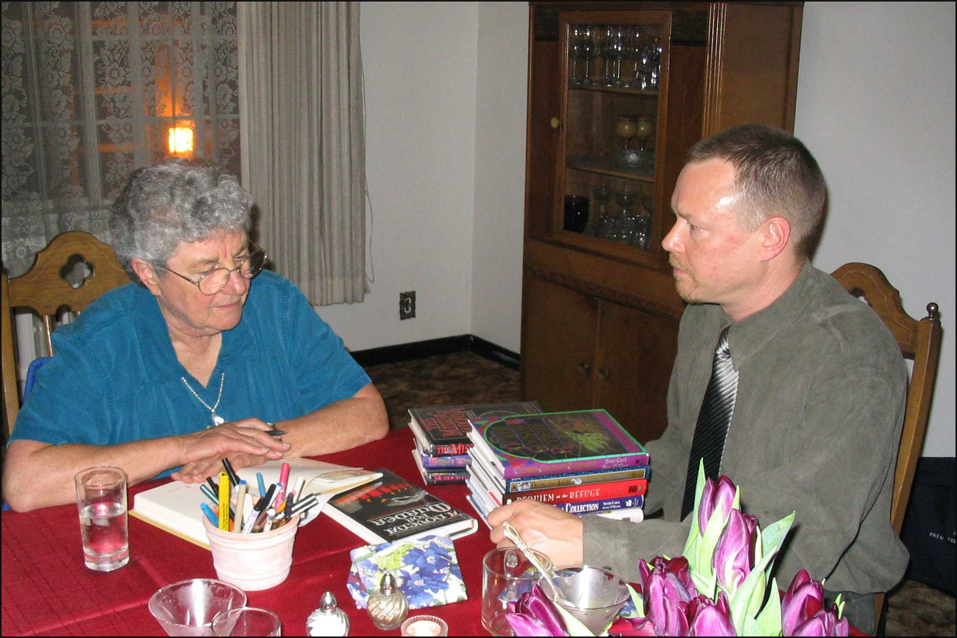 Sister Carol Anne O'Marie and Steve Danko
During our dinner, Sister Carol Anne and her colleagues told me about their projects A Friendly Place and A Friendly Manor commenting, "We were really quite naive. If we had known the difficulties of running A Friendly Place and A Friendly Manor, we might not have begun the project."
A Friendly Place/Manor derives 33% of its operating income from individual donations and, in addition to cash donations, the organization asks for wash cloths, combs and brushes, safety pins, sugar, toilet tissue, bandages, spray deodorant, air freshener, and bingo prizes. They really don't ask for much, and that which is donated is gratefully received.
A Friendly Place/Manor
2298 San Pablo Ave
Oakland, CA 94612-1321
A donation to A Friendly Place/Manor has become my new holiday tradition.
Written for the Advent Calendar of Christmas Memories – Day 12. 
Copyright © 2007 by Stephen J. Danko