The Polish village of Czarnostowo lies close to the village of Pomaski where my grandfather lived. I'm continuing to translate the entries for neighboring villages in order to get a better understanding of what the area where my grandfather grew up was like.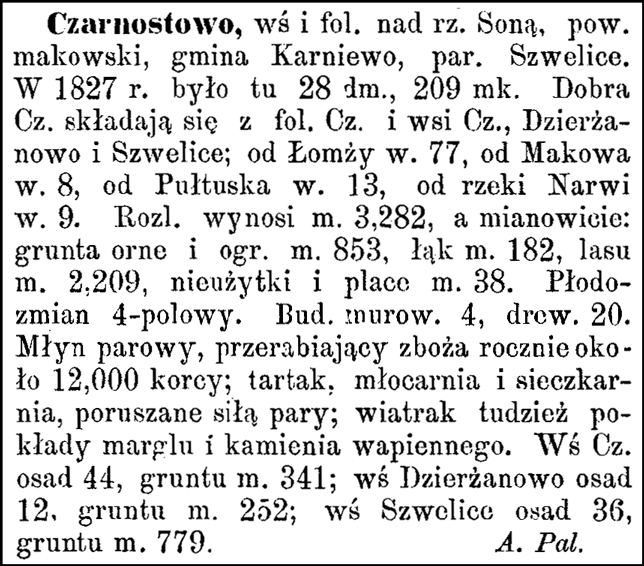 Słownik Geograficzny Entry for Czarnostowo
SOURCE: Sulimierski, Filip, Bronisław Chlebowski, and Władysław Walewski, eds., Słownik Geograficzny Królestwa Polskiego i Innych Krajów Słowiańskich (Geographical Dictionary of the Kingdom of Poland and other Slavonic Countries) – Warsaw 1880, Volume I, page 760.
Click on the link for a PDF copy of the Słownik Geograficzny entry for Czarnostowo. Translated from the Polish, the entry states the following:
Czarnostowo, a village and folwark (large manorial farmstead] on the Sona River, Maków powiat [district], Karniewo gmina [municipality], Szwelice parish. In the year 1827, there were 28 homes and 209 residents here. The property of Czarnostowo consists of the Czarnostowo folwark and the village of Czarnostowo, Dzierżanowo, and Szwelice; it is 77 versts [0.66 miles per verst] from Łomża, 8 versts from Maków, 13 versts from Pułtusk, and 9 versts from the Narwa River. The expanse amounts to 3,282 mórgs [about 1.388 mórgs per acre], namely: 853 mórgs of arable land and gardens, 182 mórgs of meadows, 2,209 mórgs of forests, and 38 mórgs of wastelands and squares. Four-field crop rotation. Four brick buildings, 20 wooden buildings. A steam mill, processing cereal processing about 12,000 korcy [1 korzec = 120 liters] annually; a saw mill, a thresher and chaff cutter, a steam power mover; a windmill here grinds marl and limestone. The settlement of the village of Czarnostowo consists of 44 mórgs with 341 mórgs of land; the settlement of the village of Dzierżanowo 12 mórgs with 252 mórgs of land; the settlement of the village of Szwelice 36 mórgs with 779 mórgs of land.
                                                                                                A. Palmirski
On current-day maps, the name of the village of Czarnostowo is spelled Czarnostów.
Copyright © 2007 by Stephen J. Danko