In 1930, Petronela Bonislawski was living in Worcester, Massachusetts with her family at the same address at which they were enumerated in 1910 and 1920.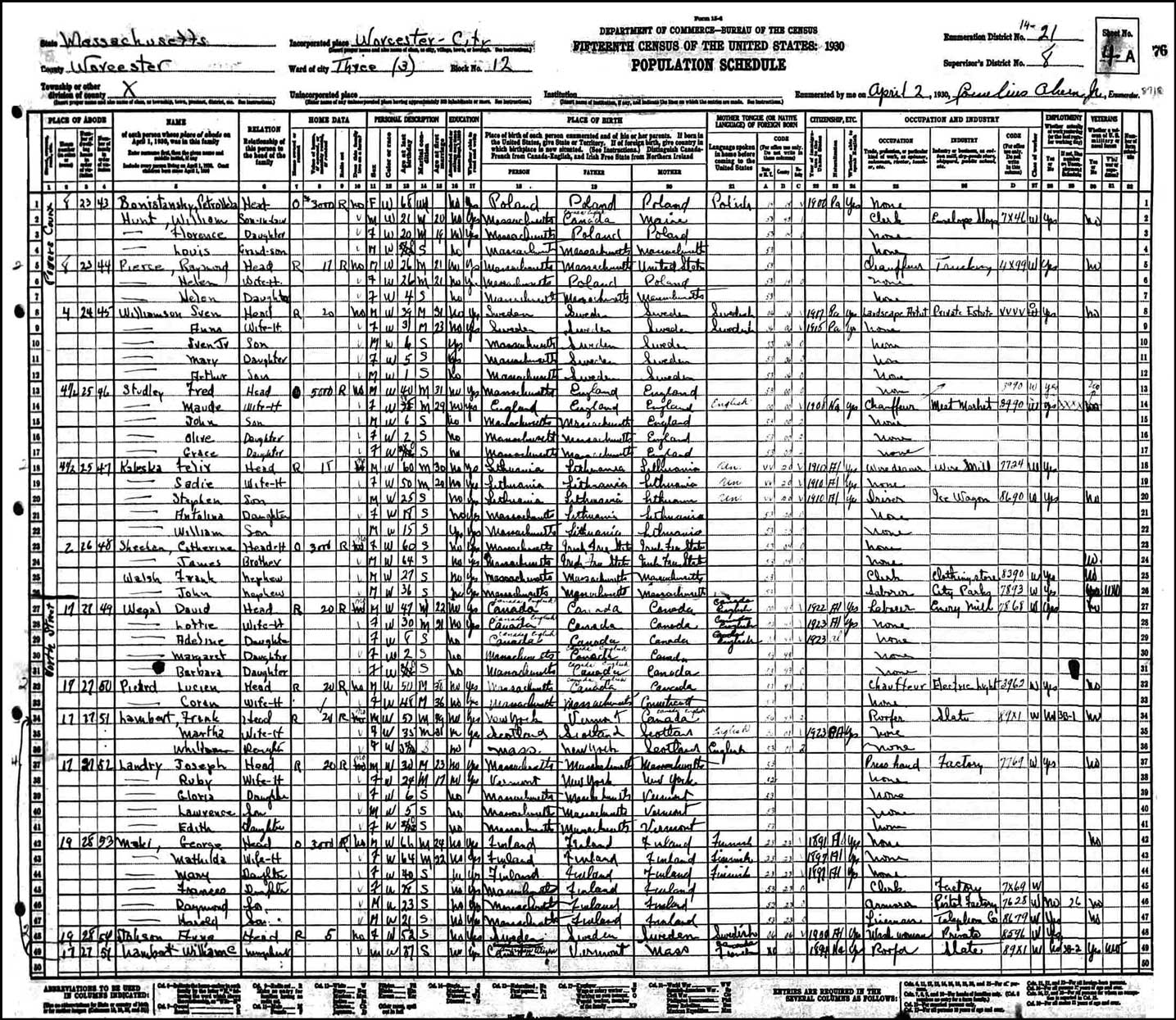 1930 US Federal Census Record for Petronela Bonislawski
SOURCE: 1930 U.S. Census, Worcester County, Massachusetts, population schedule, Worcester City, Ward 3, enumeration district (ED) 14-21, sheet 4-A, dwelling 23, family 43, Petronela Bonislawski; digital image, Ancestry.com (http://www.ancestry.com : accessed 18 October 2007); citing National Archives microfilm publication T626, roll 968.
The source citation above complies with the recommendations in Mills, Elizabeth Shown. 2007. Evidence explained citing history sources from artifacts to cyberspace. Baltimore, Md: Genealogical Pub. Co.
Click on the link for a PDF copy of the 1930 US Federal Census Record for Petronela Bonislawski.  The record provides information that:
In 1920, Petronela Bonislawski was a widowed white female, 68 years old.
She and her parents were born in Poland and her native tongue was Polish. She could read and write and speak English.
She owned her house at 8 Powers Court, Worcester, Massachusetts, which was worth $3000.
She immigrated in 1900. The census shows he had filed first papers for citizenship.
She was not employed.
The household had a radio.
Living in the house were her daughter Florence, a married white female, age 20, born in Massachusetts.
Florence was not employed.
Florence was married to William Hunt, a married white male, age 21, born in Massachusetts.
Florence was 19 years old when married and her husband was 20 years old when married, indicating they were married in about 1929.
William was employed as a clerk in an envelope shop. Florence was not employed.
William and Florence had a son Louis, a single white male who was 0 years old.
Note that Louis' age was first listed as 5/12, but then crossed out and listed as 0. In 1930, all data recorded was to be accurate as of census day, 01 April 1930.
The surname in this record is listed as Bonistansky. I'm beginning to think that the family changed their name from Bonisławski to Bonistansky, since the 1920 census also spelled the surname this way.
Copyright © 2007 by Stephen J. Danko