In 1900, Adam Bonislawski was living in Worcester, Massachusetts with his family. At the time, his family consisted of only those born in Russia-Poland.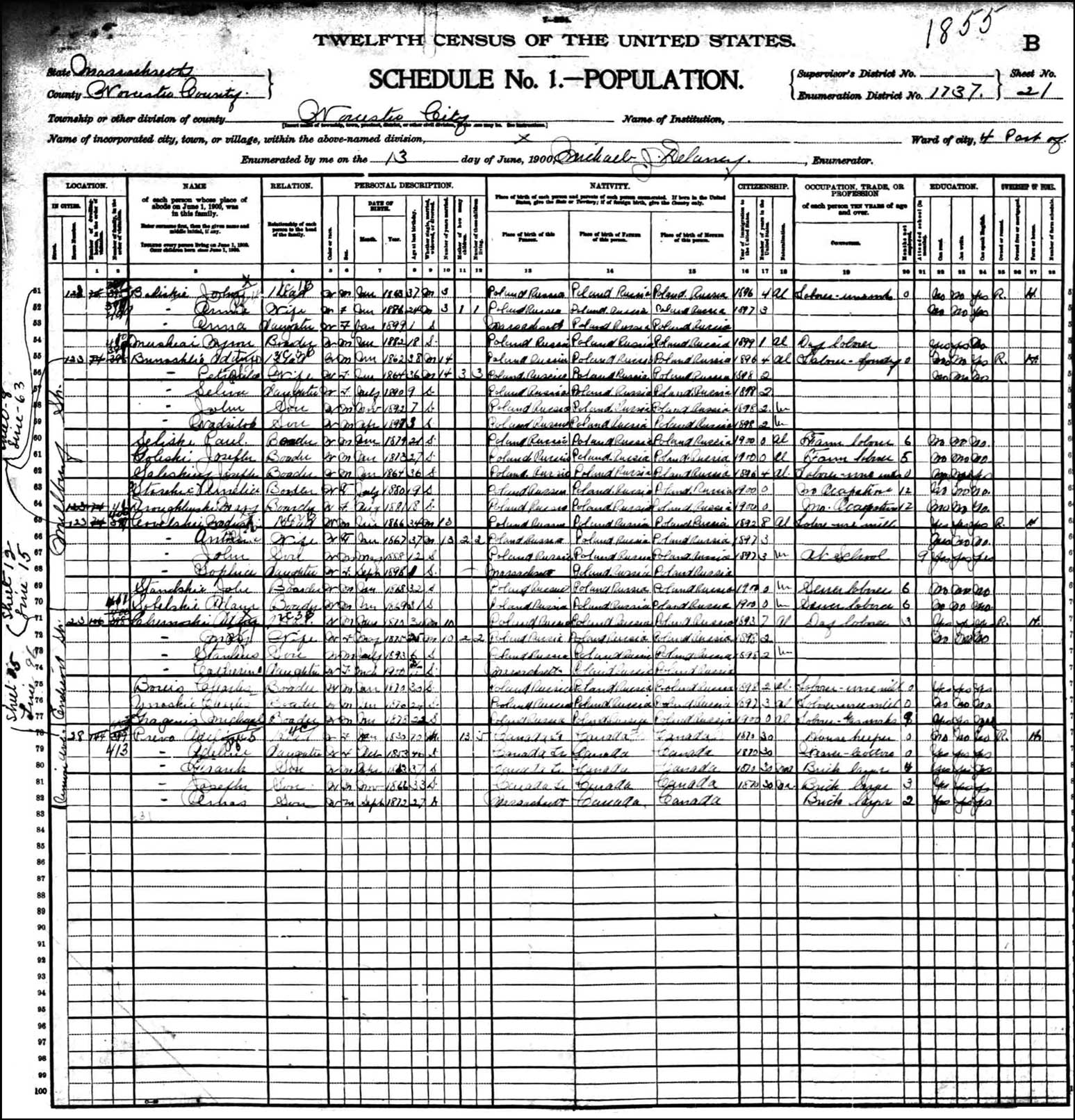 1900 US Federal Census Record for Adam Bonislawski
SOURCE: 1900 U.S. Census, Worcester County, Massachusetts, population schedule, Worcester City, Ward 4, enumeration district (ED) 1737, sheet 21-B, dwelling 74, family 399, Adam Bonislawski; digital image, Ancestry.com (http://www.ancestry.com : accessed 17 October 2007); citing National Archives microfilm publication T623, roll 696.
The source citation above complies with the recommendations in Mills, Elizabeth Shown. 2007. Evidence explained citing history sources from artifacts to cyberspace. Baltimore, Md: Genealogical Pub. Co.
Click on the link for a PDF copy of the 1900 US Federal Census Record for Adam Bonislawski.  The record provides information that:
In 1900, Adam Bonislawski was a married white male, 38 years old, born in June 1862 in Poland-Russia. His parents were also born in Russia-Poland.
Adam immigrated in 1896, had lived in the US for 4 years, and was an alien.
Adam worked as a laborer in a foundry and had not been out of work the previous year.
Adam could speak English and lived in a rented house at 123 Millbury Street, Worcester, Massachusetts.
Adam's wife, Petronela, was 36 years old, born in June 1864 in Poland-Russia. Her parents were also born in Russia Adam and Petronela had been married 14 years.
Petronela had 3 children, all of whom were still alive.
Adam and Petronela's children were daughter Selina (Czeslawa), age 9, born July 1890 in Poland-Russia; son John, age 7, born November 1892 in Poland-Russia; and Władzysław, age 3, born April 1897 in Poland-Russia.
The family lived with five boarders: Paul Seliski, Joseph Goliski, Joseph Saliskiey, Anielia Stasoki, and Mary Droughlewski, all immigrants from Poland-Russia.
The census lists the surname as Bunasklie, although the correct spelling of the name is Bonislawski.
Note that Adam immigrated in 1894, but the third son of the couple (Władysław) was born in April 1897. Either Adam returned to Poland after his initial immigration, or Władysław's birth was a non-paternal event.
The fact that the household included a number of boarders was not uncommon at the time. My paternal grandparents also roomed boarders in their first residence in Worcester.
This record includes a number of annotations. The marks in the left margin indicate that another family living at 123 Millbury Street was enumerated on sheet 8, line 63. The marks over Adam's first name and the desigation "head" are difficult to read, but appear to say X/Pf10 3C 5B. The 3C indicates that three children were in the household. The 5B indicates that 5 boarders were in the household. The X/Pf10 indicates that 10 people total were living in the household.
Copyright © 2007 by Stephen J. Danko