In 1910, Adam Bonislawski was living in Worcester, Massachusetts with his family. His daughter, Czeslawa, was already married and living with her husband, Franciszek Niedzialkoski.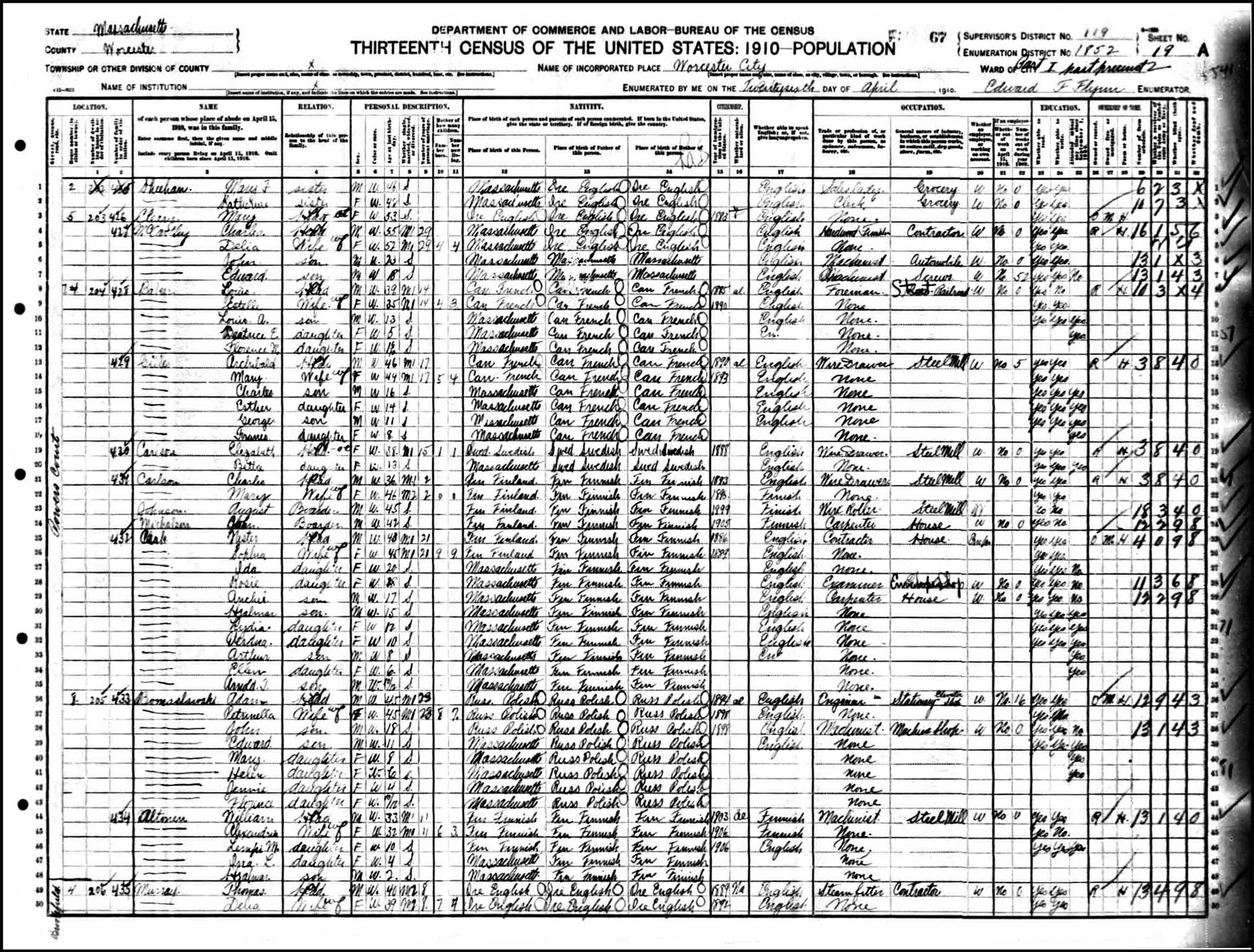 1910 US Federal Census Record for Adam Bonislawski
SOURCE: 1910 U.S. Census, Worcester County, Massachusetts, population schedule, Worcester City, Ward 1, Precinct 2, enumeration district (ED) 1825, sheet 19-A, dwelling 205, family 433, Adam Bonislawski; digital image, Ancestry.com (http://www.ancestry.com/ : accessed 16 October 2007); citing National Archives microfilm publication T624, roll 631.
The source citation above complies with the recommendations in Mills, Elizabeth Shown. 2007. Evidence explained citing history sources from artifacts to cyberspace. Baltimore, Md: Genealogical Pub. Co.
Click on the link for a PDF copy of the 1910 US Federal Census Record for Adam Bonislawski.  The record provides information that:
In 1910, Adam Bonislawski was a married white male, 45 years old, living at 8 Powers Court, Worcester, Massachusetts.

Adam's wife, Petronella, was also 45 years old.

The couple had been married for 28 years. This was the first marriage for both of them.

Their son John was 18 years old, son Edward was 11, daughter Mary was 8, daughter Helen was 6, daughter Jennie was 4, and daughter Florence was 10/12 (10 months) old.

The couple had 8 children, seven of whom were still living.

Adam worked as an engineer at a Stationary Elevator Shop. He was working on 15 April 1910, but had been out of work for 16 weeks in 1909. Adam owned his own home which was mortgaged.

Petronella was not employed. She could speak English and could read but not write.

Son John worked as a machinist in a Machine Shop. He was not attending school. He could speak English and could read and write.

Adam, Petronella, and John were born in Russia Poland, as were their parents. All the other children listed were born in Massachusetts.

Adam was an alien and immigrated in 1894. Petronella and John immigrated in 1898.

Son Edward could speak English and could read and write. The information for the other children was left blank.

Edward, Mary, and Helen were attending school.The only living child not enumerated in this household in 1910 was Czeslawa who married Franciszek Niedzialkoski on 17 August 1904 when she was 18 years old. 
One big find in this census record are the years in which Adam, Petronella, and John immigrated. This information may help to find their Immigration Passenger Manifests which may provide additional information about where in Russia-Poland the family lived prior to their immigration.
The census lists the surname as Bomaslawski, although the correct spelling of the name is Bonislawski.
The place where the Bonislawski family lived was within a very short walk of the house my Niedzialkowski grandparents bought a few years after this census was taken.
Copyright © 2007 by Stephen J. Danko