Józef, son of my 2nd great grand uncle Ludwik Niedziałkowski and his wife Józefa Pomaska, died on 31 October 1862. Józef was just eight days old.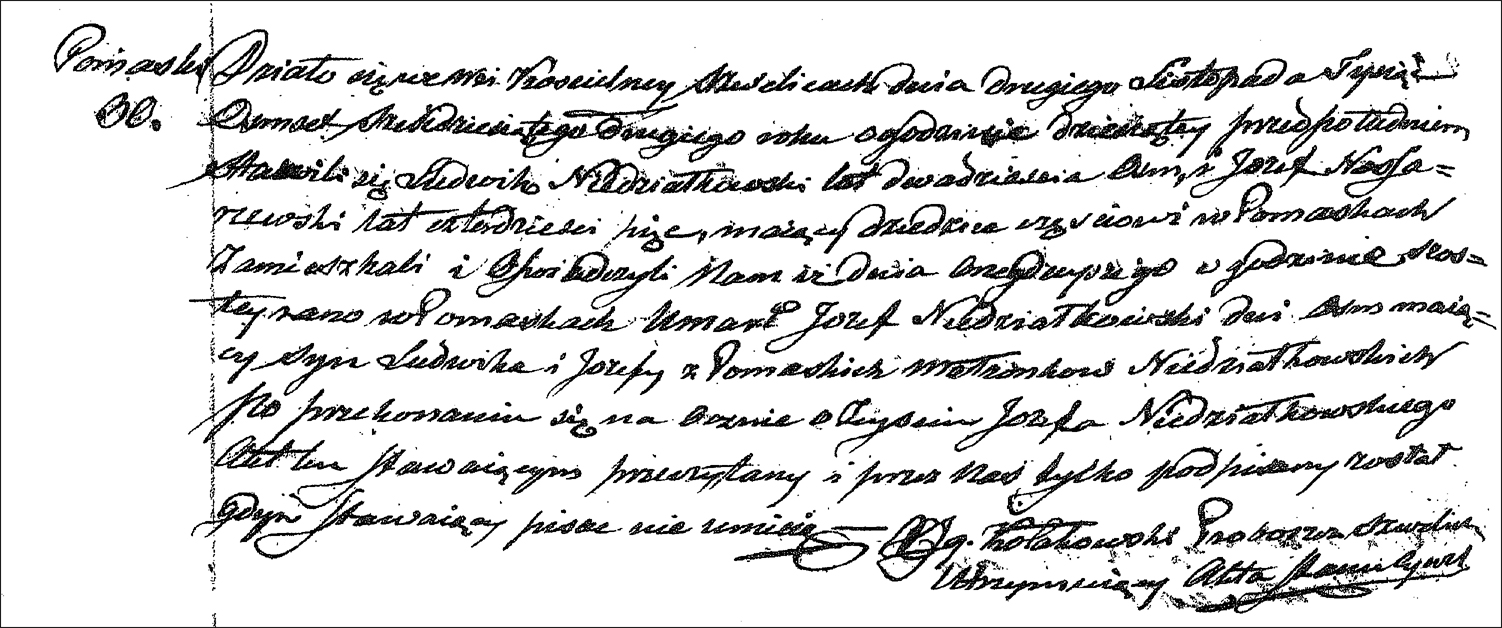 The Death Record of Józef Niedziałkowski – 1862
SOURCE: Parafia Podwyższenia Św. Jana Chrzciciela (Szwelice, Maków Powiat, Łomża Gubernia, Congress Kingdom of Poland). Akta zgonów 1826-1889, Józef Niedziałkowski birth (1862); FHL microfilm 1958807.
Click on the link for a PDF copy of the Death Record of Józef Niedziałkowski – 1862. Translated from the Polish, the record states:
Pomaski
30.
It happened in the ecclesiastical village of Szwelice on the second day of November in the year one thousand eight hundred sixty two at ten o'clock before noon. There presented himself Ludwik Niedziałkowski, age twenty-eight, and Józef Nossarzewski, age forty-five, owners of parts [of the village], residing in Pomaski, and they told us that two days ago, at six o'clock in the morning in Pomaski, there died Józef Niedziałkowski, eight days old, the son of the married couple Ludwik and Józefa née Pomaska Niedziałkowski. After presenting evidence of the death of Józef Niedziałkowski, this document was read aloud to the witnesses and signed only by Us, because the witnesses cannot write.

                                         Rev[erend] Ig[nace] Kołakowski, Pastor of Szwelice
                                         Maintaining the Public Register
This entry is one of the Niedziałkowski family records from the Szwelice parish that I have not yet translated and posted, even though I've had this record for several years.
I had previously extracted what I thought was the important information in this document. After I translated the entire document I realized that I had recorded that Józef died on 02 November 1862 when, in fact, he died two days earlier, on All Hallows Eve.
Copyright © 2007 by Stephen J. Danko