My 2nd great grand uncle Ludwik Niedziałkowski married Józefa Pomaska on 21 April 1861. Ludwik was the brother of my 2nd great grandfather, Wojciech Niedziałkowski.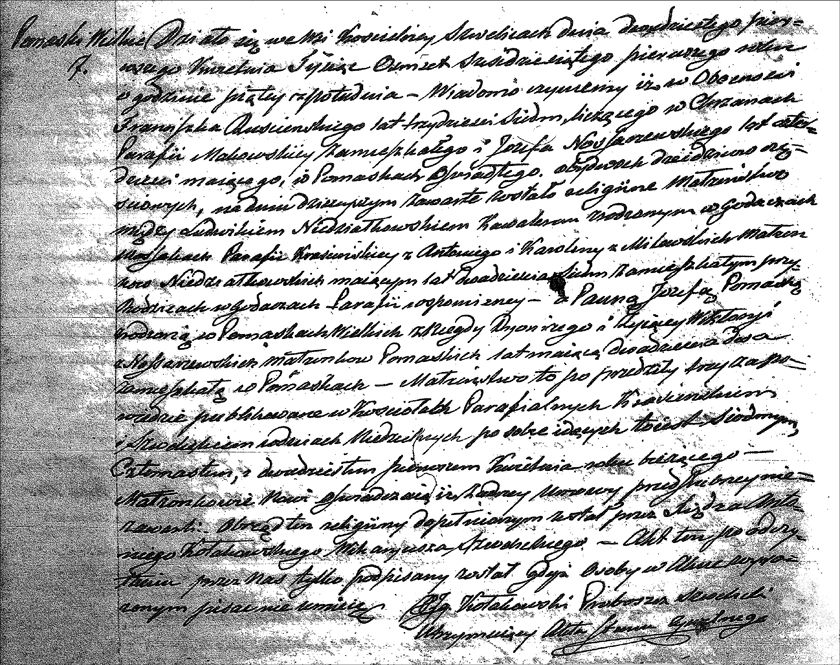 The Marriage Record of Ludwik Niedziałkowski and Józefa Pomaska – 1861
SOURCE: Parafia Podwyższenia Św. Jana Chrzciciela (Szwelice, Maków Powiat,Łomża Gubernia, Congress Kingdom of Poland). Akta małżeństw 1826-1880, Lukwik Niedziałkowski and Józefa Pomaska marriage (1861); FHL microfilm 1958806.
Click on the link for a PDF Copy of the Marriage Record of Ludwik Niedziałkowski and Józefa Pomaska – 1861. Translated from the Polish, the record states:
86.
Pomaski Wielkie
7.

It happened in the ecclesiastical village of Szwelice on twenty first day of April in the year one thousand eight hundred sixty one at the hour of five in the afternoon – We make it known that in the presence of Franciszek Ruscienski, age thirty-seven, living in the baptismal parish of Maków, and Józef Nossarzewski age forty, living in Pomaski, both owners of a part [of the village], on this day a religious marriage was contracted between Ludwik Niedziałkowski, a twenty-seven year old bachelor born in Godacze Mossaki, Parish of Krasne, of the married couple Antoni and Karolina nee Milewski Niedziałkowski, living with his family in Godacze in the aforementioned parish – and Miss Józefa Pomaska, born in Pomaski Wielki of the married couple the deceased Dyonizy and the living Wiktoria née Nossarzewski Pomaski, age twenty-two, living in Pomaski – This wedding was preceded by three publications of the banns in the Parish Churches in Krasne and Szwelice on consecutive Sundays, that is, the seventh, fourteenth, and twenty-first days of April of this same year – The newlyweds stated that they had made no prenuptial agreements between them. This religious ceremony was performed by the Reverend Antoni Kołakowski, pastor of Szwelice. After reading this document aloud, it was signed only by Us because the people mentioned in this document cannot write.

A[ntoni] Ig[nacy] Kołakowski, Pastor of Szwelice
Maintaining the Public Register
This entry is one of the Niedziałkowski family records from the Szwelice parish that I have not yet translated and posted, even though I've had this record for several years.
Within the record, the priest mentioned that the Reverend Antoni Kołakowski, pastor of Szwelice, performed the marriage. The signature is not clear, but may be A Ig Kołakowski, indicating that his name is Antoni Ignacy Kołakowski. In previous records, I thought this signature was Ks Ig Kołakowski and interpreted it as Reverend Ignace Kołakowski. The additional information in this record suggests that my previous interpretation was incorrect.
The bride was Józefa Pomaski, a descendant of those for whom the village of Pomaski was named.
Copyright © 2007 by Stephen J. Danko