On Sunday at the Annual Conference of the Polish Genealogical Society of America, Paul Valasek discussed Haller's Polish Army in France and how the records of Haller's Army can be of use to family historians.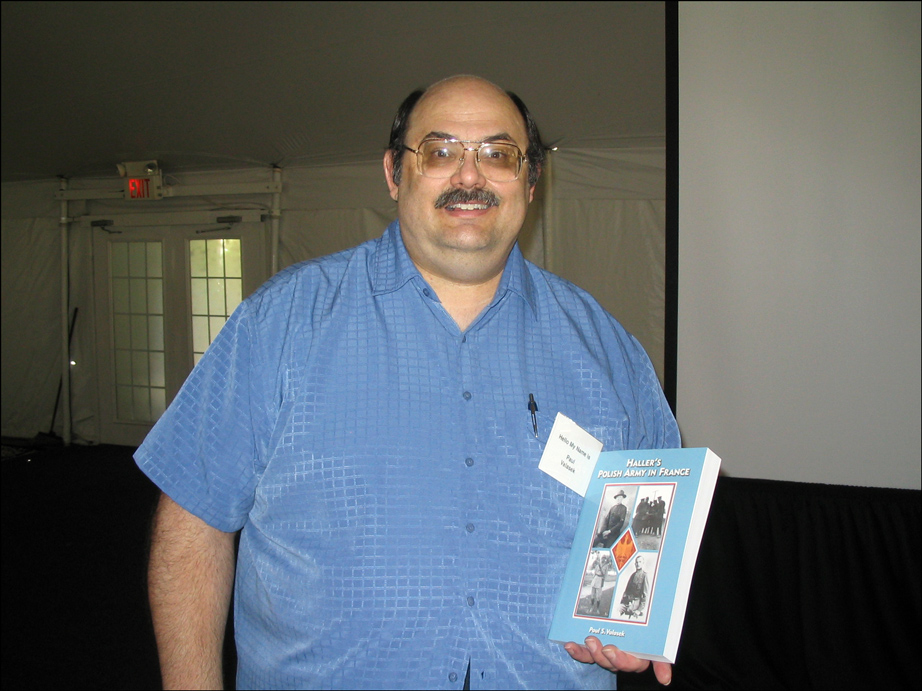 Paul Valasek
SOURCE: Photograph of Paul Valasek. Photographed by Stephen J. Danko 30 Sep 2007.
The Polish Army in France, also known as Haller's Army, was recruited from American and Canadian residents mainly of Polish ethnicity. This volunteer army fought in France at the end of World War I and continued to fight for Poland's independence in the Polish-Soviet War of 1919-1921.
Recruitment centers were formed in Milwaukee, Chicago, Detroit, Cleveland, Buffalo, Pittsburgh, Wilkes-Barre, New York, Boston, and Bridgeport starting in October 1917. Recruitment for the army for Polish independence continued until February 1919.
Because the US government opposed the training of a foreign army on US soil, recruits were trained at Butler's Barracks at Niagara-on-the-Lake, Ontario, Canada. The first troop left for France in December 1917.
The commanding general of this force, Jozef Haller, was born in Galicia (Austrian-Poland) near Krakow. He served as a colonel in the Austrian Army in World War I and traveled through Russia to France.
As Europe's borders were redrawn after World War I, Haller's Army joined with former prisoners of war and Pilsudski's Legions to establish Poland's eastern borders with the Soviet Union.
At the end of the Polish-Soviet War, many members of Haller's Army returned to North America to rejoin their families.
Paul Valasek has published a book on Haller's Army, including much historical information and details of records generated by the army:
Valasek, Paul S. 2006. Haller's Polish Army in France. [Naples, Fla.]: Whitehall Printing.
Copyright © 2007 by Stephen J. Danko