Friday was a busy day at the Polish Genealogical Society of America Conference, despite the fact that the sessions didn't officially begin until 4 PM.
I attended four sessions: Hands-On Approach to Learning the Cyrillic Alphabet, Genetics and Genealogy, The Polish Project, and Polish Research at Footnote.com.
Hands-On Approach to Learning the Cyrillic Alphabet
Matthew Bielawa walked the audience through the Cyrillic alphabet, a first step Polish researchers need to take in order to find and read genealogically-relevant records in the Russian-controlled areas of Poland after the partitions.
In 1867, the Russian government required that all parish records in Russian-Poland be recorded in Russian rather than Polish. For that reason, those researching records in that region must be familiar with the Cyrillic alphabet in order to effectively find and read parish documents recorded between about 1867 and 1918.
Matthew examined the letters in the Cyrillic alphabet, grouping the letters into those similar to English characters, those that resemble English characters but are different, and those that are distinctively different than English.
In the process of showing the audience the Cyrillic letters, Matthew also described the proununciation of those letters and the equivalents in the Polish language. One particular point to note is that the Cyrillic alphabet was created with Slavic languages in mind, while the Latin alphabet was not.
Thus, only one Cyrillic character is required to describe a single sound in Russian, while as many as four Latin characters may be necessary to describe the same sound in Polish, leading to the common szcz letter combination that tends to befuddle those whose first language is English.
Genetics and Genealogy
Dr. Malgorzata Nowaczyk presented a brief introduction to genetics, starting with a history of genetics and moving on to a description of how genetics can help uncover our links to the past.
Malgorzata described "The Seven Daughters of Eve", known in Poland as "The Seven Mothers of Europe", a book by Bryan Sykes that analyzes the major genetic groups of people in Europe, based on analysis of mitochondrial DNA. Mitochondrial DNA can be used to trace one's matrilineal origins, that is, the inheritance of DNA through one's mother's mother's mother's mother.
In another example, Malgorzata showed how analysis of mitochondrial DNA provided the possible identification of a number of skeletons thought to be those of the Romanov family executed by Lenin at the time of the Russian Revolution. She also mentioned a recent report that two other skeletons have been discovered that may be Prince Alexei and Princess Maria. DNA analysis may help determine if those two sets of remains match the royal family's genetic makeup.
The Polish Project
Larry Mayka is the volunteer project manager for the Polish Project at Family Tree DNA.
Larry presented an overview of the types of DNA tests available through Family Tree DNA and described how those tests may be useful in researching one's origins.
In particular, Larry told the audience how they can participate in the Poland Project and compare their DNA results with other project participants and with external databases.
The project webpage is located at https://www.familytreedna.com/public/polish/ . Larry emphasized that the Poland Project includes everyone from the former Polish-Lithuanian Commonwealth, including present-day Poland, Lithuania, Latvia, Belarus, and Ukraine.
Those who wish to have their DNA analyzed by Family Tree DNA receive a discount if they are members of a project such as the Poland Project.
Polish Research at Footnote.com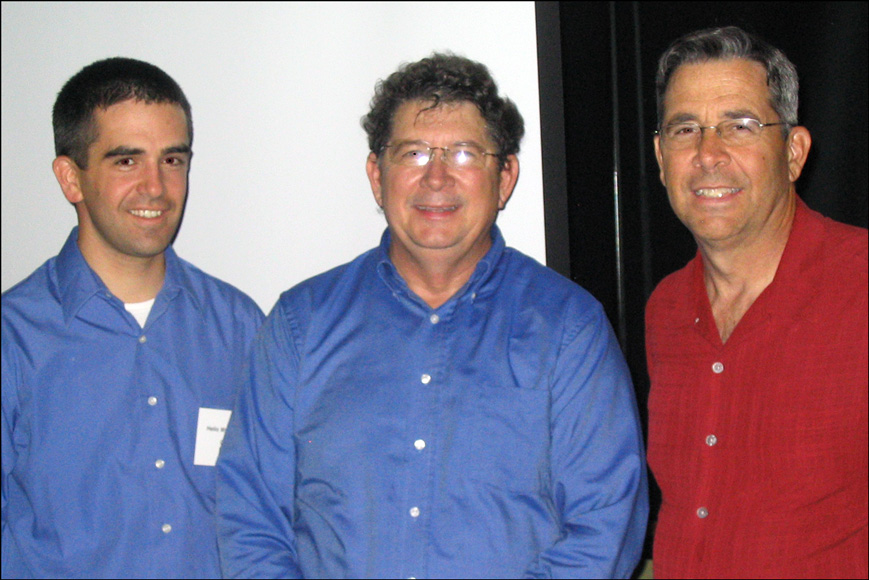 Orvill Paller, Beau Sharbrough and Gary Green
SOURCE: Orvill Paller, Beau Sharbrough and Gary Green. Photographed by Stephen J. Danko 29 Sep 2007.
Orvill Paller is Collection Management Specialist (Poland) for the Family History Library; Beau Sharbrough is Director of Content Acquisition for Footnote.com; Gary Green is a friend and former Houston high school buddy of Beau Sharbrough.
Beau Sharbrough described the Footnote.com site, a relatively new venture to make images of historical documents available on the web.
Many of the images on Footnote.com are obtained from the National Archives and from the Family History Library. At present, images of interest to genealogists include military records, immigration and naturalization records, city directories, vital records, and state census records.
In addition Footnote.com provides a wealth of other historical documents, including the papers of the Continental Congress and the Federal Bureau of Investigation.
Beau further described how users can add their own images to the site and share them with others. The owners of uploaded images maintain control of their images and retain the ability to remove them at some future time if they no longer wish to share them. Footnote.com does not claim user-contributed content as its own.
Furthermore, users can annotate documents on Footnote.com, adding transcriptions, abstracts, and additional information.
What's more, a basic membership to Footnote.com is free. Searches are free. Even the ability to view low-resolution images and additional information about the images is free. Users only need to pay when they wish to view, download, or print a full-resolution image. Even then, users can choose to pay-per-view, purchase a monthly subscription, or purchase an annual subscription.
Tomorrow: A full day of seminars at the Annual Conference of the Polish Genealogical Society of America.
Copyright © 2007 by Stephen J. Danko