My grandmother, Marianna Dziurzyńska, was born in Sielnice, Galicia (parish of Dylągowa), married Michał Dańko, moved to Nienadowa, Galicia with her husband, and finally emigrated to the United States in May 1909. She probably knew little of the fate of the family she left behind in Poland, but undoubtedly worried about them as the area in which she was born was plunged into the Great War and later was shattered by World War II.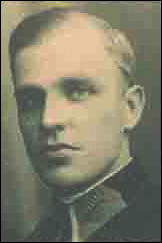 Wiktor Dziurzyński
I have not yet determined how Wiktor Dziurzyński is related to my grandmother. My grandmother's family and Wiktor's family resided in the same village in the same time frame, and both families changed their surname from Dziura to Dziurzyński in the early 20th century while still in Galicia. Wiktor was probably a cousin of my grandmother, but discovering the exact relationship will depend on finding church records from the parish of Dylągowa, records that have not yet been microfilmed by the Family History Library.
The following biography of Wiktor Dziurzyński is based in part on a Polish language account of the events written by Wiktor's daughter Lucyna.
The Early Life of Wiktor Dziurzyński
Wiktor Dziurzyński was born on 15 September 1906 in Sanok, Galicia, about 15 miles south of Sielnice and Dylągowa where his parents were born. By 1930, Wiktor resided in Toruń with his brother Ludwik.
Wiktor worked as a photographer, but later attended the Police Academy in Most Wielki. He completed his training and was sent to Łopatyn to work.
In 1932, Wiktor married a wealthy young woman named Helena Anna Łukawiecka, the daughter of a leading butcher who owned his own shop and slaughterhouse.
Wiktor was later sent to Warsaw (where his daughter Lucyna was born), Zloczów (where his son Kazimierz was born), Kopyczynce, and Tłuste/Zaleszczyki (now in Ukraine).
The Russian Invasion of Poland 
On 17 September 1939, when Russia invaded Poland at the beginning of World War II, Wiktor was in Tłuste/Zaleszczyki. Being a police officer, Wiktor was pursued by the Russian army as one of the "hardened and uncompromising enemies of Soviet Authority" and he fled to Romania.
Wiktor was captured and sent to a camp in Ostashkov, Russia. From there, he sent his family a nearly illegible letter written with red crayon on 27 Nov 1939 and two postcards written on 27 December 1939 and 27 January 1940.
His wife Helena wrote to him, but never knew if her letters reached him because he didn't mention anything about her letters in either of his postcards to her. Soon, however, the letters and postcards from Wiktor stopped coming.
A Forgotten Odyssey – Removal to Kazakhstan 
On 13 April 1940, the Russians removed Wiktor's wife Helena and her two children to Kazakhstan (part of the "Gulag Archipelago"). News of these forced relocations was largely ignored or covered up by the West in order not to confront Stalin, whose assistance was needed in the fight against Hitler.
Helena continued to write to Wiktor from Kazakhstan. She didn't hear back until, in 1941, she received a postcard with a notation in Russian that read "addressee departed".
The Katyn Forest Massacre
Helena later learned that the prisoners in Ostashkov along with prisoners in nearby Kozielsk and Starobielsk had been slaughtered in 1940, at about the same time she and her children were sent to the Gulag.
Those killed in the Katyn Forest Massacre included about 15,000 officers and soldiers in the Polish army, members of the police force, educators, and others.
In 1943, after invading Russia, Nazi Germany announced the discovery of the mass graves of Polish officers and blamed the Soviets. Russia responded by blaming the Nazis for the massacre and declared that the Nazis were trying to drive a wedge between the Allies.
Poland requested that the International Red Cross be sent to investigate the graves. Russia responded by declaring that Poland had sided with Nazi Germany and severed relations with Poland.
Not until 03 October 1990 did Russia acknowledge that the NKVD was responsible for the Katyn Forest Massacre.
The Return Home 
On 03 June 1946, after six years in captivity, Wiktor's wife and children were allowed to return to Poland. The family returned to Helena's parents' home in Łopatyn, bringing with them an envelope with their former address in Kazakhstan, an unredeemed card for sugar, and a repatriation card allowing them to return to Poland.
After the war, the borders of Poland were realigned. The family's home in Łopatyn was now located in Ukraine and the family was forced to relocate to a Cieszyn, a village within the new borders of Poland.
For more information on these events during World War II, see A Forgotten Odyssey, The Biography of Katarzyna Dańko, and Wiktor Dziurzyński and the Katyn Forest Massacre on this blog, and WWII, the Story of the Katyn Massacre Becomes a Movie on Jasia's Creative Gene blog.
Copyright © 2007 by Stephen J. Danko