From the 1920 and 1930 US Federal Census Records, I discovered that my Great Aunt Mary immigrated in either 1909 or 1910.  A search of the Ellis Island Passenger Lists reveals a Marianna Danko who arrived at Ellis Island in 1909 on the S.S. Kaiserin Auguste Victoria.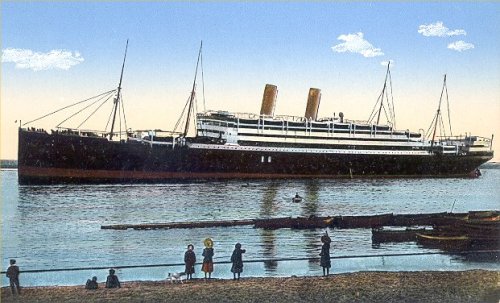 The S.S. Kaiserin Auguste Victoria
The Passenger Arrival Manifest for Marianna Danko states that:
Marianna Danko left Hamburg on June 16, 1909 on the S.S. Kaiserin Auguste Victoria and arrived in New York on June 26, 1909
She was a 25-year-old single female who worked as a servant
She could read and write and was of Polish descent and Austrian nationality
She was from Nienadowa, Austria
She listed Marcin Slowak as her nearest relative or friend in the country from which she came
Her final destination was Worcester, Massachusetts
She did not have a ticket to her final destination, she paid for her own ticket and she carried $6 with her
She had never been in the US before
She was going to stay with her brother, Michael Danko on Redding Street in Worcester, Massachusetts
She was 5 feet 4 inches tall, of fair complexion, and had light hair and blue eyes
She was born in Nienadowa, Austria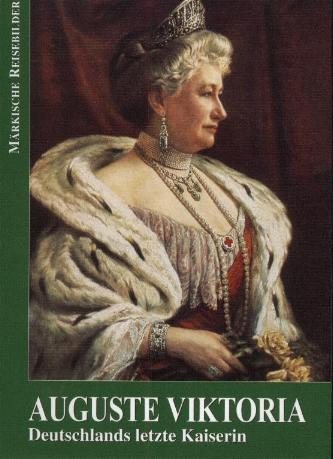 Auguste Viktoria, Germany's Last Kaiserin
The Marianna Danko listed on the manifest is definitely my grandfather's sister, and the description matches that of my Great Aunt Mary.  Marianna Danko, according to this manifest, was 25 years old on June 26, 1909, meaning that she was born in about 1883-1884. The fact that Marianna departed from Hamburg provides another document – the record of her departure from Hamburg.  The Family History Library has the Hamburg Passenger Lists on microfilm, a set of 486 film reels including indexes and the lists themselves recording departures from Hamburg from 1850 to 1934 (excluding 1915-1919 when records were not kept because of World War I).  Many libraries have written descriptions of the Hamburg Passenger Lists, and these lists are described in detail in many books on immigration.  In short, there are two sets of lists, the Direct Lists for passengers traveling directly from Hamburg to their final destination, and the Indirect Lists for passengers planning to stop at another European port before traveling to their final destinations. Since I knew the name of the ship and the departure date, I quickly found Marianna in the indexes, which told me that she was listed on page 1300 of the lists.  Sure enough, on FHL INTL Film [473001], Marianna (spelled Marjanna on this record) is listed on line 830.  The manifest states that Marjanna Danko was a 25-year-old woman from Nienadowa, Galicia.  The manifest contains additional information, but I can't read what it says.  Again, Marjanna's age indicates that she was born in about 1883-1884.  I only have one page from the Hamburg Passenger List, but I'd like to look at the rest of the pages to see if there's more information on her departure. Well, here's the information on Great Aunt Mary's birth date, so far:
Marianna's Birth and Baptismal Record, a Church Record from Poland, showing that her birth date was January 12, 1884
Marjanna's Hamburg Passenger Record, showing that she was 25 years old in 1909, indicating that she was born in 1883-1884
Marianna's Passenger Arrival List, showing that she was 25 years old when she arrived at Ellis Island on June 26, 1909 and indicating that she was born in 1883-1884
Information from Mary's daughter Fran, who told me Mary was born on March 12, 1887
A Cemetery Burial Record, showing that Mary was born in about 1886-1887
Mary's Gravestone Epitaph, showing that Mary was born in 1887
So, the evidence in sources up through June 26, 1909 is all consistent with a birth date of January 12, 1884, and the evidence in sources thereafter is all consistent with a birth date of March 12, 1887.  Do all of these documents represent one person or two?  If they represent one person, it appears that Mary changed her birth date after she arrived in the United States.  There are still more documents to examine.  Perhaps one of these other documents will provide more clues. Finally, notice that Marianna was traveling with Marcin Wejda from Nienadowa.  In the Ellis Island Passenger Arrival List, Marcin indicated that he was going to stay with his cousin, Michael Danko, in Worcester, Massachusetts.  I'll write more about Marcin on another day.
Copyright © 2006 by Stephen J. Danko