Franciszek Niedziałkowski, the younger brother of my great grandfather, Wojciech Niedziałkowski, was born on 02 Oct 1842.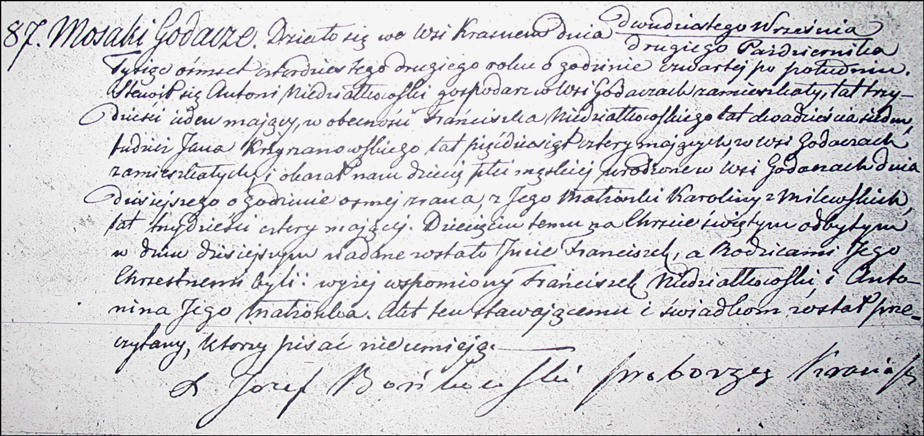 The Birth and Baptismal Record of Franciszek Niedziałkowski – 1842
SOURCE: Parafia Podwyższenia Krzyża Świętego (Krasne, Ciechanów County, Gubernia Płock Gubernia, Congress Kingdom of Poland). Akta urodzeń, małżeństw, zgonów 1841-1851, Numer 87, Franciszek Niedziałkowski baptism (1842); FHL microfilm 702794.
Click on the link for a PDF copy of the Birth and Baptismal Record of Franciszek Niedziałkowski – 1842. Translated from the Polish, the record states:
87
Mosaki Godacze

It happened in the village of Krasne on the 20th of September [Julian Calendar] / 2nd of October [Gregorian Calendar] 1842 at four o'clock in the afternoon.  Antoni Niedziałkowski, a farmer living in the village of Godacze, age thirty one, presented himself, in the company of Franciszek Niedziałkowski, age twenty-seven as well as Jan Krzyrzanowski, age fifty-four, living in the village of Godacze, and he showed us a male child, born in Godacze today at eight in the morning, born to his wife Karolina née Milewska, age thirty-four.  At Holy Baptism on this day, this child was given the name Franciszek and his Godparents were:  Franciszek Niedziałkowski and Antonina his wife.  This document was read aloud to the declarant and witnesses, who cannot write.

                                           Reverend Józef Bońkowski, Pastor of Krasne
This entry is one of the Niedziałkowski family records from Krasne parish that I have not yet posted. The Krasne parish has a nice webpage on the Płock diocese website. The webpage includes a history of the parish, a photo of the church, and a list of the baptismal, marriage, and death records on site at the parish.
The record shown here is from the civil transcript on microfilm at the Family History Library. The originals at the church include baptismal and marriage records starting in 1825 and death records starting in 1891. Earlier original records are probably in the diocesan archives.
As with other records after the Napoleonic years, the record is written in Polish in a very detailed paragraph style.
Compared to the Latin records from before Napoleon entered Poland, these records include a wealth of information, including ages, locations, occupations, and the dates of both birth and baptism.
Copyright © 2007 by Stephen J. Danko