On 13 Feb 1718, my 5th great grandfather, Ignacy Niedziałkowski, was baptized.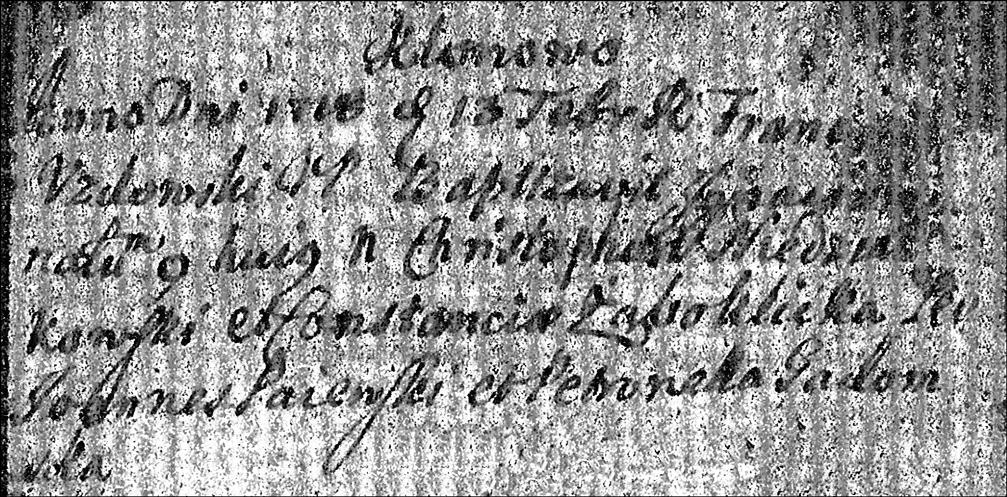 The Baptismal Record of Ignacy Niedziałkowski – 1718
SOURCE: Parafia Św. Gotarda (Pałuki, Ciechanów County, Mazovian Voivodeship, Polish-Lithuanian Commonwealth). Liber Baptisatorum ab Anno 1716 ad 1740 et Copulatorum ab Anno 1723 ad 1747, Księga II, p. 6, Ignacy Niedziałkowski baptism (1718); FHL microfilm 1,496,612, item 11.
Click on the link for a PDF copy of the Birth and Baptismal Record of Ignacy Niedziałkowski – 1718. Translated from the Latin, the record states:
Klonowo

In the year of Our Lord 1718, on the 13th of February, I, Franciszek Wzdowski O[rdo] P[raedicatorum] [Dominicans] baptized Ignacy, born of Krzysztof Niedziałkowski and Konstancia Żaboklicka. The Godparents were Jan Pajewski and Petronela Gadomska.
This record reveals not only the date of baptism of my 5th great grandfather, but also names his parents, my 6th great grandparents.
These records are difficult to read, partly because the microfilm is dark, but also because the priests used a number of Latin abbreviations. Some of these abbreviations (such as Lev for Levantes = Godparents) are readily apparent to me, while others are enigmatic.
Update: Thanks to both Barry and Miriam who provided comments below with the information that the abbreviation Dni stands for Domini, and so Anno Dni means Anno Domini = Year of Our Lord.
Copyright © 2007 by Stephen J. Danko