On 08 September 1820, a daughter of François Gamache and Marguerite Leblanc was born and named Marie.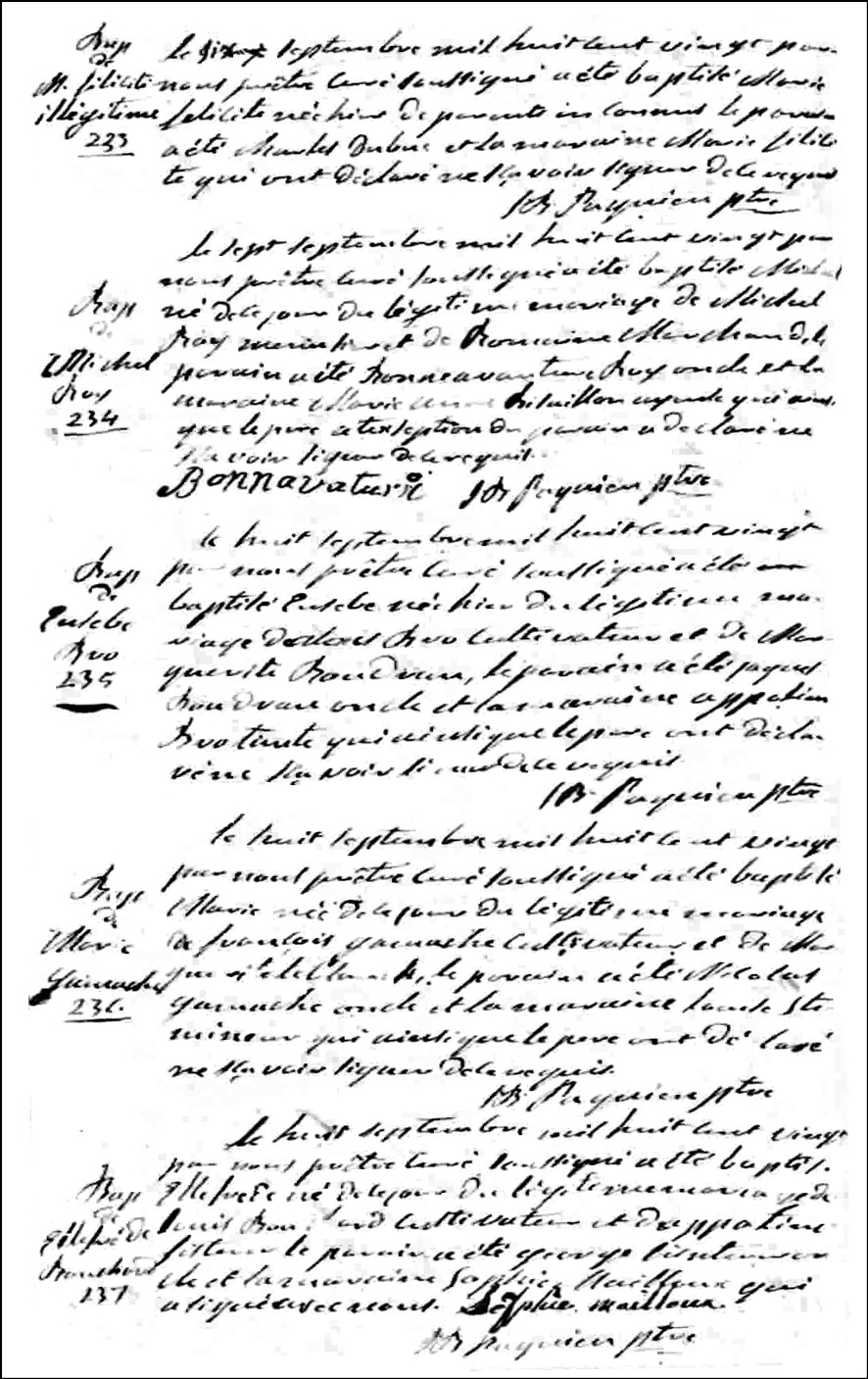 The Birth and Baptismal Record of Marie Gamache – 1820
SOURCE: Gabriel Drouin, comp. Drouin Collection. Montréal, Québec, Canada: Institut Généalogique Drouin. Parish of Ste. Marguerite de Blairfindie, L'Acadie, St. Jean County, Lower Canada, 1820. Birth and Baptismal Record of Marie Gamache, Back of Folio 37, B236.
Click on the link for a PDF copy of the Birth and Baptismal Record of Marie Gamache – 1820. Translated from the French, the record states:
Baptism
of
Marie
Gamache
236

On the eighth of September one thousand eight hundred and twenty, by us the undersigned parish minister, was baptized Marie, born today of the legitimate marriage of François Gamache, farmer, and Marguerite Leblanc. The Godfather was Nicolas Gamache and the Godmother was [Lacoste Ste Mineur?] who, as well as the father, have declared that they do not know how to sign as required.

                                                [signed] J[ean] B[aptiste] Paquien, priest
This record can be found as image 38/72 in the Québec Vital Records (Drouin Collection), 1621-1967 on Ancestry.com in the records for L'Acadie L'Acadie Ste-Marguerite-de-Blairfindie. The record appears on the back of folio 37 for the year 1820.
I couldn't quite read the name of the Godmother. To me, it looks like Lacoste Ste Mineur, but I'm not at all certain about this. Perhaps other records will shed some light on this name.
Copyright © 2007 by Stephen J. Danko