When Eric first contacted me for help on how to find the records for his Polish ancestors, I showed the Słownik Geograficzny entry for the village of Szulmierz, the village in which his great grandfather was born.
The Słownik Geograficzny entry for Szulmierz did not mention the name of the parish for Szulmierz, but indicated that the reader should compare the entries for Sulmierz and Dunoch. The entry for Sulmierz stated that the parish was located in Niedzborz. The entry for Dunoch stated that the Dunoch was a forested area belonging to Kosiczyn, Szulmierz, Włosty and others, and that the parishes for this area were in Koziczynek and Lekowo.
So, which of these choices is the place where the records of the residents of Szulmierz are located?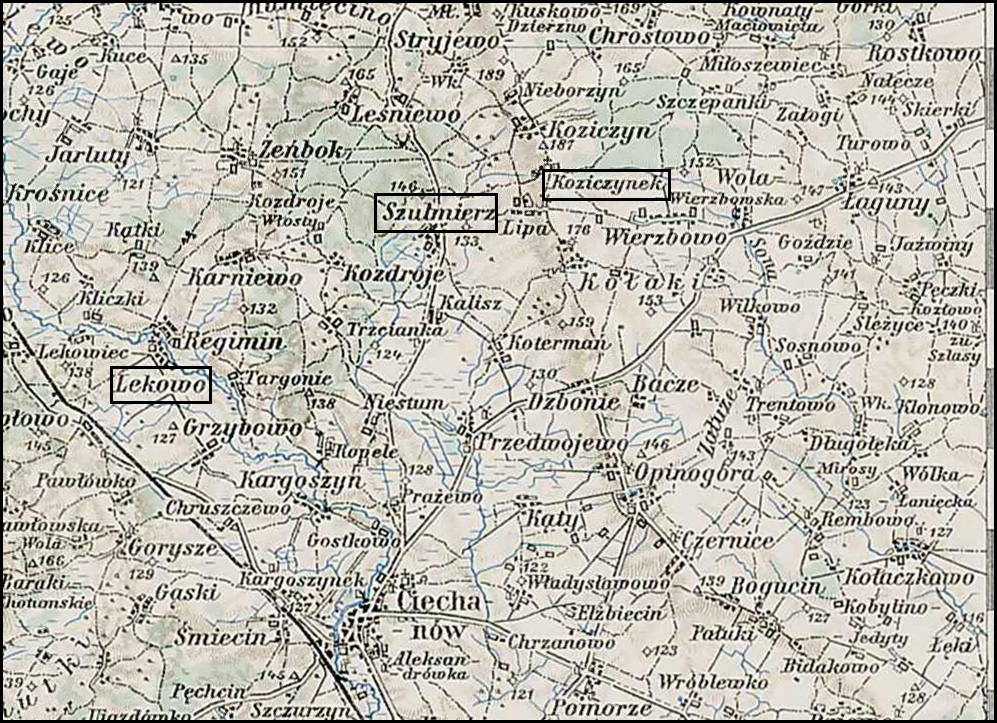 Map of the Village of Szulmierz and Vicinity
SOURCE: 3rd Military Mapping Survey of Austria-Hungary, Sheet 38-53, Mlawa. Online http://lazarus.elte.hu/hun/digkonyv/topo/200e/38-53.jpg; downloaded 25 Jun 2007.
The map of Szulmierz also shows the locations of the parishes of Koziczynek and Lekowo.
Niedzborz is not on this map and, in fact, is too far from Szulmierz to be a reasonable distance to travel on foot, by horse, or by wagon. I conclude now that Sulmierz and Szulmierz were two different villages, and that the parish for Szulmierz must be either Koziczynek or Lekowo.
Fortunately for Erik, the Family History Library has microfilmed the records of both of these parishes.
Seeing the location of Szulmierz on a map came as a bit of a surprise to me, because Szulmierz is very close to some of my own ancestral villages in Poland. If you look at the far right of the map above, you'll find the village of Klonowo, and if you look at the lower right hand corner, you'll find Pałuki, the location of Klonowo's parish.
And, if that wasn't enough of a blogging coincidence, take a look at the village between Szulmierz and Koziczynek. It's a village named Lipa – a village named for the linden tree. Jasia of Creative Gene recently wrote about her surname Lipa and the significance of the linden tree in Poland.
Gazetteers can provide a lot of information about a locality. Maps can provide a visual aid to the geography. The two, together, can provide more genealogical clues than either one alone.
Copyright © 2007 by Stephen J. Danko