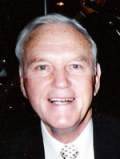 Albany, NY – Francis Joseph Danko, 87, died peacefully Wednesday, January 4, 2012 in the Hospice Inn at St. Peter's Hospital surrounded by family.  He was born on January 21, 1924 in Worcester, Massachusetts, the youngest of 11 children, to parents Michael Jacob Danko and Mary Dziurzynska Danko.  He was predeceased by his parents and ten siblings: Sophie Gibson, Karol, John (Jack), Statia Iwaniec, Bronislawa, Joseph, Michael, Bertha McGinn, Mary Yousoufian and Helen Petri.  He was also predeceased by his first wife, Jane Niedzialkowski, in 1980.
Frank was a WW II Veteran, having served in the American and European Theaters as a gunner's mate in the U. S. Naval Armed Guard.  His service included the Murmansk Run, a hazardous journey to Murmansk, Russia to deliver supplies to the eastern front.
After the war, Frank moved from Worcester, Massachusetts to Albany, New York to work at his brother Jack's Mobil service station.  From there, he was hired by Mobil Oil Corporation to manage Mobil's training stations on Delaware Avenue, Madison Avenue and West Lawrence Street, and New Scotland Avenue and Quail Street.  Finally, Frank obtained a position in the Albany County Purchasing Department and retired from there.
Frank enjoyed hiking and camping with Boy Scout Troop 36 at the Church of St. Vincent DePaul, acting as Scoutmaster for many years.  He was a member of the Watervliet Elks and a Funster with the Guilderland Fire Department.
Frank is survived by his wife, Mary Kearns Danko; his children, Beverly (George) Locke, Stephen J. Danko, Barbara (Jeffrey) Graig; and grandson Lukas Graig.  He is also survived by seven stepchildren, Janet (Irving) Colliton, Harold Kearns, Dale (Michael) Tobler, Debra (Michael) Moro, Ronald (Audrey) Kearns, Kathy (Paul) Hognestad, Patricia (Walter) Roemer; and numerous step-grand-children.  He is also survived by his sisters-in-law, Helen Skowronski Danko of Sutton, Massachusetts and Natalie Niedzialkowski Rawding of Duxbury, Massachusetts; his brothers-in-law, Ray Niedzialkowski and Henry Niedzialkowski of Worcester, Mass.; his cousins Frances Golinski Chrostowski, Josephine Golinski Guerin, and Joseph Golinski of Worcester, Massachusetts; his cousin Józef Dańko of Kraków, Poland, his cousins Maria Dańko Malinowski and Teresa Dańko Kordula of England; and many nephews and nieces.
Funeral services were held on Monday, January 9, 2012 at 10:00 AM from the McVeigh Funeral Home, 208 North Allen Street, Albany thence to Blessed Sacrament Church, Albany at 10:30 AM where a Mass of Christian Burial was celebrated by Reverend Anthony Gulley assisted by Reverend Gregory Weider.  Relatives and friends assembled on Sunday, January 8, 2012, 3:00 to 6:00 p.m. in the funeral home.  Interment was in Our Lady of Angels Cemetery, Albany, New York.
Those wishing to remember Frank in a special way may send a contribution to The Community Hospice, 295 Valley View Boulevard, Rensselaer, NY 12144.
Copyright © 2012 by Stephen J. Danko and Beverly A. Locke