At the Seventh International Family Tree DNA Conference for Group Administrators, Bennett Greenspan and those who had made presentations on the final day gathered for a Closing Panel to answer questions from the audience.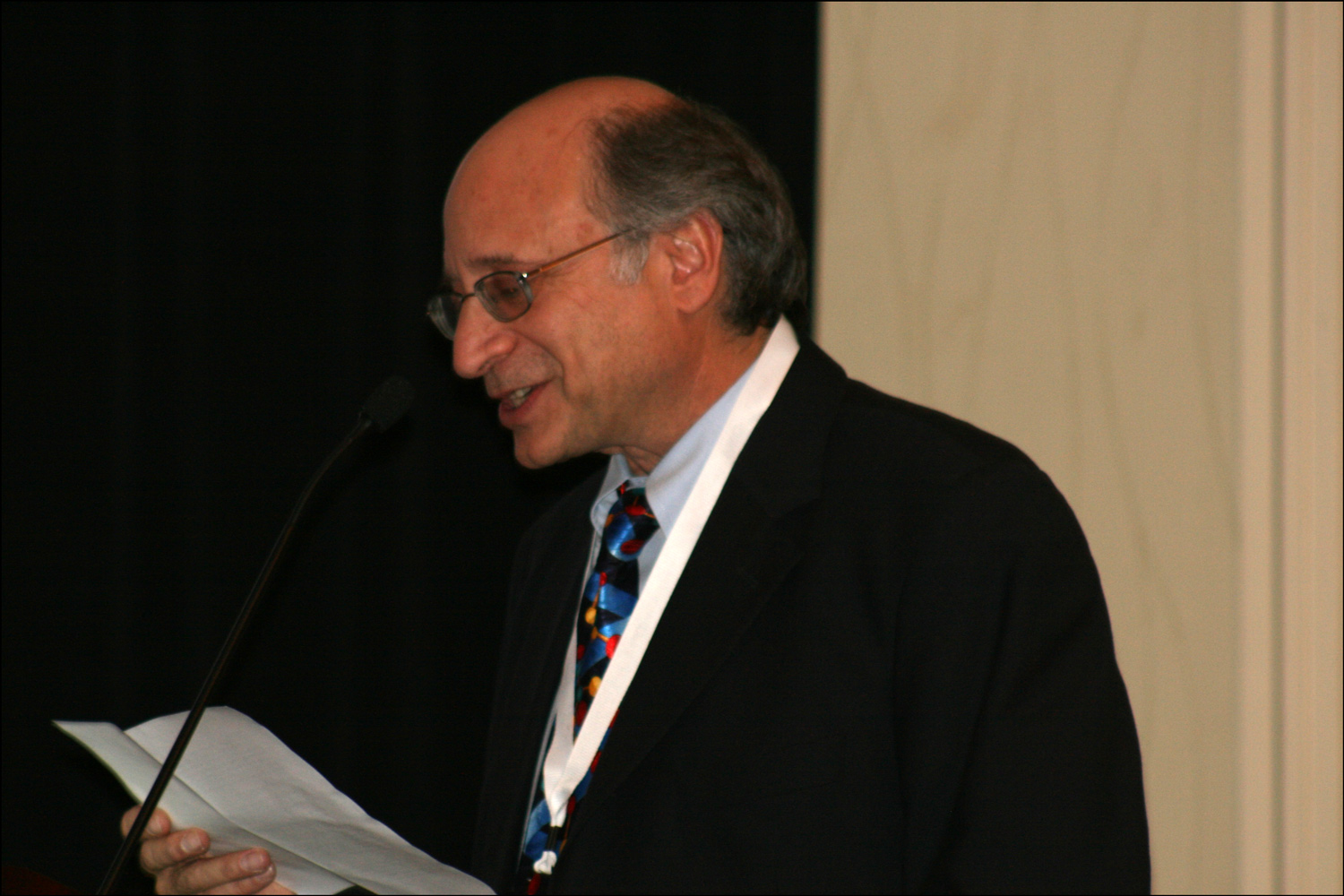 Bennett Greenspan
SOURCE:  Bennett Greenspan (Houston, Harris County, Texas); photographed by Stephen J. Danko on 06 November 2011.
Q:  Are passenger manifests in the public domain?
A:  Yes.
Q:  Has Jessica Roberts taken a DNA test?
A:  No.
Q:  Will Family Tree DNA be offering any promotions soon?
A:  Yes.  FTDNA will have a promotion good for the rest of 2011.
Q:  What surname project can adoptees join if they don't know the surname of their biological fathers?
A:  Adoptees can join the "Adopted" surname project and qualify for discounts offered to member of surname projects.
Q:  What does FTDNA expect attendees to learn at these events (Family Tree DNA Conferences for Group Administrators)?
A:  These conferences are give and take events where FTDNA and attendees learn from each other.
Q:  Does FTDNA plan to upgrade Y-SEARCH to incorporate 68-111 markers?
A:  It is not at the top of FTDNA's list of priorities.
Q:  How long should an adoptee wait for a match before joining the Adopted project?
A:  The Adopted project is a point of entry.
Q:  Is anything in the works for X-DNA?
A:  Yes, but it is a matter of priorities.
Q:  Why are surname projects no longer listed in their entirety?
A:  They are.  You can't see all names at once because competitors were harvesting surnames from FTDNA.
Q:  Does FTDNA plan to incorporate Y-DNA or mtDNA SNP data from 23 and Me?
A:  No.  Autosomal DNA is the next horizon.
Q:  What about heteroplasmy?
A:  Heteroplasmy is not genealogically relevant.
Q:  Is there information for Canadian immigration from 1820-1830?
A:  Yes.
Q:  How many hours has Steve Morse put into his One-Step Webpages?
A:  He doesn't know.
Q:  Has Steve Morse ever given up?
A:  No.
Q:  Will someone take over Steve Morse's website after he's gone?
A:  Yes.
Q:  Does FTDNA treat Recombinational Loss of Heterozygosity (RecLOH) as a single or a multistep mutation?
A:  Right now it is treated as a multistep mutation, but FTDNA will eventually change this to a single step mutation.
Q:  Can I stop notifications of 12 marker Y-DNA matches?
A:  Yes.  On the myFTDNA page, hover over "My Account" and click on "Match and Email Settings."
Q:  Will FTDNA lock column headers on the Group Administration Page (GAP)?
A:  No.  The current version of .NET doesn't allow that.
Q:  How much correlation is needed for a Y-DNA exact match?
A:  All STRs and SNPs must match.
Q:  How can we predict haplogroups from STRs?
A:  You need SNPs to predict most haplogroups.
Q:  How well does Family Finder work with Ashkenazi beyond the 3rd generation?
A:  If the parents are from diverse groups, Family Finder works well, but not for close, inbred families.
Thomas Krahn discussed a 4×4 sequencing run he performed the previous night.  He ran 8 samples.  The first 5 were Walk Through the Y samples, 2 were control samples from Roche, 1 was an unenriched sample, and 1 was a sample from Bennett.
The results were overexposed even though he used the recommended number of beads.  The length of the segments in the library looks good.  He tried to get lengths of 1000, but he got a median of about 600.
He was looking for places where Bennett's DNA doesn't match the reference.  These are the SNPs.  He is looking for high quality differences – enough to discriminate between real differences and errors.
Copyright © 2011 by Stephen J. Danko