At the Seventh International Family Tree DNA Conference for Group Administrators, Richard Hill, MBA presented a talk on "An Adoptee's Journey to His Ancestral Surname."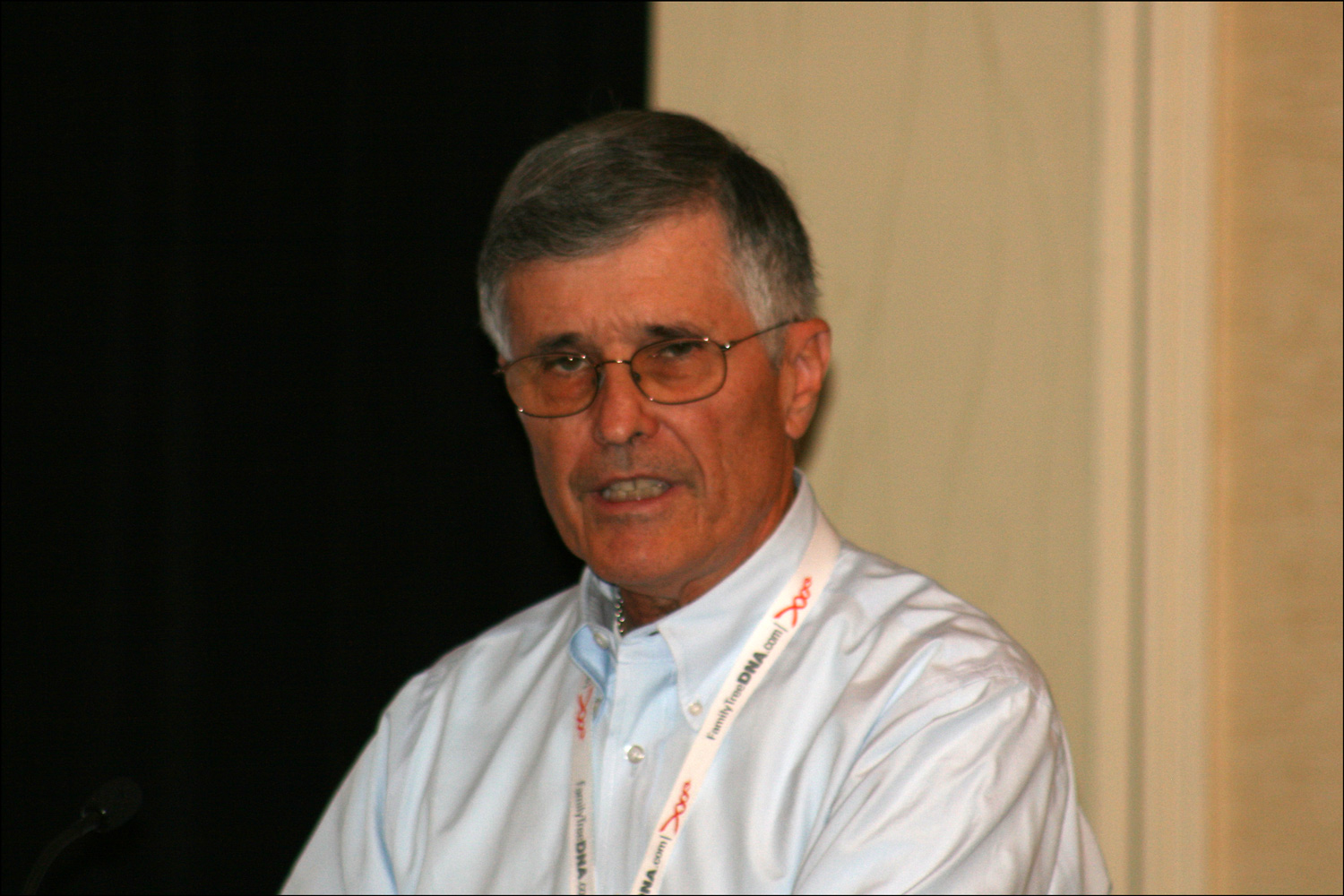 Richard Hill
SOURCE:  Richard Hill (Houston, Harris County, Texas); photographed by Stephen J. Danko on 06 November 2011.
Minnesota sealed adoption records in 1917.  Since then, 46 more states did the same.  Alaska, Kansas, and South Dakota didn't.  Illinois is opening the records on 15 November 2011.  The intention of sealing the records was to protect the child from the stigma of illegitimacy.
In 1970, 175,000 children were adopted.  About 58% of people know an adopter or an adoptee.  There are 400,000 registrations for adoption searches using such utilities as Adoption.com and the International Soundex Registry.  Televisions shows such as The Locator, Find My Family, and Searching for… investigate adoption cases.
There are two categories of adoptees:  those tormented by unanswered questions and those who are content and not particularly curious.
When Dick Hill was getting ready to go to college, he had heartburn and went to the doctor.  The doctor consulted his files and asked Dick "How do you feel about being adopted?"  This was the first time Dick had ever heard that he had been adopted.  He didn't tell his parents that he knew about the adoption.
In 1978, on his deathbed, Dick's father told him about the adoption.  Dick's mother was known.  She had lived with the couple and gave birth.  Dick also had a brother.  Their mother gave birth to two sons by different fathers, and then died at age 21.
Through a confidential intermediary program, Dick's father was located, but DNA proved that the man was not Dick's father.
Dick heard about the Y-DNA test and discovered that his DNA matched that for people with the surname Richards.  Dick discovered that his mother had worked for a man named Doug Richards.  However Doug Richards had four brothers who were living in Michigan at the time Dick was conceived and any one of them could have been Dick's father.
Each of the five brothers had a living son who agreed to take a sibling test based on short tandem repeats (STRs).  Based on this test, Dick learned that there was an 87.4% chance that Doug Richards, Jr. was his half-brother. The descendants of the other brothers showed a much lower probability of being Dick's half-brother.  Dick had discovered who his birth parents were and had reconnected with his biological brother.  Dick then showed a photo of his "real" parents, the couple who raised him.
Dick maintains a website with a wealth of information about DNA testing at http://www.dna-testing-advisor.com.
Copyright © 2011 by Stephen J. Danko