At the Seventh International Family Tree DNA Conference for Group Administrators, Elliott Greenspan presented a talk on "IT Roadmap 2011: The Year in Review and Looking Ahead."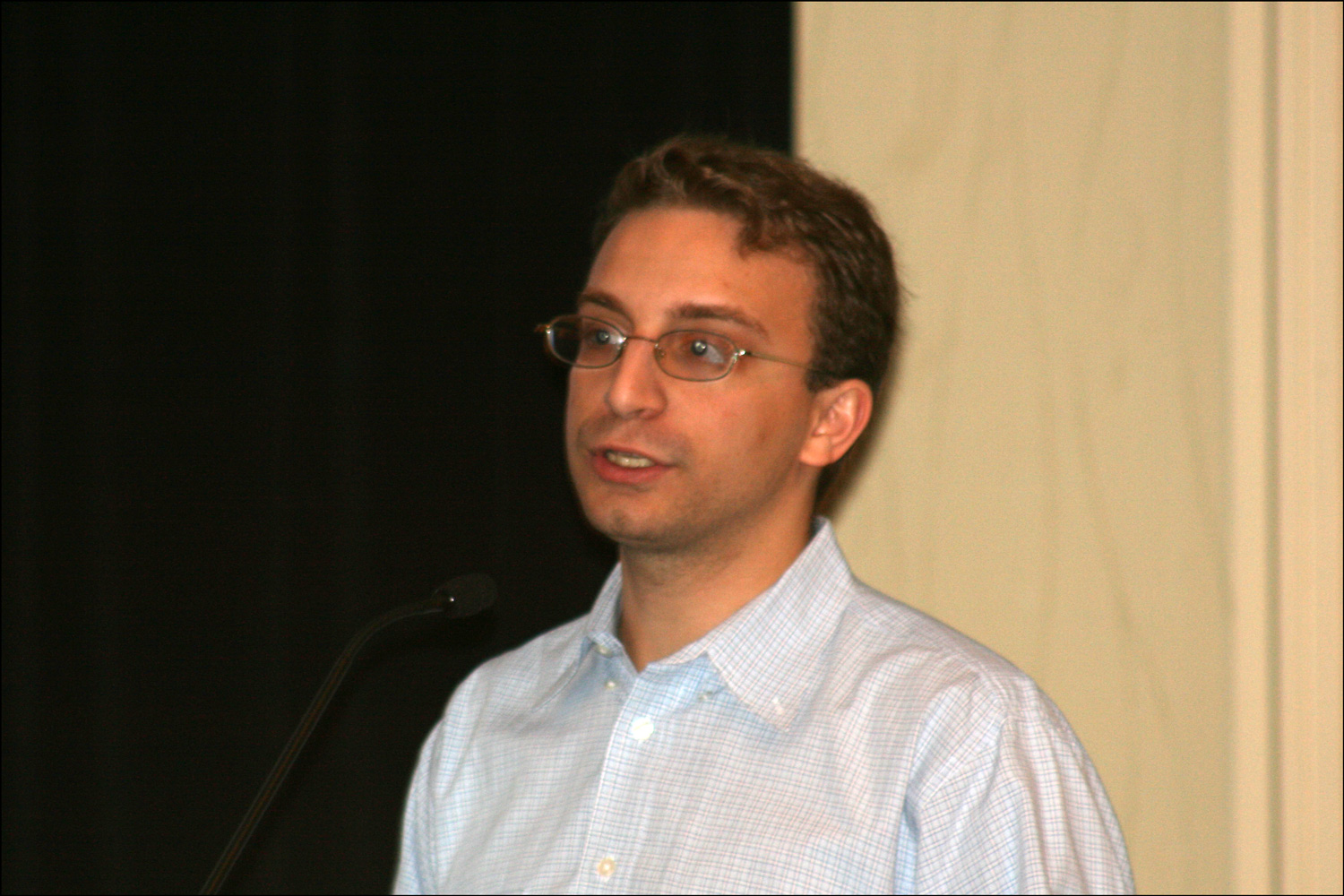 Elliott Greenspan
SOURCE:  Elliott Greenspan (Houston, Harris County, Texas); photographed by Stephen J. Danko on 06 November 2011.
The Family Tree DNA GAP (Group Administration Page) 2.0 was launched in November 2010.  The Family Finder autosomal DNA test platform was changed from Affymetrix chips to Illumina chips in January 2011.  Family Tree DNA has processed 2.33 PB (petabytes) of matching data for Family Finder.
The SNP (single nucleotide polymorphism) ordering tree was modified, making it easier to order SNPs.  New downstream SNPs were added and the Y-DNA test was expanded from 67 to 111 markers.  Family Tree DNA intends to release new SNPs more quickly.
Family Tree DNA acquired the DNA Heritage Y-DNA (Y chromosomal) database, but not the mtDNA (mitochondrial DNA) database because the two companies did not sequence the same region of mtDNA.
The myFTDNA 2.0 homepage will be released soon.  Project administrators will be able to try the myFTDNA before the project members.  The General Fund is easier to use, a new messaging system from FTDNA to customers has been added, and a new configurable profile for users has been added.  Privacy settings have been added to the profile.  There are specialized resources for each section of the myFTDNA page, Family Finder matches, new images, a link to the profile, and badges.  Y-DNA haplogroup matches have been expanded.
New features allow you to see matches just for a particular project.  A new power search feature has been added, allowing the user to combine the power of all three DNA types in a search.  Family Finder upgrades include new SNPs, fewer false positives, and the ability to upload data from 23andMe (v3 only).
Microalleles can be displayed on GAP charts.  Microalleles are displayed as decimals in three quarter steps: 0.1, 0.2, 0.3 (0.4 is the next higher number of repeats).  Changes in palindromic markers are now treated as a single step mutation, rather than multiple step mutations, reflecting the number of events rather than the size of the events.  STR (short tandem repeat) values will adhere to NIST standards.
Copyright © 2011 by Stephen J. Danko