At the Seventh International Family Tree DNA Conference for Group Administrators, Katherine Hope Borges and Alice Fairhurst led a meeting of the Family Tree DNA Chapter of ISOGG (International Society of Genetic Genealogy).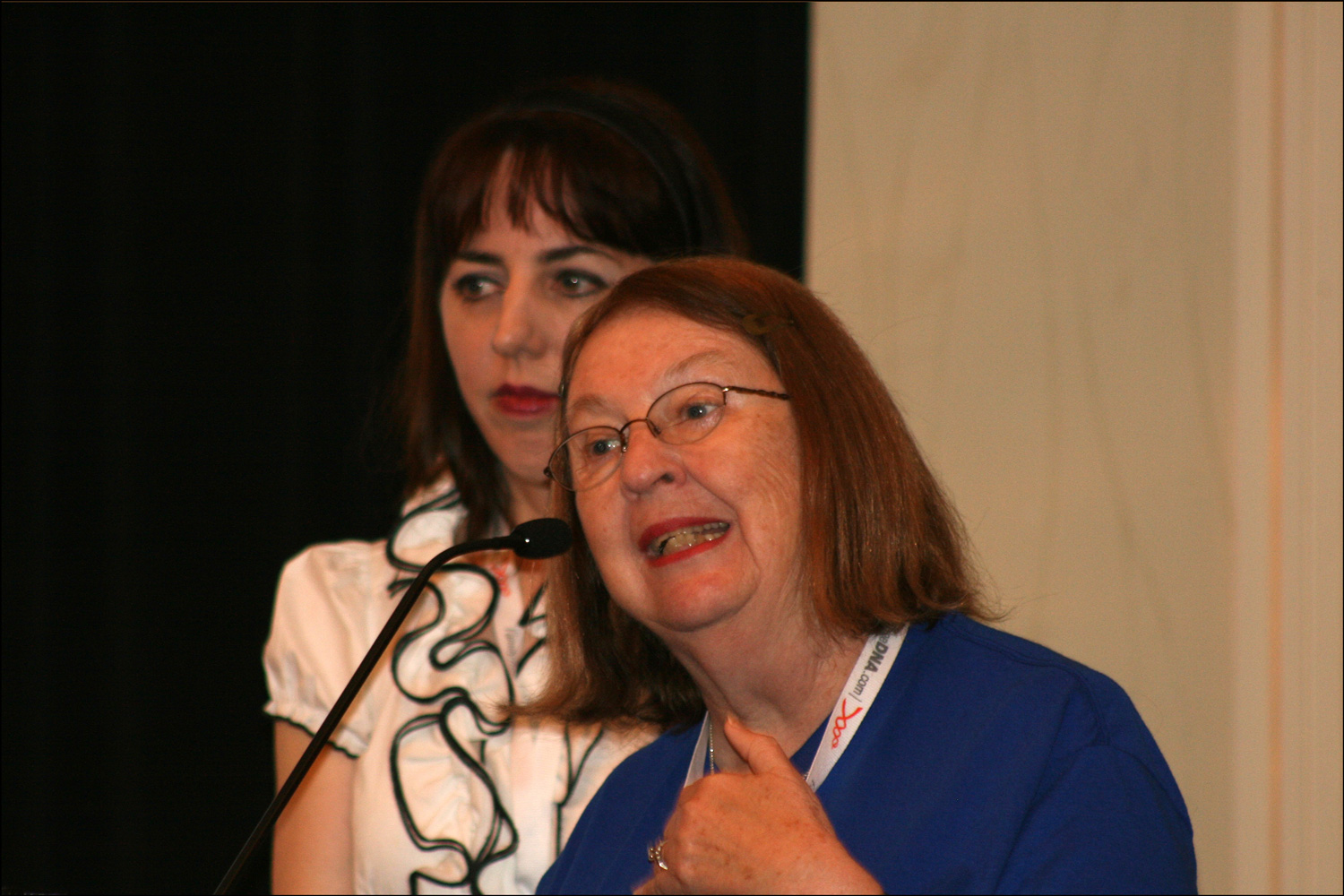 Katherine Hope Borges and Alice Fairhurst
SOURCE:  Katherine Hope Borges and Alice Fairhurst (Houston, Harris County, Texas); photographed by Stephen J. Danko on 06 November 2011.
ISOGG was started in 2005 after the 2004 Family Tree DNA Conference for Group Administrators.  The ISOGG wiki has added the ability to create a book about anything.
There has been increased movement towards regulation of DTC (direct to consumer) DNA tests, especially medical tests.
In a 2011 survey of the ASHG (American Society of Human Genetics), 74% said that DTC tests should not be available for all purposes, 84% were in favor of DTC tests, but consumers should be aware of the limitations.  Regarding the availability of DTC ancestry tests, 60% were in favor, 20% were neutral, and 20% were against.
The ISOGG PAC (Political Action Committee) is not related to money.
California added genetic information to the list of information that people cannot be discriminated against.  The new law (SB559) becomes effective on 01 January 2012.  This is stronger than GINA (Genetic Information Nondiscrimination Act of 2008).  GINA failed several times before it was passed.
ISOGG wanted a clearing house to name Y-DNA subclades based on new SNPs (single nucleotide polymorphisms).  ISOGG needs the help of members to identify new SNPs.  The majority of men in ISOGG are in haplogroup R.  ISOGG prepares a Y-DNA haplogroup map and updates it when new information is available.  This map is in harmony with the YCC (Y Chromosome Consortium), but it is not identical to the Family Tree DNA Y haplogroup map because the Family Tree DNA haplogroup map is updated less frequently than is the ISOGG haplogroup map.
Copyright © 2011 by Stephen J. Danko