At the end of the first day of the Seventh International Family Tree DNA Conference for Group Administrators, those who made presentations answered questions from the audience.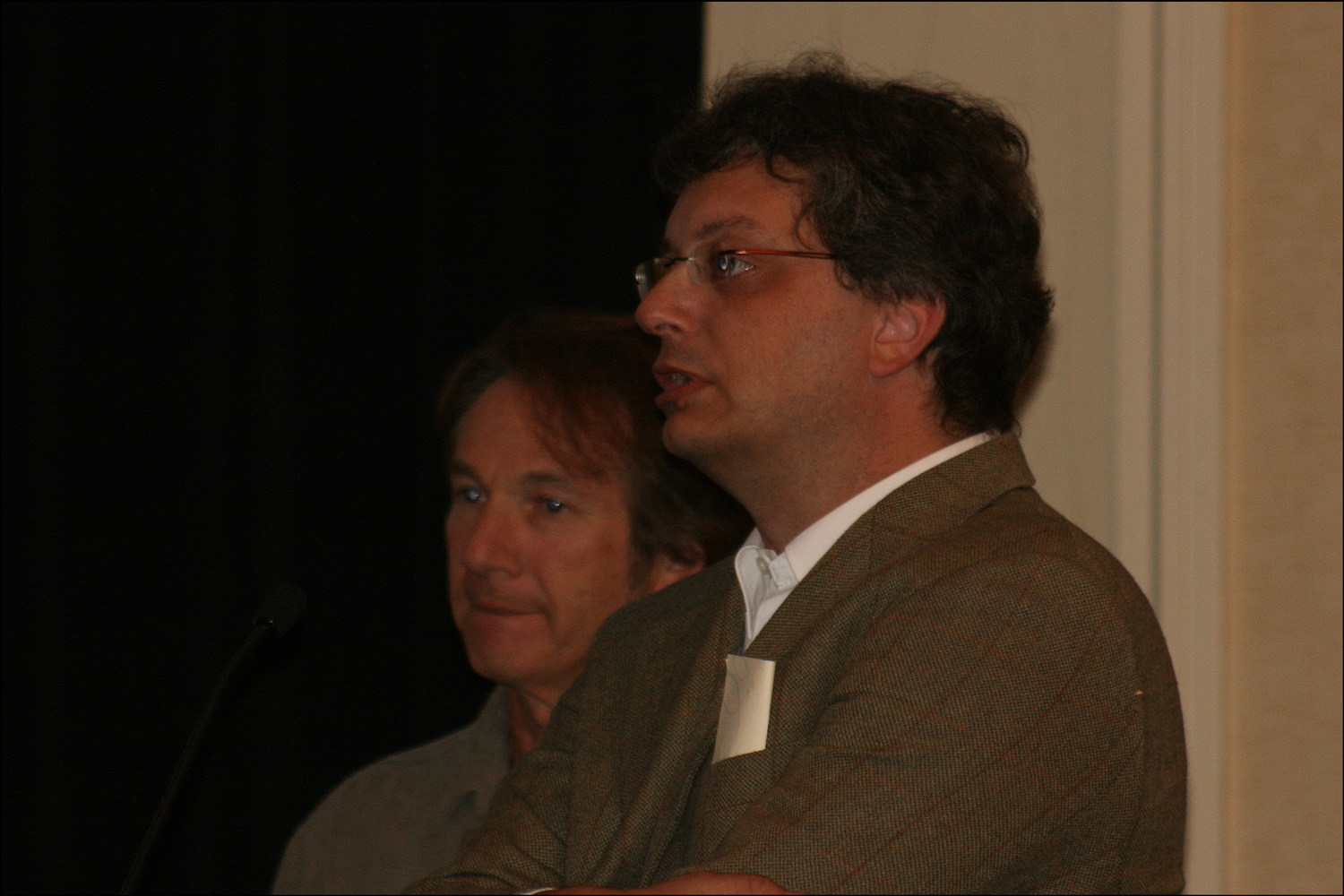 Mike Hammer and Thomas Krahn
SOURCE:  Mike Hammer and Thomas Krahn (Houston, Harris County, Texas); photographed by Stephen J. Danko on 05 November 2011.
Q:  How many generations back is Family Finder accurate?
A:  Five generations
Q:  When will there be a public Genographic Project database?
A:  Soon.  March/April 2012.
Q:  When will Family Finder be able to use the results of 23 and Me?
A:  In 4-8 weeks at a cost of $50.
Q:  Does the Genographic Project still plan to destroy DNA samples not transferred to Family Tree DNA?
A:  Yes.  They will probably do so next year.
Q:  How did ancient people get across the Red Sea?
A:  With climate changes, water levels rise and fall.
Q:  Can Family Tree DNA arrange tours of the Clayton Library?
A:  Yes.
Q:  Can Family Tree DNA extend the 25 year storage period for DNA samples?
A:  Yes, to 50 years.
Q:  Can new SNPs (single nucleotide polymorphisms) distinguish or unite families within the historical range of surnames?
A:  Not yet but, theoretically, yes.
Q:  Are there any STRs (short tandem repeats) on mitochondrial DNA?
A:  Not really, one segment might be considered an STR.  STRs on mitochondrial DNA might be selected against.
Q:  What is the stability of the new Y-DNA markers?
A:  The new markers are single copy, not palindromic.
Q:  Which labs are covering new SNPs?
A:  Various labs.
Q:  How can one explain the Family Finder results when person A matches person B, but person B doesn't match person A's parents?
A:  Don't ignore it, but don't worry about it.
Q:  Did Turkish farmers make it to Ireland?
A:  We can do SNP testing, but the Western R1b is not found in Armenia.
Q:  Are there passenger manifests that show people leaving the United States?
A:  Not that have survived.
Q:  How were the One-Step search tools created?
A:  Read Deep Linking and Deeper Linking.
Q:  If DNA samples of deceased people are still held by Family Tree DNA, can they still be tested?
A:  Yes, but some older samples no longer work.
Q:  Will a DVD be made of the conference?
A:  Perhaps, after Family Tree DNA reviews the quality of the recordings.
Q:  Can people who tested with the Genographic Project and haven't transferred their DNA to Family Tree DNA be contacted?
A:  No.  The kits were submitted anonymously.
Q:  What percent of the Y chromosome can be easily sequenced?
A:  20 Mb, part of the p arm and most of the q arm.
Q:  What is the mutation rate of STRs?
A:  About 1 mutation every 500 generations, but there is huge variation.
Q:  Will Family Tree DNA accept results from Ancestry.com?
A:  Family Tree DNA already accepts results from Ancestry.com.  In addition, they will be taking new markers and 23 and Me results, however Family Tree DNA will not be able to provide customer service for results from other companies.
Copyright © 2011 by Stephen J. Danko