Back in December I wrote about the marriage of my fourth great-grandparents, Tomasz Niedziałkowski and Cecylia Chotkowska in Krasne, Poland. The marriage record stated the name of the village and parish where Tomasz lived before his marriage, but at the time I couldn't find these places on a map.
Agnieszka, who is from the region of Krasne, corrected the spelling of the name of the parish, and from there I was able to find the parish and village on the Military Maps of the Austrian Empire. The name of the village from which Tomasz came was Klonowo and the name of the parish was Pałuki. These two villages are shown on the map below, which is a portion of one of the Military Maps of the Austrian Empire.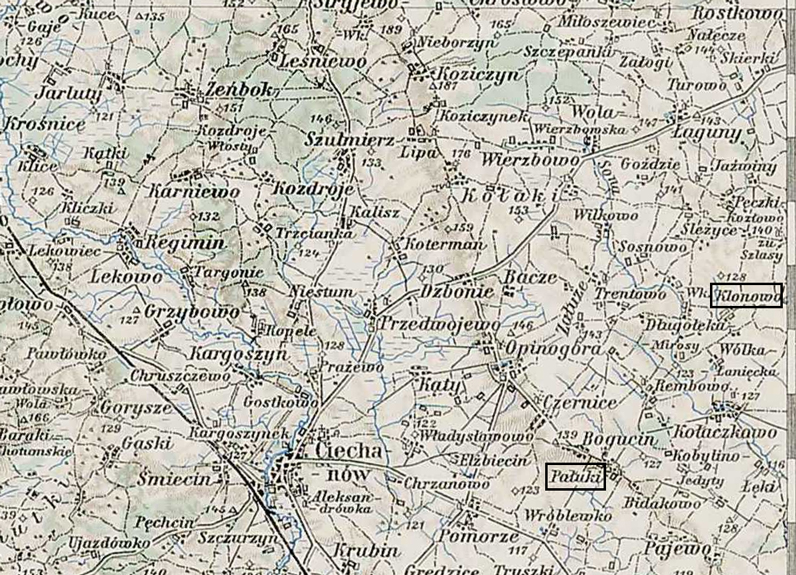 Portion of the Military Map Showing the Villages of Klonowo and Pałuki
SOURCE: 3rd Military Mapping Survey of Austria-Hungary, Sheet 38-53, Mlawa. Online http://lazarus.elte.hu/hun/digkonyv/topo/200e/38-53.jpg; downloaded 25 Jun 2007.
I checked the Family History Library Catalog for records from the parish of Pałuki and was pleasantly surprised to find the following entries:
Księgi metrykalne, 1658-1836

Roman Catholic parish registers of baptisms, marriages, banns, deaths for Pałuki (Ciechanów), Warszawa, Poland. Includes comprehensive index. Text in Latin.

FHL INTL Film 1496612 Items 7-14: Akta urodzeń (w nieporządku) 1658-1694 Akta małżeństw (w nieporządku) 1662-1694 Akta zgonów 1691-1692 Akta urodzeń 1694-1715 Akta rozmaitości 1694-1701 Akta małżeństw 1694-1722 Akta zgonów 1694-1753 Akta urodzeń 1716-1739 Akta małżeństw 1723-1747 Akta urodzeń 1740-1754 Akta małżeństw 1747-1781 Akta urodzeń 1754-1760

FHL INTL Film 1496613: Akta urodzeń 1760-1775 Akta zgonów 1754-1781 Akta urodzeń 1775-1800 Akta zgonów 1781-1820 Akta małżeństw 1781-1826 Akta urodzeń 1800-1826 Akta zgonów 1821-1831 Indeks zgonów 1781-1808 Indeks małżeństw 1694-1808 Indeks urodzeń A-F 1695-1808 Indeks urodzeń G 1695-1794

FHL INTL Film 1496660 Item 1: Indeks urodzeń G 1794-1808 Indeks urodzeń H-Z 1695-1808 Indeks urodzeń 1808-1836
Akta urodzeń = Records of Births
Akta małżeństw = Records of Marriages
Akta zgonów = Records of Deaths
Akta rozmaitości = Miscellaneous Records
w nieporządku = in disorder
Indeks = Index
Wow! These records go back all the way to 1658, a century and a half before most church records were kept in Poland! Based on his age at the time of his marriage in 1785, Tomasz Niedziałkowski was born in about 1754, so these records potentially include three or four generations before the birth of my 4th great-grandfather.
One difficulty here is that these older records tend to include very little information. As long as the names of the parents are listed, I should be able to trace this line back farther in time. My previous experience with Polish records from this time period is that the maiden name of the mother is often not listed in the baptismal records, and the handwriting is difficult to read.
Still, I have great hopes these records will help me trace my Niedziałkowski line back a few more generations.
Copyright © 2007 by Stephen J. Danko