Birth and Early Life
My paternal grandfather, Michael Danko (Michał Dańko), was born in Nienadowa, Galicia on September 22, 1877, the son of Jakub Dańko, a farmer, and Agnieszka Sowa. He was delivered by the midwife Agnieszka Pilch, and was baptized in the Roman Catholic parish church in Dubiecko, Galicia on September 23, 1877 by the Reverend [H. Karakulski?]. His Godparents were Andrzej Giergont and Marianna, the widow of Kazimierz Fudali.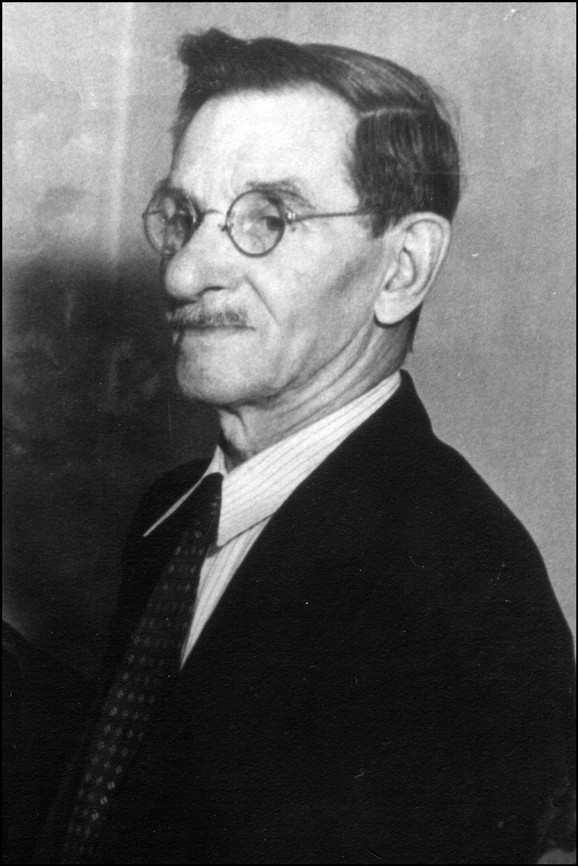 Photograph of Michał Danko – 1948
Michał had a number of siblings, but the only ones I've confirmed are Marianna, born 12 Jan 1884, and Marcin, born 11 Dec 1890. His mother reportedly died in 1895 or 1896, after she fell while picking cherries.
After the death of his mother, Michał's father married Zofia Głowacz on 03 Sep 1896, and Zofia gave birth to Michał's half-brother, Piotr Dańko, on 28 Jun 1898.
Marriage and the First Children
Michał married Marianna Dziurzyńska (Marianna Dziura) on 14 Aug 1898, probably in the Roman Catholic parish church in Dylągowa. The pair met only shortly before the marriage, which was apparently arranged.
Over the next few years, Michał's wife gave birth to three children. The first was probably a son named Karol, but the details of this birth are missing. As a young child, Karol died in Galicia. A daughter, Zofia, was born on 12 Jan 1901, and a son, Jan, was born on 02 May 1905.
Immigration to the United States
When Michał was 27 years old, he set off by himself for Antwerp, boarded the S.S. Vaderland on 25 Feb 1905 and arrived in New York City on 07 Mar 1905. Upon arriving in New York, he was met by Isaac Flichtenfeld, a Jewish umbrella maker from Galicia, residing at 35 First Avenue in New York City. Michał had but $6 in his pocket when he arrived in America.
For reasons unknown, my grandfather then traveled to Worcester, Massachusetts, where he would spend the rest of his life.
Family Arrives in Worcester
Michał's wife, daughter, and surviving son arrived in New York on the S.S. Vaderland on 24 May 1909, and his sister, Marianna, arrived on the S.S. Kaiserin Auguste Victoria 26 Jun 1909.
Paweł Goliński, the future husband of Michał's sister Marianna, and Jan Dziurzyński, Michał's brother-in-law, traveled together and arrived on the S.S. Grosser Kurfurst on 21 May 1912.
Jan Dziurzyński returned to Galicia sometime after 1930, but Paweł Goliński and Marianna Dańko Goliński lived near Michał in Worcester all their lives.
Home and Hearth
In 1909, when his wife and children arrived, Michał was living at 9 Redding Court, a house located between the Rural Cemetery and the railroad tracks. The railroad tracks were, in fact, directly behind the house.
In 1910, the family was living a block away at 3 Moran Court. The railroad tracks ran directly behind this house, too. The family shared their small, rented house with seven boarders, all Polish immigrants.
By 1920, the family had moved to 19 Prescott Place, and still the railroad tracks ran right behind the house. The family lived in this house for a while. They were still living there in 1930.
By 1942, the family was living at 15 Henchman Street. This house was just on the other side of the railroad tracks from the previous houses in which the family lived.
All these houses have now been demolished.
The family never lived in "The Island" where most of the Polish community in Worcester was located.
More Children
Over the next years, Michał's wife gave birth to several other children in Worcester: Stanisława, born 13 May 1910; Bronisława, born 03 Jan 1912, died 13 Jan 1913; Michael, born 13 Sep 1913; Bronisława, born 28 Oct 1915; Mary, born 07 Oct 1917, Joseph, born 02 Sep 1919; Helen; and my father, Francis.
The Great War and the Second Polish Republic
On 12 Sep 1918, Michał registered for the World War I draft, although he was not asked to serve.
On 11 Nov 1918, the Second Polish Republic was formed. My grandfather probably celebrated the liberation of his homeland from over a century of occupation by Austria. Because Michał was born in Galicia, the Austrian partition of Poland, he was legally a citizen of Austria, although his ethnicity was Polish.
In both the 1920 and 1930 censuses, MIchał reported that he had filed his Declaration of Intention to become a citizen of the United States. I have not found any evidence that he actually did become a citizen.
Education and Employment 
I was told that Michał was well-educated and worked as a teacher in Galicia. At the time he immigrated to the United States in 1905, he could read and write, although he probably couldn't speak English very well, if at all. By the 1910 census, he reported that he could speak English. His wife never learned to speak English.
Postcard of American Steel and Wire – North Works
Like many Polish immigrants, Michał found employment at the American Steel and Wire plant located just a few blocks from where the family lived. There, he worked as a Wire Straightener or a Wire Cutter, among the most difficult and lowest paying jobs available.
With the onset of the Great Depression in 1929, Michał was unemployed much of the time.
World War II
Michał registered for the World War II draft on 27 Apr 1942 as part of the "Old Men's Draft".
By the time he registered for the draft, three of his four sons were already serving in the military. His son Michael served in the U.S. Navy, Joseph served in the U.S. Army, and Francis served in the U.S. Naval Armed Guard. All three sons survived the war.
The Children Leave Home
By 1920, Michał's daughter Zofia (Sophie) left home and was living and working in a boarding house. Soon after, she moved to Albany, New York.
In the early 1930s, Michał's children Stanisława (Statia), Jan (John), and Helen followed Sophie and moved to Albany. Finally, in the 1940s, Francis and Michał's wife, Marianna, also moved to Albany, leaving Michał by himself.
Michał's children Bronisława (Bertha), Mary, Joseph, and Michael continued to live in Worcester.
Michał's Death and Funeral
Michał died alone in a rooming house at 47 Main Street in Worcester on 02 Jan 1953 at age 76. His death was discovered by his son, Michael. Death was due to arteriosclerotic heart disease.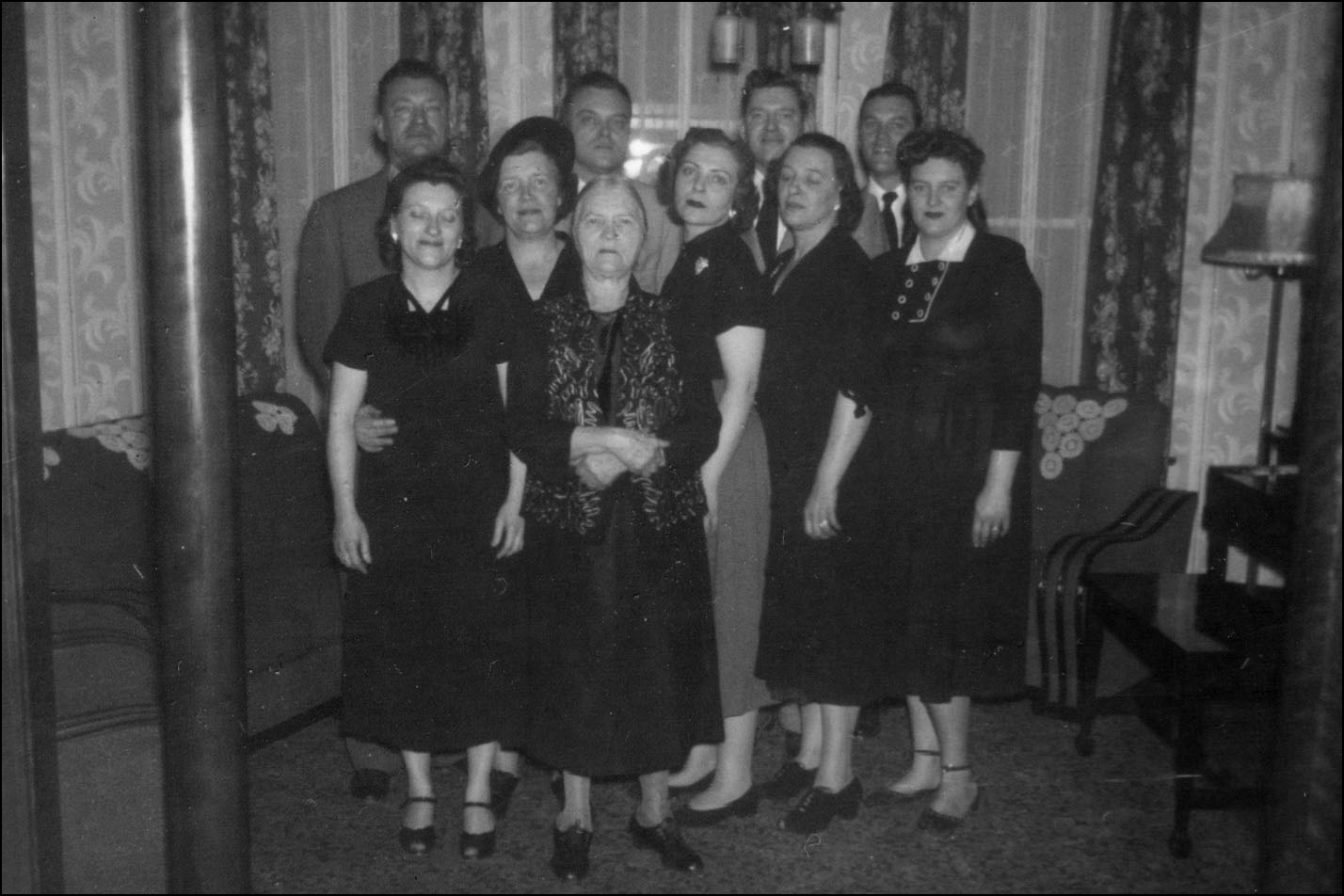 The Family of Michał Dańko – 1953
His wife and children all gathered in Worcester to mourn his passing. The only photographs I have of all Michał's children together were taken at the time of his funeral.
Copyright © 2007 by Stephen J. Danko