Suzanne Russo Adams, AG®, the Professional Services Desk Manager for the Generations Network, presented a lecture on "Getting the Most from Ancestry.com", based on George Morgan's recently published book The Official Guide to Ancestry.com.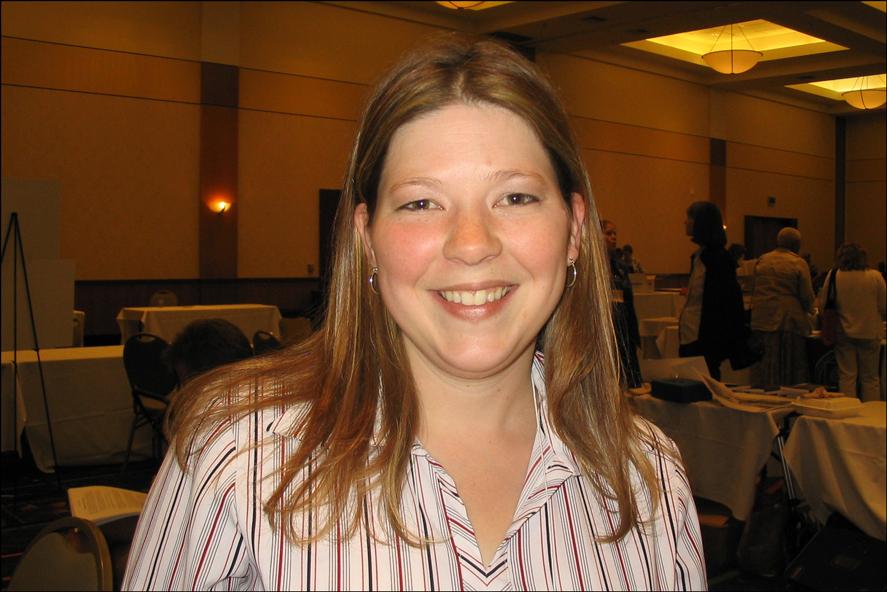 Suzanne Russo Adams at Jamboree 2007
George's book was certainly popular at Jamboree. The folks at the Ancestry.com booth sold all the copies they brought with them and were directing those looking to buy the book to other vendors.
Suzanne explained that her talk would discuss the purpose of the website, how you can effectively use the site, the location of search tips and a tutorial, and the strengths and limitations of the website and its search engine.
The Ancestry.com Home Page and What's New?
Upon opening the Home Page of the site, the researcher is presented with a set of search boxes that can be used to search the site. To the right of the search boxes, under the heading "What's New on Ancestry.com" is a listing of the most recently added content, and within that box is a link to "What Else is New?" Clicking on that link brings the researcher to a whole lot more information on new databases, articles, and enhancements to the site.
Searching Ancestry.com 
There are several ways to search Ancestry.com, depending on what you want to find. For help with search options, one can click on "Search Tips" (found under the "Search" tab) or go to "Help" and type in "Search".
To search the entire site for a specified name, one can use a Global Search. Ancestry separated the Global Search on the Home Page into four tabs in order to provide specialized search fields for particular records. When searching Historical Records, available search fields are: First & Middle Name(s), Last Name, Birth Year, Birth Country, Death Year, and Death Country. When searching Photos & Maps, available search fields change to Keywords, Country, and Year Range. Specialized search fields for particular record groups makes a lot of sense.
Ranked Searches
Unless the "Exact Match" box is checked, Ancestry.com will perform a Ranked Search, which searches for close matches. Ancestry uses a name authority dictionary to find close matches for both first and last names. In this way, if a researcher enters "Joseph" in the search box, a Ranked Search may be able to find people entered with the first name "Joe" as well as those entered as "Joseph".
Ancestry ranks names first, and ranks dates and places as a lower priority.
Exact Searches 
Exact Match Searching allows the researcher to specify which search terms must match the index exactly. At the bottom of the search results page is a set of search boxes that allows one to refine the search. By clicking the "Exact Matches Only" check box, only those results that match the search terms exactly will be displayed. The only exception to this exact match feature is a choice to search an exact surname or a set of Soundex matches. Clicking the "Advanced Search" link allows the researcher to specify which search terms must be an exact match and which search terms can be close matches (ranked search, see below).
One item of note when searching Census records is that the birthplace is indexed only by Head of Household.
When searching, the researcher need not enter every piece of information in the search boxes. Sometimes less information will yield better search results.
Alternate Spellings 
When viewing search results, a triangle will sometimes appear next to a name in a Census Record. This triangle indicates that Ancestry.com entered an alternate spelling in the index, because the Census Records were first indexed by Head of Household and again by all names. Sometimes the indexes resulting from these two indexing operations led to different spellings of the names. Both spellings are included in the index. If a user has added a spelling correction, a cartoon "talk balloon" with a yellow plus sign will appear.
As an example, my grandfather's record in the 1920 US Federal Census shows three spellings: Kostanty Pudgealkoski, Kostanty Niedzialkoski, and Kostanty Pudzealkoski. The first spelling was apparently entered when the census was indexed by Head of Household. The second spelling is the correction I entered when I saw that his name was badly transcribed, and is annotated with a "talk balloon" with a plus sign. The third spelling was apparently generated when the census was transcribed as an every name index, and is annotated with a yellow triangle.

The incorrect transcriptions unfortunately remain attached to the record, and the first incorrect transcription will be the name that appears in the search results. This means that someone searching for Kostanty Niedzialkoski will have to click on Kostanty Pudgealkoski in order to see the correct spelling. In this case, I doubt most people searching for my grandfather would be able to find him in the census, since Pudgealkoski is so far off from the correct spelling. The Ancestry.com transcribers mistook a curlicue at the upper right end of the letter "N" for a "P".
Wildcard Searches
Another search strategy is to use wildcards to search for names. The asterisk symbol * replaces from 0-6 characters and the question mark symbol ? replaces a single character. When using wildcards, the researcher must specify at least three letters before using a wildcard.
Wildcards can be used for years, too. A search for 187* will search all years for the entire decade from 1870-1879.
Making Corrections and Adding Comments
If a researcher finds an incorrectly indexed record, a missing image, or wishes to add a comment to a record, the Comments and Corrections link allows the researcher to correct misspelled names, add alternate spellings, add a comment, or report a problem with an image. Corrections may take up to 3 months to appear, depending on when the next regularly scheduled update takes place. The original transcriptions will not be removed, but the corrections become searchable by all users. 
Users of Ancestry.com can upload or directly enter their family trees on the site, and link records to the individuals in their family tree. Owners of these trees can edit or delete the trees as they find new information and correct errors. Owners of these trees can specify whether the trees are public or private. If they wish, tree owners can also invite family members to view the trees and can also assign privileges of Guest, Contributor, or Editor to these invited family members, allowing these trees to become a family or community project.
Other Features 
The Ancestry Community permits interactions with other users through Message Boards, Member Directories, and Member Connections.
The Ancestry Learning Center includes many articles, columns, instructions, and excerpts from Ancestry books and magazines.
The Ancestry Store provides an online shopping solution for those who wish to purchase genealogy-related books, CDs, maps, photographs, and gifts.
Copyright © 2007 by Stephen J. Danko